Most states require everyone always to carry motorcycle insurance when a bike is registered in their name. If you choose not to buy a policy, you could face fines, a license suspension, or even time in jail.
You'd have several potential costs if you cause an accident without motorcycle insurance. Exploring the consequences of what could happen makes it easier to decide if a policy suits your needs.
Didn't You Try Our Quote Comparison Tool Yet? Save BIG by Doing it!
Is It Illegal to Ride a Motorcycle Without Insurance?
Driving without insurance can incur significant and serious penalties in 49 out of 50 US states. Although the outcome is based on your specific circumstances, you could be subjected to fines in some places, misdemeanor criminal charges in others, and have your license suspended or revoked.
Most states require motorcyclists to purchase a minimum level of liability insurance. Only Florida doesn't have this mandated, but you must still file a certificate of financial responsibility with the government if you choose to refrain from carrying a policy.
Virginia allows you to opt out of insurance annually by paying a $500 uninsured motorist fee. New Hampshire requires drivers convicted of certain violations to have insurance coverage, but those with a clean driving record might have the option to opt out.

Relevant: Here's how to improve your driving history!
An insurance policy isn't necessary if you only ride a motorcycle on your private property. You'd still want to explore options to protect your finances against the cost of possible repairs in this specific situation.
When Would I Need Insurance Coverage in Florida and New Hampshire?
Since Florida requires a certificate of financial responsibility, you must prove that you have enough monetary assets to cover the minimum amount required under state law. Another option would be to take out a surety bond for the necessary coverage.
If Floridian motorcyclists don't have the financial capabilities to file this certificate, obtaining an insurance policy is the only option.
In New Hampshire, specific activities trigger the requirement to have an insurance policy.
Convicted of driving under the influence of drugs or alcohol.
Convicted of a hit-and-run accident.
Intentionally hurting someone while driving.
Receiving a second speeding ticket.
Receiving a second warning or ticket for another violation.
What Are the Consequences of Driving a Motorcycle Without Insurance?
The primary issue motorcyclists face when riding without insurance involves the issue of financial responsibility. If you cause an accident that results in property damage and medical care requirements for yourself or others, you could be held financially responsible for all those costs.
If you cannot pay those bills to make people right, they could take you to court to seek justice. The only recourse from there would be to file for bankruptcy, which would impact your credit rating for up to ten years.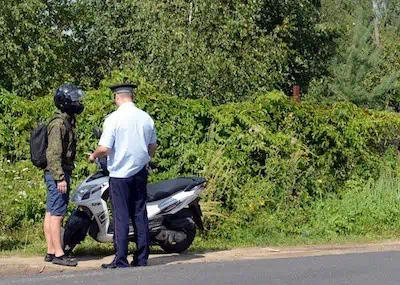 Motorcyclists who encounter a law enforcement official pulling them over could face serious consequences. In California, the first time you're pulled over without insurance could be up to $200 in fines and additional penalty fees. The officer has the right to impound the bike if they feel it is necessary.
Florida suspends your driver's license and registration if you're pulled over without appropriate financial coverage or insurance. You must pay fees to have them reinstated before you can continue riding.
If you have just bought a new bike from a shop, read here to know if you need coverage to return home.
What If I Get into an Accident Without Insurance?
Most states will issue citations to motorcyclists for driving without insurance when an accident occurs, even if they aren't at fault. That means fines, penalties, suspension, revocation, and impoundment are all possibilities.
You're more likely to be told to file an SR-22 or FR-44 form with the state's Department of Motor Vehicles. This document is something that requires you to file and pay for insurance to prove you have the correct coverage.
Cheap motorcycle insurance for high-risk drivers can be challenging to find. You'll likely pay more than with a clean record or continuous coverage without claims.
Can I Get a Motorcycle Insurance Policy If I'm Uninsured?
If you have been driving without insurance, the next step is to purchase a policy soon. This investment ensures you meet the local requirements to ride legally while protecting you from the potential financial fallout that an accident can cause.
Some motorcyclists could be ineligible for the lowest rates since driving without insurance indicates a higher risk, but carefully shopping around should help you find reasonable coverage options you can afford.
It helps to obtain quotes from various motorcycle insurance companies to ensure you're receiving the best rate.
Some riders might consider looking at today's major motorcycle insurers first, such as GEICO and Progressive, since they have broad availability and numerous features and discounts to consider.
Additional insurers to consider for a policy include Markel, Dairyland, State Farm, American Family Insurance, and Allstate.
This list is not exhaustive. Any insurance company authorized to provide coverage where you live could offer a quote. When you take the time to shop around, you're more likely to find the best rate for your desired policy.
Use This Tool for Free and Save on Quotes!