If you have a bill of sale or the title of the motorcycle you purchased, you can ride it home after purchasing it. States provide a grace period, usually 72 hours, to get the bike registered and insured.
In Texas, you have up to a week to obtain insurance after you've purchased a motorcycle.
Didn't You Try Our Quote Comparison Tool Yet? Save BIG by Doing it!
Once you get the motorcycle home, you'll want to obtain insurance before riding it. If you're pulled over by law enforcement, proof must be taken with you.
Insurance protections will also provide coverage if something happens to your new ride while on the road or in storage.
What If I Purchased the Motorcycle at the Dealership?
It helps to register your motorcycle with the Department of Motor Vehicles or an equivalent office quickly. Some states require an inspection before they'll complete the registration process, so consider asking for temporary paperwork until you have the time to complete the entire process.

Some states view the tags and plates as attached to the motorcycle, not the owner. That means your registration might need to be corrected, even if it appears valid. You'll want to review local requirements.
You must register the motorcycle in Texas with the county tax assessor and collector where you live. That's where you'll get your plates and the registration sticker that shows you've complied with local rules.
For those in California, you can complete the registration process at a DMV field office with the following items.
Proof of minimum liability coverage.
A valid California license with the appropriate motorcycle endorsement.
Your Certificate of Title or the lienholder's name and address if financed.
A grace period is not available if you live in Illinois or Florida.
You'll need to purchase an insurance policy in Illinois to ride your motorcycle home after purchasing it, even if you're at a dealership. Florida residents must offer proof of financial responsibility and have a registration certificate.
Some exceptions might apply if you buy the motorcycle on the weekend, but the DMV isn't open until Monday to get your plates.
Getting Pulled Over During the Grace Period
If you get pulled over on your bike while still in the grace period after purchase, you'll be fine if you have the bill of sale or the title showing your purchase date. You might be issued a warning or a "fix it" ticket if you don't have insurance coverage.
That ticket provides the time needed to get the bike registered and insured. It helps to shop around for quotes so that you have confidence you're getting the best rate for your policy.
There could be additional legal consequences when you don't have the necessary paperwork. The best solution that helps you avoid a potential headache is to obtain insurance coverage at the dealership or before you drive it home after a private sale.
Two other options are available. You can have the seller drive the motorcycle to your home or have the bike towed to your residence. Both scenarios require insurance, so you'll want to verify the policy documents before deciding which one to use.
Some riders have tried using spare plates or an older registration to get their motorcycle home after a private sale. That technique can lead to a lot of trouble, especially if the officer thinks you've stolen the motorcycle.
Do I Need to Get a Temporary Permit to Ride My Motorcycle?
In South Carolina, riders must have something on the back of their motorcycle to avoid legal complications while riding. The best option is to use a temporary tag, which might not be available in a private sale. In that situation, ride it home with the current plates and agree to ship them back to the previous owner.
Your other option is to tow or trailer the motorcycle home until you can secure new plates with the title signed in your name.
Most motorcyclists can visit their local DMV, state that they are buying a motorcycle, and receive a temporary plate. Most states issue a 48-hour temporary tag you can put on the back of the bike.
How to Get Motorcycle Insurance at the Dealership
You can purchase a policy while at the dealership if you don't want to bother with the "what-ifs" or potential issues that happen without insurance. All you need is a data connection or access to a phone to complete the process.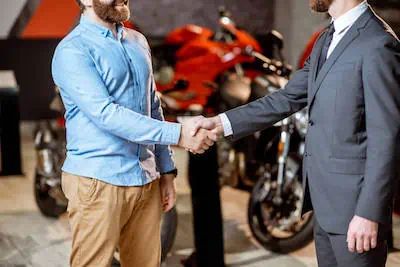 For those with a data connection: Shop around for quotes using the VIN of the new motorcycle, you've just purchased. It helps to get at least three estimates before choosing a provider. You'll get asked a series of questions from your smartphone or tablet, including specifics about the bike. After completing this paperwork, you'll receive a digital copy of your insurance card that proves you have protection.
For those using a phone: An insurance agent will speak with you about the new motorcycle. You'll need to provide the VIN. Identity verification is usually necessary, so you might need your Social Security number. Another option is to fax a copy of your driver's license with the appropriate endorsement to the agency. Once you accept their rate, you'll receive a faxed copy of your insurance cards at the dealership.
Some dealerships offer short-term insurance that they roll into the sales price of the motorcycle. This option should be avoided at all costs, especially since it is easy to get a policy yourself.
Even gap insurance is available from independent providers, often at a far lower rate than you'll pay during the initial purchase.
When you buy a new motorcycle, it's generally better to limit your risks whenever possible. Although you have a grace period for bringing the bike home, investing a few minutes to get insurance or a temporary tag to avoid complications is usually easier. In return, you won't have to worry about documentation issues if you get pulled over for some reason.
Use This Tool for Free and Save on Quotes!