When riding a motorcycle in the United States, every state except Florida requires proof of insurance before registering the bike and receiving your plate.
Florida requires you to have proof of financial responsibility on file with the state when operating the motorcycle. An insurance policy is one of the easiest ways to meet that requirement.
Did You Try Our Quote Comparison Tool? Save BIG by Doing it!
You can complete the transaction without insurance if you've never owned a motorcycle and plan to drive it away from the dealership or a private seller.
Before moving the bike, you'll need a policy that meets the minimum coverage limits mandated by the state or local rules and regulations.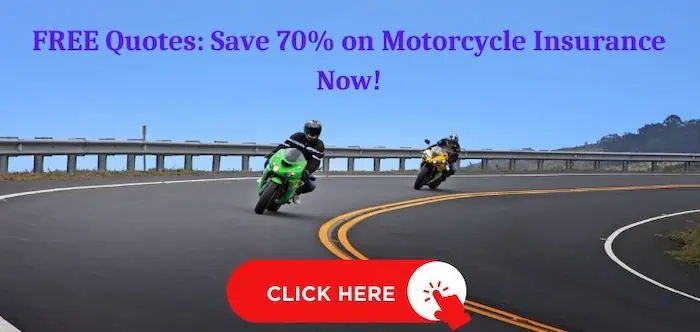 Note that:
Most states require 25/50/10 for motorcycle insurance, which is $25,000 in bodily injury, $50,000 per accident, and $10,00 in property damage coverage. Maine and Alaska have the highest minimums, requiring 50/100/25 to operate legally.
You can purchase temporary motorcycle insurance from the dealership or work with your preferred carrier to enact a policy before you hit the road. Most states require you to deliver proof of insurance before leaving. If you have other vehicles already covered, a 72-hour grace period might apply to sort the coverage levels you want for the bike.
How Do I Obtain Motorcycle Insurance for My New Bike?
Before an insurance company provides an insurance quote, you'll need to provide the VIN for your purchased bike. This information is usually found on the motor or the steering neck.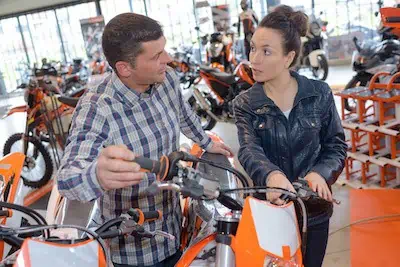 You can request a quote online for the new motorcycle or speak with an agent or broker over the phone. After providing the VIN, you'll need to decide what insurance is required to protect your purchase. You'd need liability, collision, and comprehensive coverage if you financed this transaction.
Even if you financed a private sale, the requirement for full insurance coverage almost always applies.
After you've set the policy limits and selected riders or add-ons you want, your insurance company will ask you to pay the first month to activate the coverage. You'll have the option to pay-in-full, which can save you a little in the long run by paying more for it now.
Once the payment is received, your provider will send digital proof of insurance. A fax of your new policy and limits will be sent to the dealership if you must provide a paper copy. You can ride away once the documentation is reviewed and approved.
What If I Pay Cash for a Motorcycle Through a Private Sale?
Since a cash transaction doesn't create as much paperwork, the state and local rules throughout the country operate more on an honor system.
You'll receive the title to the motorcycle, which must be taken to your DMV or similar office to get the plates for the bike. You'll need to provide proof of insurance or financial responsibility at that time.
Until then, you would need to present proof of the transaction and your insurance coverage if pulled over on a public road. Without this protection, you'd be financially and legally liable for your actions.
What If I Don't Want to Pay for Insurance Right Away?
If you don't want to pay for insurance coverage because you won't be riding the new motorcycle for a while, you could hire a shipper to transport your new bike to your address. Local and long-distance options are available.
If you ship your motorcycle, you'll want to review the insurance protections provided with this service to ensure your investment is protected.
You can also have someone with a motorcycle endorsement ride the bike home, but the same requirements for proof of insurance apply.
Use This Tool for Free and Save on Quotes!