Although motorcycles are considered two-wheeled vehicles, a trike has three. Despite this variation, most are still classified the same way.
Harley-Davidson introduced the Tri Glide® in 2009, triggering the evolution of this design within the biking community. The benefits of riding one are immediately apparent, especially to the older generation.
Didn't You Try Our Quote Comparison Tool Yet? Save BIG by Doing it!
It is a more effortless riding experience when you're on a trike. Fewer aches develop in the back, knees, and muscles, so riders can still enjoy the open road feeling.
Before trikes became a dealership option, several shops and mechanics offered conversion kits to create this riding option.
What Classifies as a Trike?
A trike is a three-wheeled vehicle. If you ever had a tricycle that you rode when you were little, the concept is the same – but with more power. The term "bicycle" indicates two wheels, while "tricycle" indicates three.

The state laws regarding each category create confusion between motorcycle and trike definitions. In many areas, a motorcycle is anything that has less than four wheels.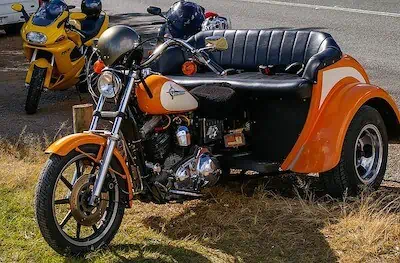 Autocycles are distinct from trikes, even though they have three wheels because there is an enclosure with different seating options. The Polaris Slingshot® puts two wheels in the front and offers a steering wheel so that it drives more like a car. Learn more about insurance options if you own a Polaris.
Trikes provide unique riding experiences. That makes them an attractive option to many riders.
Although trikes and autocycles have been getting more recognition lately for separate classification systems, you must still be aware of local rules regarding their use and motorcycle licenses or endorsements.
Do You Need a Motorcycle License for a Trike?
The licensing status for trikes is continuing to evolve in the United States. You might need to get a motorcycle endorsement, a three-wheel endorsement, or a separate license to operate this vehicle.
All states require you to take a basic knowledge and skills test if you've never had a motorcycle license or endorsement.
In Massachusetts, you must have a motorcycle endorsement to drive trikes, including those that meet the autocycle definition. Standard license requirements typically apply to enclosed trikes, but you might need a 3W endorsement if you ride a three-wheeled motorcycle.
If you live in California, Nevada, or South Carolina, you can ride a trike with a standard driver's license, even though there is a separate two-wheel endorsement.
Alaska and Rhode Island may require riders to take tests on two-wheeled motorcycles to earn an endorsement for driving a trike.
Most states have moved to a three-wheel motorcycle license or endorsement. If you've already earned a motorcycle endorsement, you can typically operate a trike without taking a separate class or test.
A trike is a practical way to enjoy a motorcycle experience while providing a simpler ride. Some models come with semi-automatic transmissions, while others give you throttle and foot brakes to make a smoother transition from a car.
Remember to insure your trike before you take it on the road. Even if you have a custom model, there are policies available that will protect your finances if you're in an accident, and we can help you shop around for the best prices out there today.
Use This Tool for Free and Save on Quotes!