Three-wheeler (3W) vehicles, often called "trikes," provide a unique way to explore and travel. They provide more stability than a motorcycle while offering the freedom of the open road.
In most states, several autocycles, including the Slingshot and Vanderhall, are included in the 3W classifications.
Didn't You Try Our Quote Comparison Tool Yet? Save BIG by Doing it!
As with any other vehicle on a public road, you must carry insurance or a certificate of financial responsibility (in Florida) to operate a three-wheeler legally. Several factors go into the quote you receive for this mandatory coverage.
Here's a closer look at what to expect when looking for the best rates for your trike.
1. Your Driving Record
If you have had multiple accidents within the past few years, your three-wheeler insurance cost is likely higher than if you had a clean record.

For those who have yet to drive, a lack of an insurance record also increases your overall quote.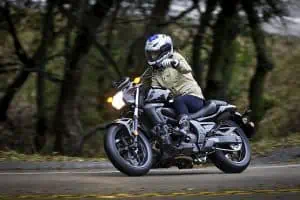 High-risk violations can cause insurance coverage quotes to rise by 200% or more, especially if accidents are on your record. Multiple infractions can cause some insurers to classify you as a high-risk customer. If it's been more than three years since you shopped around for a quote, you might find a better rate available if you're in this category.
Those who drive more might be charged an additional rate than a weekend biker who runs errands on their trike. More exposure equates to higher risks.
Here are some effective ways to improve your driving history.
2. Age and Demographics
Where you park a three-wheeler and your geographic location can significantly impact your insurance rates. Rural riders often see cheaper rates than those in the suburbs or the city.
Young riders often pay more than those who are over 25. Once you get three years of 3W driving experience, the rates will decline – especially if you maintain a clean driving record.
3. Coverage Type
You'll pay more for comprehensive and collision insurance partnered with liability than you would with a general liability policy alone. If you financed the purchase of your three-wheeler, the lender typically requires you to carry all three to protect the asset.
You can limit insurance expenses by having higher deductibles on your comprehensive and collision needs. If you live where riding in the winter is usually impossible, you can request a seasonal policy for additional savings.
Riders also pay more if they request higher limits or caps for their insurance coverage. A 50/100/50 policy is less expensive than one with 100/300/100 for liability needs.
4. Make and Model
The Vanderhall Venice GTS has an MSRP of approximately twice what you'd pay for an entry-level Slingshot. That means your insurance coverage will be higher with the Venice since it costs more to repair or replace if it were totaled.
Although multiple factors go into an insurance quote, three-wheelers with a heftier price tag are typically more to insure.
5. Credit History
A poor credit score can cause you to pay over 70% more in 3W insurance compared to those with a score above 720. Here's how much it impacts the rates.
Hawaii, California, and Massachusetts don't permit this data point to be a factor in your quote.
Insurance rates rise as time passes. Consider these factors while seeking a quote for three-wheeler coverage to ensure you receive the best price for your policy.
Use This Tool for Free and Save on Quotes!