An autocycle combines motorcycle and car elements to create a unique vehicle type. It's an excellent choice for anyone looking for the thrill of a bike on the open road while having familiar aspects of a vehicle for controls.
The coverage you receive with autocycle insurance depends on several factors, including your specific policy points and your selected insurer's offers.
Didn't You Try Our Quote Comparison Tool Yet? Save BIG by Doing it!
It's essential to review the specific details and coverage limits of any autocycle insurance policy before purchasing to ensure that you are adequately covered.
Are Autocycles Considered Motorcycles or Trikes by Insurers?
Autocycles can fall into one of three insurance categories when looking for an insurance policy to cover your driving needs.
Motorcycle Insurance Coverage
Trike Insurance Policies
Autocycle Insurance Options
Some insurance companies may consider them a separate vehicle category and offer specific autocycle insurance policies. Others may include them in their motorcycle insurance policies.

What Insurance Options Are Available for Autocycles?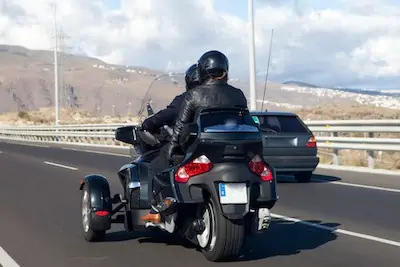 Autocycles, whether classified as motorcycles, trikes, or separately, are subject to the same traffic laws and regulations. That means the insurance options you have for them are relatively similar, even if insurers put them into combined or unique categories.
Here are the common types of coverage to review when seeking an insurance quote for an autocycle today.
1. Liability Policy
This type of coverage protects you if you cause damage to someone else's property or injure someone while operating your autocycle. It can cover the cost of legal fees, medical expenses, and other expenses related to a liability claim.
2. Collision Coverage
With this option, you'll have help to pay for repairs or replace your autocycle if it is damaged and totaled during a collision with another vehicle or object.
3. Comprehensive Policy
When you have this insurance coverage for an autocycle, you'll have help paying for repairs due to non-collision incidents or events. The most common claims in this category include vandalism and theft, but they can also protect you from damages caused by fires, floods, and other natural disasters.
4. Uninsured/Underinsured Motorist Coverage
If you invest in this insurance, you'll receive protection if you're involved in a collision with someone who doesn't have coverage. It also provides financial support when the individual at fault for an accident involving your autocycle doesn't have enough to cover all the damages or repairs to your vehicle.
5. Personal Injury Protection
This type of coverage can help cover medical expenses and other costs associated with injuries sustained in an accident, regardless of who is at fault.
6. Medical Payments
MedPay is an insurance option that pays for medical expenses related to injuries that happen in an accident. It is not required by law in all states but could be available to some riders anyway. It typically covers necessary medical expenses such as hospitalization, surgery, X-rays, dental treatment, and other services.
You might have options to add your safety equipment, customized mods, and other specific items associated with your autocycle to your policy. These additional protections will generate a higher premium, but more relief will be available should something happen.
Which Insurers Offer the Best Autocycle Insurance Rates?
Autocycle insurance premiums are based on several individual factors. You receive a personalized quote from your preferred insurer when requesting coverage.
Although autocycles are relatively new for insurance purposes, three providers stand out from the rest when you need coverage: Allstate, Progressive, and Liberty Mutual.
Allstate has over 80 years of experience providing insurance products in the United States. Several discounts include safe driver, multi-policy, and early signing. You receive several digital tools to make managing administrative work easier.
With Progressive, you receive competitive pricing matched with one of the insurance industry's strongest financial ratings. That means if something happens to your autocycle, you won't need to question if the claim will get paid. You can also bundle with a wide range of other policies, including car, home, boat, and RV.
At Liberty Mutual, you'll find several helpful optional coverage choices for autocycles. One of the best is the deductible fund which decreases your required amount by $100 each year you go without a claim. Accident forgiveness, gap insurance, and original parts replacement are included.
Protecting your autocycle with a complete insurance policy is a decision that makes sense. Shop for the best quote today to ensure you get what you need while staying within your budget.
Use This Tool for Free and Save on Quotes!