Attention all young motorcycle enthusiasts! Don't let sky-high insurance rates leave you feeling like you're stuck in neutral. As a 21-year-old motorcycle rider, you need affordable and reliable coverage. But with so many options out there, where do you start?
Fear not because we've taken the hassle out of the search and found the most affordable and comprehensive motorcycle insurance options for you. Get ready to hit the open road confidently, knowing you've got the best deal on motorcycle insurance for young riders.
Did You Try Our Quote Comparison Tool? Save BIG by Doing it!
Age And Gender
It's important to understand that if you're a male under 25, you will pay more for your car or motorcycle insurance than any other bracket. According to statistics, this is the age bracket where males tend to be less responsible, so until a male reaches the age of 25, the rates will be higher.
State or Your ZIP
Again, motorcycle insurance rates will vary from one state to the next. Some states will charge as little as as $700 annually and some up to $2,700.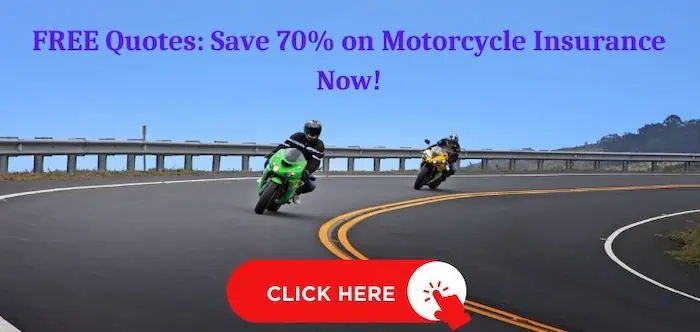 It's wise to start by determining which states will give the lower rates for motorcycle insurance. If you're not in one of these states, you'll want to receive as many discounts as possible to help reduce your rates.
Types of Motorcycle
There are many different types of motorcycles. From sports bikes to touring bikes to cruisers, each model tends to have its own pros and cons.
Another factor that will help to determine the rate is the bike's overall cost, the year, the make, and the crash safety rating. Insurance companies factor all of these details in to determine a fair rate.
Some motorcycles tend to be in more accidents than others, and they will use this information to determine how much they will charge.
Insurance companies will check the safety rating to help determine their premiums and factor in all possible pitfalls. Bikes with anti-lock brakes will be less costly to insure than a bike that doesn't have such features.
Don't overlook it:
Another determining factor is the "theft rate". Some bikes are more expensive and stolen more frequently than others. Just as this happens with cars, it will also happen with motorcycles.
The best way to get a decent rate is to find out which bikes are insured for less than others. A quick comparison between insurance policies can often answer this question and help a person determine which type of bike to purchase for the lowest rates.
How Much Is Motorcycle Insurance for A 21-Year-Old?
The average motorcycle insurance cost for a 21-year-old is roughly $900 to $1000 in the United States.
While the primary cause of the expense is the driver's inexperience, there are ways to lower the premium while still providing good coverage.
Higher Deductible: This is the most common method of reducing monthly premiums. A higher deductible means more out-of-pocket expense if the insurance is needed, but the monthly premiums are lower. To learn more, click here.
State Minimum: If you did not need a loan to purchase your motorcycle, you might consider just getting the state minimum when it comes to your insurance policy. Liability plus uninsured motorists are considerably less expensive than comprehensive, although it does not provide the same coverage.
Safety Course: Many insurance companies will recognize a safety driving course that, when completed, will lower the premiums by 10% or more. The course lasts a few hours and provides useful driving tips to keep you safe.
Bundling: If you have a home or other types of insurance with the same provider, bundling them together may save you considerable money. Bundling is common among insurance companies, so check them out to see if they can provide this discount.
Anti-Theft Devices: If you have theft insurance or coverage, adding anti-theft devices such as locks and chains, ignition kill switches, and the like, which are recognized in the policy, may lower the average motorcycle insurance for a 21-year-old considerably.
Seasonal Insurance: If you only drive your motorcycle in the warm months of late spring, summer, and early fall, you may apply for seasonal insurance, which can save you a considerable amount of money. Seasonal insurance, which covers six months of the year, may cost half the standard insurance policies.
Types of Motorcycle Insurance: Choose Based On Your Requirements
While the average cost of motorcycle insurance for a 21-year-old is expensive, that depends in part on the chosen policy. Several different types of plans are available at this age, so they can choose the best one to fit their needs.
Comprehensive: This type of motorcycle insurance provides total coverage combining liability, collision, uninsured motorist, and more. If a loan were used to purchase the vehicle, the lender would usually require that comprehensive insurance is purchased. While this type of insurance offers complete coverage, it is also the most expensive.
Collision: This provides coverage for damage in case you collide with another motorcycle or vehicle. This type of coverage is cheaper than comprehensive, but it also covers fewer events that can cause damage to your bike or yourself in the case of an accident.
Liability: Along with uninsured motorists, liability is the minimum insurance required by most states. This covers the other drivers, passengers, and vehicles in case an accident occurs and it is your fault. Liability is considerably less expensive than comprehensive coverage and is highly popular.
Uninsured or Underinsured Motorist: If the other driver is at fault and either has no insurance or does not have sufficient coverage, then this type of insurance will provide what is needed in case they are at fault.
Theft: Because of their relatively small size and value, motorcycles are prime subjects of theft. This insurance will cover the loss of a motorcycle that has been stolen. Typical motorcycle insurance for 21-year-old often covers theft. Learn how theft insurance works and claiming process.
Med Pay: This is another popular form of insurance that covers your medical bills if you are injured in an accident. This type of insurance is often combined with liability as part of a plan that is still less expensive than comprehensive.
Discount Options
There are many great discounts available for motorcycle insurance. Start by attending a good motorcycle education course and learn everything possible about the safety of motorcycles.
Bundle a motorcycle insurance policy with other insurance policies for a multi-policy discount. You can do this by placing the motorcycle insurance with regular car insurance, renters or homeowners insurance, etc.
Time to save more:
Safe driver discounts come next. Those with no tickets or accidents can often receive a steep discount on motorcycle insurance.
Insurance companies will look back as far as 7 years depending on the company for any infractions so be safe and be wise.
Remember that the safe driver discount can factor in that the 21-year-old has been a licensed motorcycle driver since they were 16. If that 16-year-old keeps his or her record clean with no tickets or accidents, this will be an excellent thing for their future insurance rate.
Grade point average
If the 21-year-old is still in school, the grade point average or GPA can also make a huge difference in rates. According to many statistics, higher grade point averages tend to be safer drivers. Perhaps those with a higher grade point average don't need to show off as much and thus are considered safer.
Distance has another determining factor. Those driving long distances will be charged more than those who only go a few miles each way on their daily commute.
Remember:
When filling out the application, a box should be marked that designates whether the motorcycle is for pleasure/leisure or business. You'll want to ensure you answer this question accurately for the best possible rates. Don't lie if you're not using it for pleasure/leisure, as this could get you into trouble.
Secondary Driver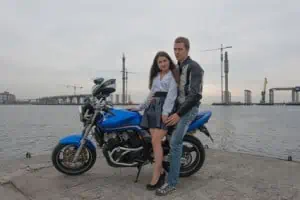 If an adult over the age of 25 is the main driver of the motorcycle, this may also lower the insurance rates. Consider making the person under 21 the secondary driver to see if you can get a lower rate.
Again, be mindful that if the 21-year-old is the main driver, this won't work, but this can often lead to a reduced rate whenever possible.
Comparison Shop
When it comes to motorcycle insurance, just as with any other insurance, it's very important to shop around. Each company has its standardized rate schedule, and you'll need to compare "apples to apples" to ensure you're getting what you need at the best possible rate.
Check with several insurance companies before you commit yourself to any one company. When comparing, ensure that you look at your quotes' same limits and terms.
Key Tips
Be sure to ask the agent giving you the quote to include all possible discounts. If one company offers a discount that another doesn't, it can't hurt to ask them if they have a similar discount.
Consider major companies such as GEICO, Progressive, and none other than Harley Davidson when seeking motorcycle insurance quotes.
Keep the following in mind when seeking quotes:
Compare apples to apples
Ask for as many discounts as possible
Keep commutes short
Have a good grade point average
Consider the 21-year-old as a secondary driver
Have a clean driving record
Consider the type of motorcycle
Consider the safety features of the motorcycle
Some states are more expensive than others
Understanding what you're doing when seeking your quote will go far in helping you to secure the least expensive motorcycle insurance for 21-year-old bikers.
Use This Tool for Free and Save on Quotes!