The first modifications I ever made to my dirt bike as a kid involved handguards. This component comes in several different sizes, shapes, and designs.
I invested in this change since I rode backwoods trails around my home as often as possible. It only took one branch slap to the knuckles to decide to put some money into this mod.
Didn't You Try Our Quote Comparison Tool Yet? Save BIG by Doing it!
Minor modifications like mine don't always change your insurance rates. When you make extensive updates to your dirt bike, you'll want to speak with your policy issuer to ensure you're still protected.
If you want to buy a custom dirt bike, you'll also need to find insurance options for your riding activities.
Can I Get Insurance for a Customized Dirt Bike?
It's possible to get insurance for a customized dirt bike. The availability and cost of a policy depend on several factors, such as the modifications made to the bike, the coverage type you require, and the insurer's rules and regulations.

Custom dirt bikes may require additional coverage beyond standard motorcycle insurance, such as coverage for aftermarket parts and accessories, custom paint jobs, and engine modifications.
Some insurance companies may specialize in providing coverage for customized vehicles and offer more comprehensive policies tailored to your specific needs.
To obtain insurance for your customized dirt bike, you can contact different insurance providers and get quotes based on your specific modifications and coverage needs. You'll need information about your mods, installed safety features, and the make and model.
Are Some Dirt Bike Modifications Not Covered by Insurers?
Although custom dirt bike insurance is available, some companies will not provide policies when specific modifications are made to your equipment.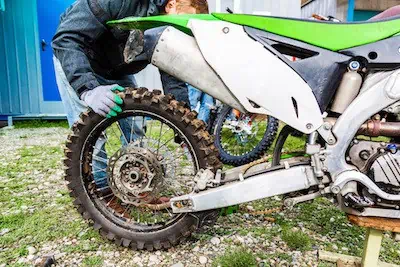 Here is a list of the changes that could result in a coverage denial.
Engine modifications increase the bike's power output beyond the manufacturer's specifications.
Changes that affect the bike's safety include removing or altering the lights, reflectors, or other safety equipment.
Updates that alter the dirt bike's suspension, such as lowering or raising its height beyond the specs.
Mods that make a dirt bike illegal to use on public roads, including removing the license plate or muffler.
If you've already modified your dirt bike, informing an insurer during the quote process of these changes is essential.
Before you make any mods after insuring the dirt bike, please remember to notify your agent or broker about the changes to prevent the policy from being voided or canceled.
How Much Does Custom Dirt Bike Insurance Cost?
Full coverage (liability, collision, and comprehensive) for a custom dirt bike in the United States average $66 per month.
If you have a stock dirt bike without mods, the average monthly premium starts at $10 per month through GEICO, $14 with Allstate, or $17 at Progressive.
Several discounts could be available to lower your insurance costs, especially if you have multiple vehicles or policies with the same provider. Safe drivers often receive a lower rate, especially with a clean driving record.
You can also take a motorcycle safety course or install anti-theft devices on your dirt bike to lower your insurance costs.
A few factors individualize the rates you're quoted for custom dirt bike insurance. Here's a closer look at the potential variables.
The type of coverage you choose, such as liability-only or comprehensive coverage, will affect the cost of your insurance premium.
The more extensive and expensive the modifications, the higher your insurance premium may be when requesting a quote.
How frequently you use the dirt bike and where you go with it will affect your insurance costs. If you only ride occasionally for pleasure, your insurance premium may be lower than if you use it regularly for racing or other high-risk activities.
Your location may also affect the cost of your custom dirt bike insurance. Some areas may be considered at higher risk for theft or accidents, resulting in monthly higher insurance premiums.
Protecting your investment with dirt bike insurance is crucial if you own a custom dirt bike.
Don't take the risk of riding without insurance or settling for a one-size-fits-all policy that may not fully cover your unique modifications and needs. With the right coverage, you can ride confidently, knowing you are protected against theft, unexpected accidents, and other damages.
Use This Tool for Free and Save on Quotes!