Although Kansas has an unearned reputation for being flat with few attractions or landscapes to enjoy, the opposite is the truth. You could spend two weeks on a bike in this state and find new places to explore or hidden gems to enjoy.
I'm particularly fond of the Gypsum Hills Scenic Byway. When you ride along Highways 23 and 160 in the south-central part of the state, you will find stunning orange and red rock formations. I recommend the Medicine Lodge Peace Treaty Site if you're into hiking.
Didn't You Try Our Quote Comparison Tool Yet? Save BIG by Doing it!
Another option is to take the old Route 66 and see towns like Galena, Baxter Springs, and Riverton.
In Northeast Kansas, you'll find the Glacial Hills Scenic Byway. You'll discover wooded hills, small towns, and state parks all waiting to be explored.
Before you get going, remember your motorcycle insurance!

Is Motorcycle Insurance Required in Kansas?
Kansas has mandatory insurance laws that apply to all motor vehicles, including motorcycles. You must carry a minimum level of liability insurance to ride on public roads.
Although Personal Injury Protection (PIP) is not required in Kansas, it can still be a good idea to add it to your motorcycle insurance policy.
Kansas is a no-fault state, meaning everyone's insurance company is responsible for covering each policyholder's medical expenses and other losses if an accident occurs, regardless of who is at fault.
There is the option to choose between the traditional tort or the no-fault approach.
What Are the Minimum Motorcycle Insurance Requirements in Kansas?
Motorcyclists must have liability insurance coverage, including bodily injury and property damage. The minimum coverage limits in Kansas are as follows.
$25,000 to cover the bodily injury or death of a single person in an accident.
$50,000 to cover more than one person's injuries or death.
$25,000 to take care of property damage that occurs.
These liability insurance minimums are typically expressed as 25/50/25. If you want to receive a quote for your motorcycle with those figures, you may be asked to set your coverage amount in that format.
What Is the Cost of Motorcycle Insurance in Kansas?
Kansas has one of the lowest cost averages for motorcycle insurance in the United States. The average policy is under $400 annually, and teen riders often pay less than $700.
Although individual circumstances can vary, the price is meager, even compared with other Midwestern states.
Where to Find the Cheapest Rates in KS?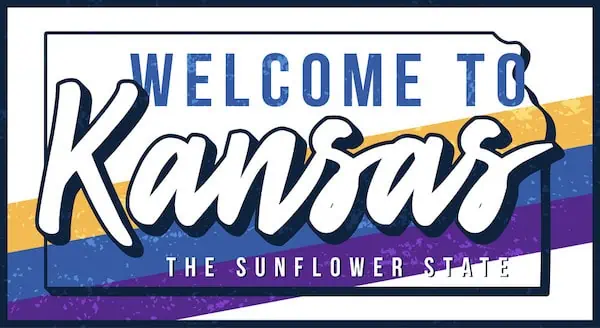 Although riders in Kansas City spend about 7% more than average, those living in Leawood and Lenexa pay the most. Insurance quotes in those communities are about 20% higher than the median.
Motorcyclists in Overland Park, Prairie Village, Shawnee, and Wichita also pay between 15% to 20% more for their insurance needs.
The best rates in the state are found in Garden City and Hays, which average 22% less than average for insurance quotes. You can also find savings opportunities in Derby, Dodge City, Liberal, and Salina.
If you live in Topeka, you can expect to pay the current state average for your motorcycle insurance needs.
Adding PIP coverage can change your rate significantly because of individual factors, so design a policy wisely to keep it within your budget expectations.
What Motorcycle Insurers Offer the Best Rates in Kansas?
Nationwide offered me the best rate, quoting $377 for the year. GEICO was also competitive, coming in a few cents shy of $400.
Although a little more expensive, Dairyland was still reasonably competitive with a $541 offer.
| | |
| --- | --- |
| Motorcycle Insurance Provider | Annual Premium |
| Nationwide | $377 |
| GEICO | $400 |
| Dairyland | $541 |
Best Overall Provider in Kansas: Nationwide
I like Nationwide for most riders in Kansas. They have the cheapest overall rate, reasonable coverage choices, and excellent customer service.
You'll have access to custom equipment and OEM parts with your policy. Although there isn't replacement cost coverage, that can be covered through gap insurance or other third-party providers if required.
Best Option for Rural Families: Progressive
I'd choose Progressive here. You have numerous ways to manage your policy, ensuring that everything is up to date. A wide range of coverage options exists, including an OEM parts policy.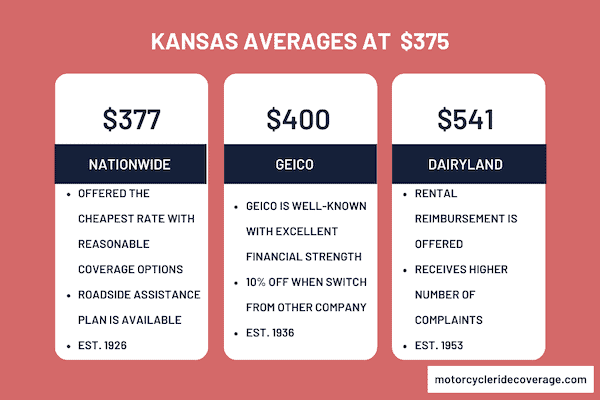 Although the costs are significantly higher than other agencies, you're also getting more convenient. Progressive still has an A+ A.M. Best rating, which matches most major insurers in the state. Only GEICO has a better rating.
Best Choice for Daily Commutes: Dairyland
I prefer Dairyland here over the other insurance options. If you depend on a motorcycle to get around and don't have another vehicle, this specialty insurer can get you a policy that meets your needs.
Most insurance companies don't offer rental reimbursement in Kansas, but you have that option through Dairyland. You can even add roadside assistance, replacement cost coverage, and custom equipment protection.
The only potential disadvantage is the low score on the NAIC complaint index. Dairyland does tend to get more negative publicity than the typical provider, even when the statistics are adjusted to reflect size.
We will determine the rankings of these providers based on their financial strength, customer satisfaction, and complaint index ratings.
| | | | |
| --- | --- | --- | --- |
| Providers | AM Best Rating | J.D. Power Index Ranking | NAIC Complaint Index |
| Nationwide | A+ | 800 | 1.28 |
| Progressive | A+ | 820 | 1.41 |
| Dairyland | A+ | – | 3.43 |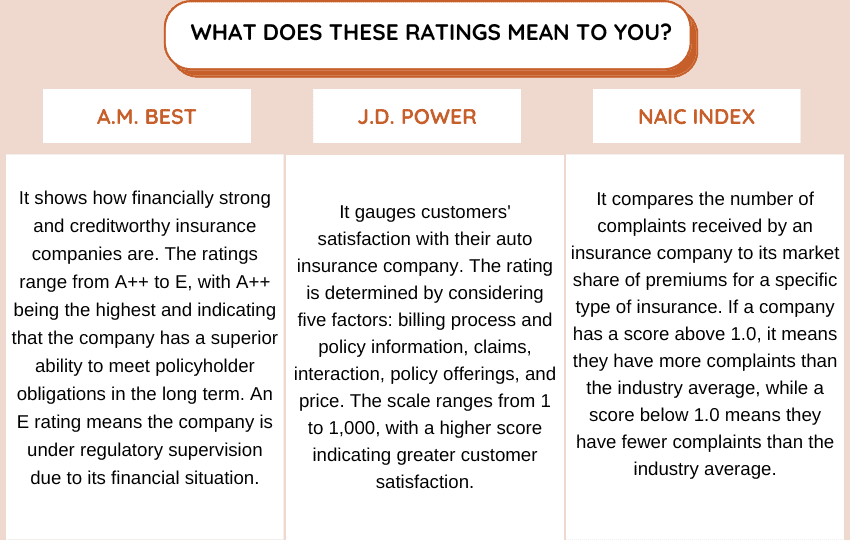 How to Keep Your Motorcycle Insurance Costs Low in Kansas?
Although motorcycle insurance rates in KS are already relatively low, you can push them even lower with some smart savings strategies. Here are some of the best ways to make this necessary expense even more affordable.
The first step is to shop around and start comparing quotes. You can know that you're getting the best rate by obtaining multiple offers from different insurers. Each company has its own pricing structure, so comparing policies allows you to find the most cost-effective coverage.
Next, consider picking a policy with a higher deductible if you need full coverage. This amount is what you pay out of pocket before your insurance payments kick in. By opting for a higher amount, you're taking on more risk. That creates a lower monthly premium.
You can also take a motorcycle safety course, bundle policies, and maintain a clean driving record to secure insurance discounts with many providers.
Finally, think about the motorcycle you want to drive. It helps to research insurance rates before buying a bike to ensure the monthly policy premiums align with what your budget can afford.
FAQ About Motorcycle Insurance in Kansas
If you're interested in obtaining a quote for motorcycle insurance in Kansas, these questions often arise when requesting information. Here are the answers you'll want to have to ensure you receive a fair estimate.
Do You Need Full Insurance on a Financed Motorcycle in Kansas?
Although insurance requirements are variable, most lenders typically require you to maintain full insurance coverage on the bike until the loan is fully paid off. It is because the lender wants to protect their investment in case of damage or loss to the motorcycle.
Full coverage means carrying liability, collision, and comprehensive insurance. Most lenders require proof of insurance before finalizing the financial agreement that lets you purchase the motorcycle.
The specifics of the required coverage may vary based on the lender and the loan terms.
How Old Must I Be to Drive a Motorcycle in KS?
In Kansas, you can obtain a motorcycle instruction permit at 14. That allows you to operate a motorcycle while accompanied by a licensed adult. The accompanying adult must be on a separate motorcycle and within sight and hearing distance of you.
You must be at least 16 to obtain a Class M license in Kansas to operate a motorcycle legally and without restrictions. Anyone under 18 must comply with additional requirements, such as completing a motorcycle safety course.
Do I Need an SR-22 in Kansas?
Not everyone in Kansas needs this certification. The SR-22 form certifies that you have the minimum liability insurance coverage that Kansas requires. It is usually reserved for operators convicted of specific violations like driving without insurance or being under the influence.
Where to Get Motorcycle Insurance Quotes in Kansas?
Simply enter your zip code in the box below and receive free quotes from the top providers in the country. There's no obligation, so feel free to shop around and compare prices to save money.
Use This Tool for Free and Save on Quotes!