The colder weather can be delightful when the winter months come rolling in. It marks the start of the skiing season, the beginning of the holidays, and the end of riding your motorcycle for the year.
Although you might not mind the cold weather, riding on snow-packed roads isn't always safe. Many insurance companies know this, so they provide seasonal coverage that protects your motorcycle until it is time to ride again when the weather warms.
Didn't You Try Our Quote Comparison Tool Yet? Save BIG by Doing it!
What is Motorcycle Storage Insurance?
This insurance covers your motorcycle during the winter when it is in storage at lower rates than when it is in operation. This form of insurance was created to keep owners from canceling motorcycle insurance in the winter and going through the spring renewal process.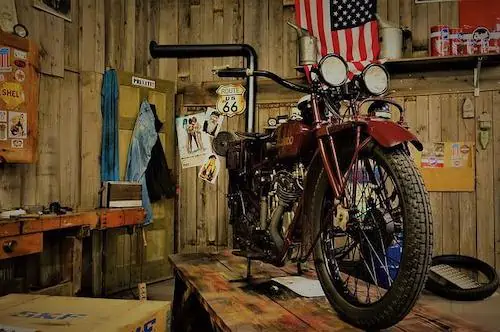 Storage insurance is a way to maintain coverage at rates lower than spring, summer, and fall months when driving is desirable.
Can I Pause My Motorcycle Insurance During the Winter?
The answer isn't always "yes" or "no."

If you took out financing to pay for a motorcycle, the lender requires full coverage to remain on the bike until the loan is paid in full. You could call your insurance company to cancel the policy, but that action could lead to repossession.
The insurance company could notify the lender of your decision, immediately triggering a demand to pay the loan in full.
If you own the motorcycle outright, you can cancel your policy in the winter. Most companies won't let you "pause" it because you're either paying the premium or not.
Although you could cancel the policy, your motorcycle would be left unprotected if something happened to it in storage. Any flooding, rodent damage, or even a fire would leave you paying the repair bill.
If your bike were to be stolen without insurance, it'd be your responsibility to pay for a new motorcycle.
Those reasons are why the typical recommendation is for riders to use storage insurance policies or other coverage modifications to limit costs when they aren't on the road regularly.
What If My Insurer Doesn't Allow a Switch to an Off-Season Storage Policy?
You have the right to choose a motorcycle insurance provider. If you don't like your current agency's cost, customer service, or coverage options, you can switch to a different one.
After receiving quotes and choosing the plan that fits your riding needs, you'll need to acquire insurance from the new provider and pay the initial premium before canceling the existing coverage. It helps to have the new policy begin the same day your old one lapses.
Even if you only let the motorcycle insurance lapse for a day, it could cause your registration to be suspended.
If your insurer doesn't allow you to switch to an off-season storage policy, you can find one that does. Once you're satisfied with the rates, set an end date for your existing coverage and start your new one so that it overlaps.
The easiest time to switch providers is near the end of your current premium period. It eliminates the need to have refunds processed, and some companies charge a small fee when canceling early.
That option may not be possible. You'd want to remind the previous carrier to send you a check or a direct deposit for the unused amount.
Does My Home Insurance Cover My Motorcycle?
Although homeowners insurance covers most of your personal property if something happens to your home, most policies specifically exclude vehicles. You would need to have that coverage added as a rider or add-on, which increases the cost you'd pay on that policy anyway.
If a fire occurs, a tree falls and destroys the garage and motorcycle; a home policy won't cover the damage.
Motorcycle storage insurance would cover it because it maintains the comprehensive coverage needed to protect against those issues.
Without that protection, you'd pay out of pocket for any necessary repairs to your motorcycle in full.
How Much Does It Cost?
The rate for motorcycle storage insurance is lowered compared to full coverage. However, the rates themselves are often lowered for the entire policy length. This means you pay a lower rate each month year-round instead of the full rate for collision insurance and less for the winter months.
For example, A young motorist, a 17-year-old, pays a lot for a full motorcycle cover, but storage coverage will help them pay small. Your rates are reduced according to the length of time that your motorcycle is in storage.
So, if you store your bike for six months out of the year, you will enjoy more significant savings than keeping it for five or four months. Remember that different insurance companies will have various methods of setting rates. While some offer a reduced premium for the year, others may include a built-in layup rate for additional savings.
Is It a Bad Idea to Cancel Motorcycle Insurance in the Winter?
You will not save money on your motorcycle premiums by canceling a policy in the winter. When riders live in a northern climate where snowy roads mean bikes get put into storage, the coverage purchased is intended for the primary months when you'll be exploring.
The annual premium is structured so that the bulk of your coverage occurs during the summer when you're riding. The policy switches to a storage-based solution where you can still ride when a nice day occurs, but the goal is to protect the motorcycle during the cold months.
Motorcyclists who pay monthly won't save money because the policy is updated with each payment. The only savings come from not paying the required amount, even if that is negated by a more expensive policy the following year.
If you paid your motorcycle insurance in full, about 80% of the actual coverage occurs during the summer riding months. You can still cancel the policy to get a refund, but it'll be closer to 15% to 25% of what you originally paid – not a 50/50 split.
When you add the risks of not having insurance coverage for a motorcycle, it's typically not a good idea to let coverage lapse.
Every situation is different, so a conversation with your motorcycle insurance agent about seasonal coverage could be helpful. If your policy doesn't offer a chance to switch, you can look for something better.
Use This Tool for Free and Save on Quotes!