When the open road calls, you answer that invitation by hopping on your motorcycle to take a fun trip. The last thing on your mind is your insurance to protect your financial interests.
Unless you live in Florida, motorcycle insurance is a requirement for legal usage. Even in FL, you must certify your financial responsibility if you're in an at-fault collision to manage your liability.
Didn't You Try Our Quote Comparison Tool Yet? Save BIG by Doing it!
Seeing a high motorcycle insurance quote can be frustrating, but there are several ways to limit costs. When you know what goes into the price, it's much easier to find ways to keep this expense manageable.
Here are some of the best ideas to try if you're looking for a lower rate.
1. Geographic Location
Where you live significantly affects how much you'll pay for motorcycle insurance. Out of all the cheapest states for this need, all but one of them are in the northern parts of the United States.

It is cheaper to insure motorcycles in colder climates because riders aren't using their bikes throughout the year.
North Dakota, Iowa, Wyoming, Nebraska, and South Dakota have average annual policy rates of less than $500 for riders.
2. Your Age
Young riders typically pay more for motorcycle insurance than older, more experienced motorcyclists. The most significant increases are in the 18-and-under age demographic. Generally, anyone under 25 pays more for insurance protection than someone older.
3. Riding Experience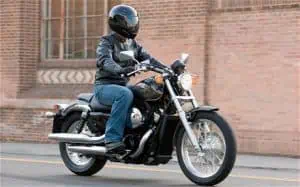 If you have more than three years of riding experience with motorcycles, you'll typically pay a lower rate than people who hop onto a bike for the first time. You can also pay less if you have less experience by taking a state-certified instructional class that teaches riders how to be safe in the saddle.
4. Claim History
Accidents almost always cause insurance rates to rise. If you have a history of claims on your record, the quotes you receive for a motorcycle policy will be higher. It takes time for these reports to get off your record, so it helps to avoid circumstances that could lead to potential problems.
Your driving record in other vehicles can impact the rates you're quoted for riding a motorcycle.
5. Bike Usage
Most insurance companies ask what you plan to do with your motorcycle. If you only ride on the weekends or a couple of months during the year, you'll typically pay less than someone who uses their bike to get to work daily.
6. Motorcycle Type
Your motorcycle's make and model directly affect your quoted insurance premium. If you pay more for your bike, you can expect the same result for your coverage.
A sport model usually costs more to insure when two motorcycles have a similar engine displacement.
The cheapest bikes are typically in the scooter and moped classification. Cruisers and touring motorcycles are more affordable than custom models, even if you purchase them directly from the factory.
7. Credit Score
Your credit score plays a role in evaluating the risks associated with providing insurance for your motorcycle. Those with a score of 650 or lower sometimes receive a higher quote than those with a 720 score or higher. Here's how to raise your credit score quickly.
8. DUI or Similar Offenses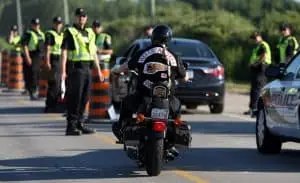 If you have received a DUI conviction or one with a similar penalty (DWI, OUI, OWI), the SR-22 documentation can cause your rates to rise. Some insurance providers don't offer motorcycle policies to riders with these issues on their record, so it helps to call in advance to see what is possible with your preferred company.
You can typically find SR-22 coverage for motorcyclists at GEICO, Progressive, Allstate, and other national issuers.
9. Speeding Violations
Riders with multiple traffic violations typically pay a higher insurance rate than those with a clean driving record. Any speeding tickets can cause your premiums to be higher, even if they're not obtained while using a motorcycle.
Severity plays a significant role in the cost differences of a motorcycle insurance policy. If you get a ticket for being 5 MPH over the speed limit, the impact on your quote will be less than a ticket for being 25 MPH over the posted maximum.
10. Multiple Policies
It can be cheaper to bundle multiple policies into one quote for some motorcyclists. This option can also cause prices to rise. Try asking for a quote for just your motorcycle and then what it would cost to have everything on a shared policy or account.
11. Loyalty
Most riders pay less for motorcycle insurance by sticking with the same provider for multiple consecutive years. This renewal discount can be 10% or more. This expense could be significantly higher if you transfer or cancel policies continuously.
12. Organization Affiliations
Many insurance companies provide discounts when you have an active affiliation with motorcycle-related organizations. One of the most common options in this category involves membership with the AMA (American Motorcyclist Association).
Additional discounts could be available through AAA and others, providing roadside assistance solutions.
13. Policy Structure
If you pay for a motorcycle insurance policy in full, it often costs less than if you break it into equal monthly payments. Some companies use six-month windows, while others look at the entire year.
Monthly payments often come with installment fees that increase your overall quote. You gain the convenience of a lower monthly rate to activate your coverage, but it eventually costs more over the course of the year.
14. Provider Switching
It is typically cheaper to stick with one provider. You can sometimes get a better rate with a new customer discount or another limited-time promotion. Each switch can cause future premiums to rise, so those who have made multiple changes per year end up paying more.
15. Shopping Around
If you find that your motorcycle insurance quotes are too high, you can shop around with several providers to find the best price. It's not unusual to receive estimates that are several hundred dollars apart from each other. The lowest cost isn't always the best deal, so consider the value of each provider's offers to ensure you get the best deal.

16. Family Structure
Motorcycle insurance looks at the primary rider for the quote. If you have other family members who also use the bike, their presence on the policy will cause the rates to climb. This issue has the most significant impact on households with riders under 18.
17. Automatic Payments
Most insurance companies provide a discount for signing up to pay the premium on a specific day each month. It can be assigned to a bank account or a credit card. You have the option to keep paying when billed, but the pricing could be significantly higher.
Motorcycle insurance rates are highly variable. When you understand what causes the prices to rise or fall, it's much easier to find a competitive quote.
Use This Tool for Free and Save on Quotes!