In my opinion, Arizona has some of the best scenic routes in the United States to enjoy if you're itching for a road trip. My favorite spot is the Red Rock Scenic Byway, which offers a 7.5-mile stretch near Sedona with stunning sandstone formations.
I love taking my KTM 1290 Super Adventure R out there to spend a weekend hiking, exploring trails, and enjoying quiet moments.
Didn't You Try Our Quote Comparison Tool Yet? Save BIG by Doing it!
The Coronado Trail Scenic Byway is another fun option if I want to ride and eliminate the hiking. This 120-mile-long route in eastern Arizona takes you through the Apache-Sitgreaves National Forests and the Blue River Valley. The winding road offers breathtaking views of the mountains and valleys.
There are even remote roads on the backcountry discovery route that go through the Sonoran Desert and the Mogollon Rim. It's a challenging ride but one of the state's most rewarding options.
Whether you consider yourself a local or you're headed to AZ for a long trip, it's essential to know the motorcycle insurance requirements to ensure you're adequately covered.

Is Motorcycle Insurance Required in Arizona?
Arizona requires all motorcyclists to carry liability insurance in the state. This coverage helps with injuries or damages you might cause to others or property while operating your bike.
Getting motorcycle insurance in Arizona is a relatively simple process. After shopping around for insurance quotes, you can choose the coverage options for a policy that suits your riding needs while staying within your budget.
You must provide personal information such as your name, address, and driver's license number. The insurer will need your motorcycle's make, model, and year during the quote generation process.
What Are the Liability Insurance Minimums in Arizona?
The current minimum liability insurance requirements in Arizona are 25/50/15. That means your policy must provide up to $25,000 in bodily injury coverage, $50k per accident, and $15,000 in property damage.
It is important to note that these are only the minimum requirements. Consider purchasing additional coverage to protect yourself in the event of an accident.
How Much is Motorcycle Insurance in Arizona?
Arizona is one of the most affordable states for motorcycle insurance, especially for those in their mid-30s. Although the median policy is $689.46, riders in this age demographic typically pay $250 less per year.
In contrast, a young rider under 25 typically pays more than $1,000 annually for the same protections as someone in their 30s.
Cities with the Lowest Motorcycle Insurance Rates in AZ
You'll pay significantly less for motorcycle insurance when you live further away from the state's metropolitan centers.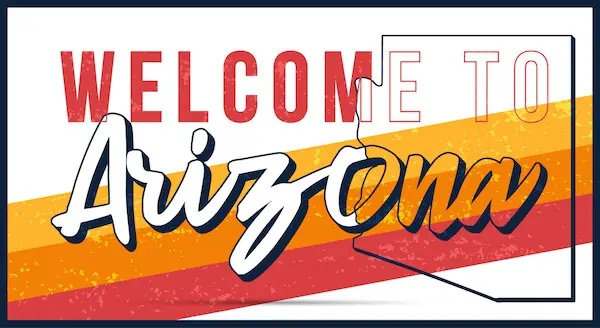 Riders living in Bisbee and Bullhead City pay about 15% less than the state's average.
In contrast, those in Phoenix and Tucson pay about 30% more.
The cheapest quotes were found in Fountain Hills, an outer suburb northeast of Scottsdale. You can expect rates nearly 20% lower than the state average.
Flagstaff, Holbrook, Show Low, Tombstone, and Williams also deliver excellent savings opportunities.
Riders in Glendale and Mesa paid the most, at 35% above the state average.
Chandler residents pay 28% above the median cost
Those in Peoria have 25% higher rates.
Do I Need Travel Insurance to Visit the Grand Canyon?
Riding your motorcycle to the Grand Canyon is one of Arizona's top highlights. Most people will not need specific travel insurance added to their current policy when taking this trip.
There could be times when you've booked activities or lodging options for a multi-day trip. If your motorcycle breaks down or you're in an accident, your insurance policy might not have trip interruption benefits.
If it doesn't have a benefit to claim, you'd be responsible for the costs to any providers with whom you booked services. Your motorcycle repairs, or even a complete replacement, would not be affected by this issue.
Some third-party providers offer travel insurance if your motorcycle insurer doesn't provide this benefit as an add-on service.
What Motorcycle Insurance Companies Offer the Best Rates in Arizona?
Dairyland offered me a fantastic quote at $245 per year, while Harley-Davidson Insurance was just a little behind at $275 with their quote.
Although GEICO is slightly more expensive at $546.38, they're the only provider that offers replacement cost coverage and OEM parts replacement. The premium is worth the expense if you need those elements in your policy.
Allstate is the only other major provider offering OEM parts replacement. I was given a quote of nearly $1,200 per year for a full coverage policy.
| | |
| --- | --- |
| Motorcycle Insurance Provider | Annual Premium |
| Dairyland | $245 |
| Harley-Davidson | $275 |
| GEICO | $546 |
Best Overall Provider: Progressive
Progressive is my pick as the best motorcycle insurance provider in Arizona. Although some riders might see higher quotes than the state average, most will see prices that are one-third cheaper than the median.
The policies come with replacement cost coverage, perfect for daily riders. You also receive $3,000 in custom parts protection, with an option to add up to another $30k.
Several discounts are available to reduce your premiums potentially. Most are easily obtainable by requesting a quote in advance, enrolling in autopay, or taking an authorized safety class.
Rental reimbursement and trailer coverage are not currently available.
Best for Commuters: Dairyland
Dairyland is an excellent choice for motorcyclists who ride to work daily. I like this provider because you can include OEM parts and total loss replacement while having rental reimbursement options. If your bike is getting repaired because of a qualifying incident, you can rent something else to use for up to 30 days.
This provider offers roadside assistance that includes 24/7 towing. You can also request services for flat, mechanical issues with the bike, or battery problems.
The primary disadvantage that could come when working with Dairyland involves the agency's below-average customer service ratings in the state.
Best for Long-Distance Rides and Trips: GEICO
GEICO is my pick for this category. As a nationwide provider with a history of offering competitive rates, you can confidently pack those saddlebags for a weekend road trip. Even if you need to make temporary changes to a policy because you're operating with the liability minimums, the process is straightforward and convenient.
GEICO's rates were a little higher than what Harley-Davidson Insurance offered, but the convenience makes up for the extra you might pay.
The table below illustrates the insurance companies' financial strength, customer satisfaction, and complaint index so you get an idea of what to expect.
| | | | |
| --- | --- | --- | --- |
| Providers | AM Best Rating | J.D. Power Index Ranking | NAIC Complaint Index |
| Progressive | A+ | 800 | 1.40 |
| Dairyland | A+ | – | 3.41 |
| GEICO | A++ | 827 | 1.95 |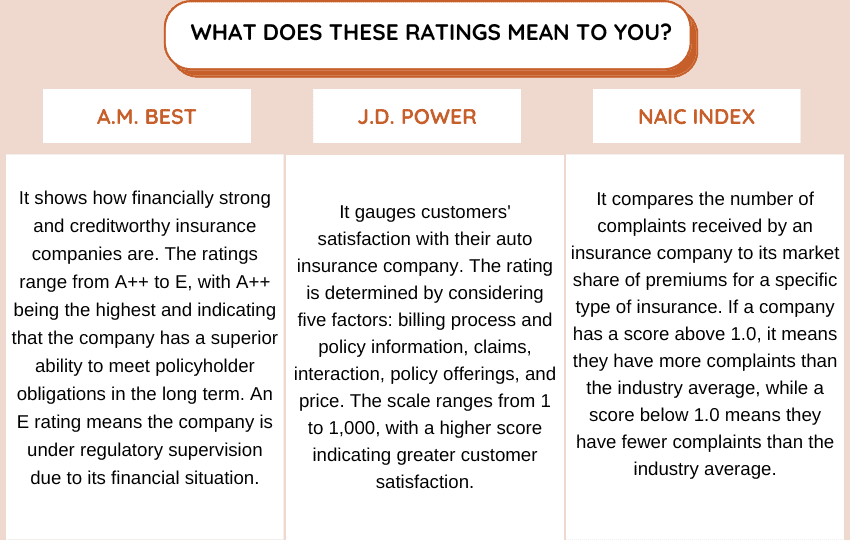 How Can I Save Money on Motorcycle Insurance in Arizona?
The best way to save money on motorcycle insurance is to shop with today's top providers. Although the quotes you receive are often similar, there can be a wide range of offers. It is common for one company to be several hundred dollars cheaper than others.
Here are some additional strategies that can help you keep the costs of insuring your motorcycle low.
Increase Your Deductible
The higher your deductible, the lower your premium. Ensure you can pay the deductible if you need to make a claim. A good range is between $250 to $750 for most riders.
If you have a collision or comprehensive claim to file, the deductible gets deducted from the amount you receive. Let's say the total repair bill after an accident is $2,000. You'd receive $1,250 with a $750 deductible.
Now think about a repair estimated at $675. If you have a $750 deductible, you won't receive anything. It wouldn't be worth filing a claim in that circumstance.
Install Security Features
Adding components like an anti-theft device or an alarm lowers the risk that a motorcycle will be successfully stolen. That makes your insurance policy cheaper with some providers because you're investing in solutions to eliminate factors that could lead to an eventual claim.
Bundle Your Policies
If you have other policies like home or auto, consider bundling them with your motorcycle insurance. Many insurers offer discounts for having multiple assets insured through the same company.
Bundling can save you time when managing the administrative portion of your insurance policies. This technique doesn't always offer a discount, so please remember to get quotes for separate and bundled options to ensure you're saving the most money.
Clean Driving Record
Do your best to avoid accidents and traffic violations to keep your insurance rates low. If you're a new motorcyclist, your insurer might want to see a clean driving record for 36 months.
Approved Safety Course
Completing a safety course in Arizona can earn premium discounts with some insurers. You can include this option while requesting a quote, but the savings will only appear once providing documentation that you've passed the class.
FAQs
It is not unusual to have some questions about motorcycle insurance in AZ, especially if you're looking forward to taking a ride for the first time. Here's a closer look at what gets asked the most during this process.
Why Are Arizona's Insurance Rates Higher Than Other States?
Northern states have a shorter riding season than what is available in Arizona. If you live in the Phoenix area or near the border, it's conceivable to be in the saddle all year. Since you can ride more, additional risks are associated with the insurance you need. That equates to a higher quote.
What Other Motorcycle Insurance Options Are Available?
In Arizona, some insurers offer enhanced injury protection insurance. This policy pays up to $250 weekly for 24 months after having injuries in a covered accident that prevents you from being employed.
Carried contents insurance is available for personal effects and belongings that get stolen or damaged during a covered event.
Medical Payments (MedPay) is an optional policy that pays for the cost of injuries to the rider and their passenger, regardless of who caused it.
Is Lane Filtering Allowed in Arizona?
In 2022, Arizona changed the riding laws for motorcycles to go between traffic lanes to get to the front of a vehicle line at a traffic light. It only applies at stoplights when everyone is at a complete stop. Motorcyclists cannot pass anyone moving; speeds must be kept at 15 miles per hour or less.
Lane splitting in AZ is illegal. Filtering is available on roads with a speed limit of 45 miles per hour.
What Is Mandatory Insurance?
Arizona requires all motorcycles operated on roads to be covered by a statutory form of financial responsibility. The company must be authorized to do business in the state for the policy to be considered valid.
Is Moped Insurance Required in Arizona?
Mopeds must be insured at the same liability minimum levels as motorcycles in Arizona. Those levels are currently 25/50/15.
What Is De-Insurance in AZ?
De-insurance works like seasonal motorcycle insurance in other states. It is a way to temporarily discontinue a required policy until the motorcycle is ready to be on the road again. When you choose this process, the bike isn't suspended due to a lack of insurance coverage unless you ride it in that state. This process can be completed online.
Get Motorcycle Insurance Quotes in Arizona
Obtaining multiple quotes from us and comparing the price using the tool below is the best way to get the cheapest quote in AZ. With just a few clicks, you could be cruising towards significant savings and smoother rides on the open road. Happy saving!
Use This Tool for Free and Save on Quotes!