I almost decided to call Vermont home. When I was young, I loved the idea of having a rural home with some property where I could take out a dirt bike for fun and use a motorcycle to commute.
The state was far away from everyone I knew, so I decided to look for something closer to family. Still, a trip to Vermont each year is something I try to accomplish with my motorcycle.
Didn't You Try Our Quote Comparison Tool Yet? Save BIG by Doing it!
I love riding Route 125. This scenic road runs through the heart of the Green Mountain National Forest. It takes you from Middlebury to Hancock and offers stunning views of the surrounding mountains, forests, and rivers. You'll have some curves and elevation changes to enjoy.
Another favorite, albeit a short trip, is the Green Mountain Byway. This 11-mile stretch of Route 100 between Waterbury and Stowe delivers beautiful landscapes as you tour past local farms and the reservoir.
Before you take that next trip to Vermont, it's essential to review your motorcycle insurance to ensure it conforms to the state's standards.

Is Motorcycle Insurance Required in Vermont?
Vermont mandates that motorcycle owners carry minimum liability insurance coverage to legally operate their motorcycles on public roads.
Motorcycle insurance aims to provide financial protection in case of accidents or damage caused by the motorcycle owner.
Collision and comprehensive motorcycle insurance in Vermont are optional but could be mandatory if you lease or finance your bike.
What Are the Liability Minimums Required in Vermont?
The minimum coverage limits for motorcycle insurance in Vermont are 25/50/10.
That means you need $25,000 for bodily injury liability per person for injuries sustained in an accident and $50,000 per incident. The $10,000 is for property damage liability.
As a motorcycle owner, you have the option to purchase additional coverage or higher limits to ensure you have adequate protection.
How Much Is Motorcycle Insurance in Vermont?
Motorcycle insurance in VT is remarkably affordable, averaging $483.94 across all age groups and demographics.
Teen riders tend to pay the most, with policies coming close to $1,000 yearly. You can pay significantly less if you're age 35 with a clean driving record and a few years of being on a bike under your belt.
GEICO offered me the best rate, quoting a policy at just $307 per year. Dairyland was the next best option, with a quote of $460 annually.
Allstate was the only other insurance carrier that offered me a motorcycle insurance policy under $500 at $492 yearly.
Cheapest Cities for Motorcycle Insurance in VT
Unlike other states, Vermont is relatively consistent for geographic motorcycle insurance quotes. Most cities are around the average policy cost for riders unless you're trying to insure something with significant mods or custom features.
The most expensive rates were found in Springfield, Newport, Barton, and Enosburg Falls. Riders can expect to pay about 15% more for their policy, translating into about $40 to $60 more annually.
For those looking for cheaper rates, I found the best cities to save money were Stowe, Morrisville, Montpelier, and Barre City. You'll pay about 5% less, which translates to about $20 for most riders.
Cities like Burlington, Bristol, Chester, Bennington, Middlebury, Manchester Center, Northfield, Shelburne, and Waitsfield all pay about the state average within a percentage point or two.
Top Insurance Providers in Vermont
You have some choices to consider when looking for motorcycle insurance companies in Vermont that support your needs. Here are my picks to consider based on cost, coverage options, and commuting requirements.
| | |
| --- | --- |
| Motorcycle Insurance Provider | Annual Premium |
| GEICO | $307 |
| Dairyland | $460 |
| Allstate | $492 |
Best Overall Motorcycle Insurance Provider: GEICO
It has to be GEICO. Most riders are going to save money with this insurer. The savings for me was nearly $200, but it could be even more if you switch from a different provider.
Although you have fewer options for specialized coverage, the company has a relatively strong customer service rating. You can access your policy online at your convenience or contact their 24/7 support line.
Additional protections are available for carried contents, trike conversions, and electronic equipment.
GEICO has the highest A.M. Best rating in the state, earning the coveted A++ designation.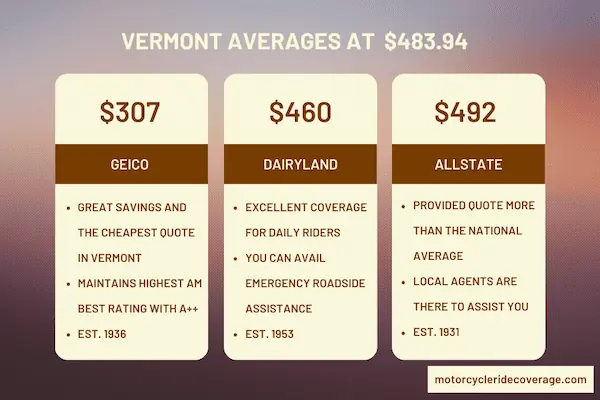 Best Motorcycle Insurance for Coverage Options: Allstate
If you're looking for well-rounded coverage options, I prefer Allstate. The quote I received aligns with the state's average, with several add-ons to consider.
Added equipment coverage can include up to 30,000 in additional coverage for things like custom seats and other aftermarket changes. Your policy includes $1,000 automatically.
Towing and labor can be added to your motorcycle insurance.
You can choose to have your transport trailer included.
Several discounts are available through Allstate, especially for Vermont homeowners. Adding motorcycle insurance into a bundled package offers significant savings if you already have a home and a car.
Best Motorcycle Insurance for Daily Riders: Dairyland
I prefer Dairyland for those who ride daily or use their motorcycle to commute to work. The rates are competitive, and you can access rental reimbursement if your bike needs to be repaired.
You can add emergency roadside assistance to a Dairyland policy. This coverage includes support for mechanical or electrical problems, including battery failure or a flat tire. Tow service is part of the package.
Let's take a closer look at the financial strength, customer satisfaction, and complaint index of these companies so that you can have a clearer understanding.
| | | | |
| --- | --- | --- | --- |
| Providers | AM Best Rating | J.D. Power Index Ranking | NAIC Complaint Index |
| GEICO | A++ | 827 | 1.97 |
| Allstate | A+ | 787 | 2.42 |
| Dairyland | A+ | – | 3.43 |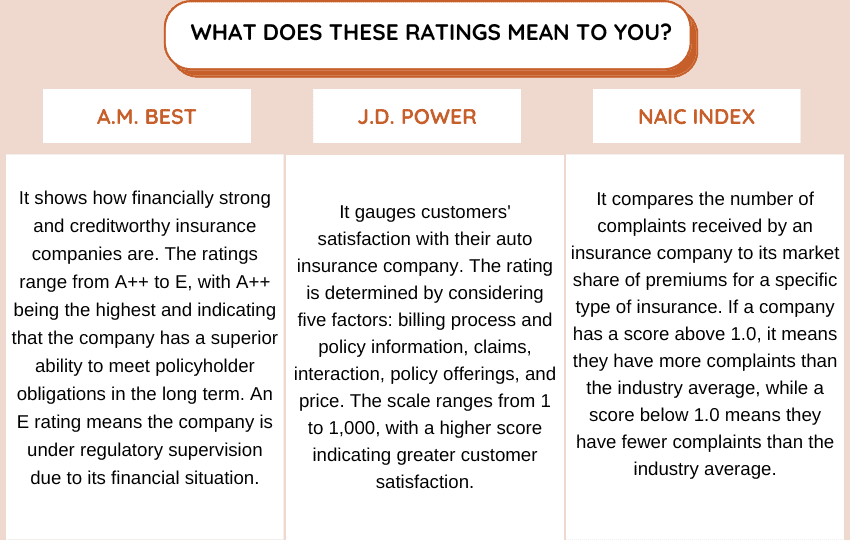 Motorcycle Insurance FAQs in Vermont
If you're looking for a motorcycle insurance policy in VT, you might encounter some common questions about the process or coverage options offered. Here are the answers you'll need to proceed with an accurate quote.
Is Vermont an "At Fault" State for Motorcyclists?
Yes. Vermont is an at-fault state when it comes to motorcycle insurance. That means if an accident occurs, the at-fault driver and their insurer are responsible for covering the costs of damages and injuries resulting from the accident.
What Are the Helmet Laws in Vermont?
In Vermont, helmet laws require motorcycle operators and passengers of all ages to wear helmets that meet certain standards while riding on public roads. The state also requires operators and passengers to have eye protection, like a face shield or goggles, unless the bike comes equipped with a windscreen.
What Do I Need to Drive a Motorcycle in VT?
You must possess a valid motorcycle endorsement on your driver's license. This endorsement is obtained by passing written knowledge and on-cycle skills test specific to motorcycles.
Where to Get FREE Motorcycle Insurance Quotes in Vermont?
Obtaining quotes from the best insurance providers in the US is easy with our service. Simply enter your Vermont zip code in the box below and you'll be presented with advertisers who cover your region.
Use This Tool for Free and Save on Quotes!