About a decade ago, I was asked to participate in a friend's wedding. It was the first time I took my motorcycle to Texas, and the entire two weeks down there was a great experience.
We started with the iconic Twisted Sisters. This iconic motorcycle route in the heart of Texas Hill Country takes you through Ranch Roads 335, 336, and 337, offering challenging twists, turns, and stunning scenery. It's about 100 miles of absolute fun.
Didn't You Try Our Quote Comparison Tool Yet? Save BIG by Doing it!
Then we explored Palo Duro Canyon. It's up in the Panhandle, notable for being the second-largest of its type in the United States. The colors are beyond incredible, and the views are unforgettable.
Then we spent a couple of days exploring Big Bend National Park. The rugged terrain offers beautiful desert scenery, majestic mountains, and chances to explore the Rio Grande River.
When you live in Texas or plan a lengthy visit, it helps to ensure your motorcycle insurance is in order. This guide will help you start the journey of finding the cheapest rate.

Is Motorcycle Insurance Required in Texas?
Texas requires all vehicle operators, including motorcyclists, to provide evidence of financial responsibility for any accident they cause.
Even though motor-driven bicycles and mopeds operate at lower speeds, Texas classifies them the same as cars or motorcycles. In Texas you will pay $77 for liability only for moped insurance.
The only vehicles that don't have an insurance requirement are the ones that aren't permitted to operate on public roads. That includes golf carts, mini-bikes, dirt bikes, and all-terrain vehicles (ATVs).
What Are the Liability Minimums for Motorcycle Insurance in TX?
The minimum liability limits for motorcycle insurance in Texas are 30/60/25. That means there must be $30,000 for an injured person, $60,000 per accident, and another $25,000 for property damage.
You can purchase more BI/PD coverage for higher protection levels above the minimum as a motorcycle operator.
Bodily Injury (BI) coverage protects injuries sustained by others in an incident for which you are at fault. It covers things like medical expenses, rehabilitation costs, lost wages, and other damages that occur because of an injury.
Property Damage (PD) coverage includes damage to other vehicles, buildings, fences, or any other property that may be affected by the accident.
How Much Is Motorcycle Insurance in Texas?
According to my exclusive research, the average cost of motorcycle insurance in TX is $821.22.
If you have three years of riding experience and a clean driving record, you'll pay less at any age (except if you're 18 or under). The time you spend on a bike as a teen doesn't count toward this experience for providers unless you're licensed or endorsed.
That's why the average cost for a new teen rider is about $1,100 per year. At age 35, your rate is just $679.33 annually.
As you get older, the state's average insurance rates start increasing. Once you reach age 60, you'll pay about the same as when you're 23.
Since seasonal policies aren't always offered with the state's climate, part of the reason for the higher rates involves year-round riding opportunities.
Where Are the Best Places to Find Affordable Motorcycle Insurance in TX?
Texas is so large that it would be the 39th biggest country in the world if it were independent. That means regionality plays an extensive role in what you can expect for motorcycle insurance quotes.
If you live in Brownsville, Harlingen, McAllen, or Mission, your average motorcycle insurance rates are about 15% less per year than for other Texans.
You'll reduce your average costs by 10% if you live in Allen, Amarillo, Corpus Christi, Denton, Frisco, Little Elm, Lubbock, McKinney, Midland, Odessa, Plano, San Angelo, or Victoria.
The state's largest metropolitan areas typically have higher rates than the average for motorcycle insurance. Here's a closer look at where the most expensive policies get issued.
| | |
| --- | --- |
| Texas Cities | Percentage Above State Median |
| Baytown | 23% |
| Dallas | 17% |
| Houston | 18% |
| Killeen | 13% |
| Mesquite | 18% |
| Pasadena | 21% |
| Pearland | 9% |
| San Antonio | 31% |
The Best Providers of Motorcycle Insurance in Texas
Motorcycle insurance premiums in Texas are below average for the United States despite the number of miles riders manage each year. Most bikers ride between 3,000 to 5,000 miles, but that figure can be doubled or tripled for some.
| | |
| --- | --- |
| Motorcycle Insurance Provider | Annual Premium |
| Progressive | $630 |
| Dairyland | $684 |
| Nationwide | $744 |
That's why it is essential to work with today's top motorcycle insurance providers. Here are my picks for different situations.
Best Overall Provider: Progressive
I'd choose Progressive for the average rider. The rates are affordable, you have a combination of coverage choices, and enhanced injury protection gives you up to $1,000 monthly for two years to help pay certain expenses.
The insurer also has an A+ rating from A.M. Best.
Best for Collectible Bikes: Dairyland
If there's one thing I've seen in Texas more often than other places, it is a collector's paradise. For those who love taking vintage or antique bikes on the road, I recommend Dairyland.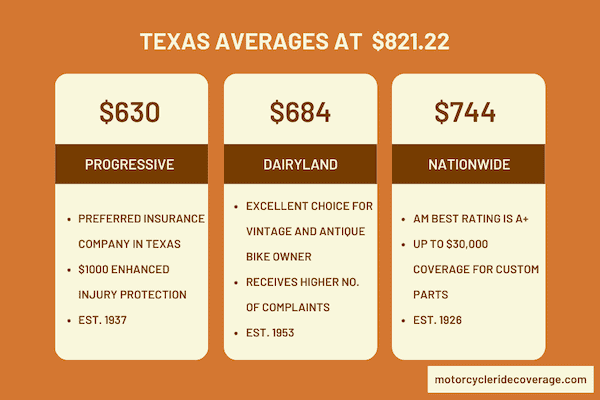 You have extensive coverage choices and multi-vehicle protection opportunities. You can opt for full replacement cost and OEM parts if you purchase a new model. This company has an A+ rating from A.M. Best.
Best for Military Families: USAA
USAA is a fantastic choice if someone in your family is a veteran or currently serves in the United States Armed Forces. This insurer partners with Progressive to help you customize a policy that fits your needs while offering members a discounted rate.
That means you can potentially save even more with this provider than any other in Texas.
Companies like State Farm and Allstate have local agents to assist, but USAA has customers manage policies or service issues online or over the phone. It's a convenient option for those travel adventures while simplifying the transfers that happen with PCS orders.
Best for Daily Rides: Allstate
Although I received a rate quote of nearly $1,200 per year, I'd still recommend Allstate for those who use their bikes daily. You can include rental reimbursement, unique coverage choices, and complete protection opportunities.
This insurer typically has a better NAIC service rating than its competitors each year and the same A+ rating from A.M. Best.
The table below compares the financial strength, customer satisfaction, and complaint index of the companies mentioned above.
| | | | |
| --- | --- | --- | --- |
| Providers | AM Best Rating | J.D. Power Index Ranking | NAIC Complaint Index |
| Progressive | A+ | 831 | 1.41 |
| Dairyland | A+ | – | 3.43 |
| Allstate | A+ | 832 | 2.42 |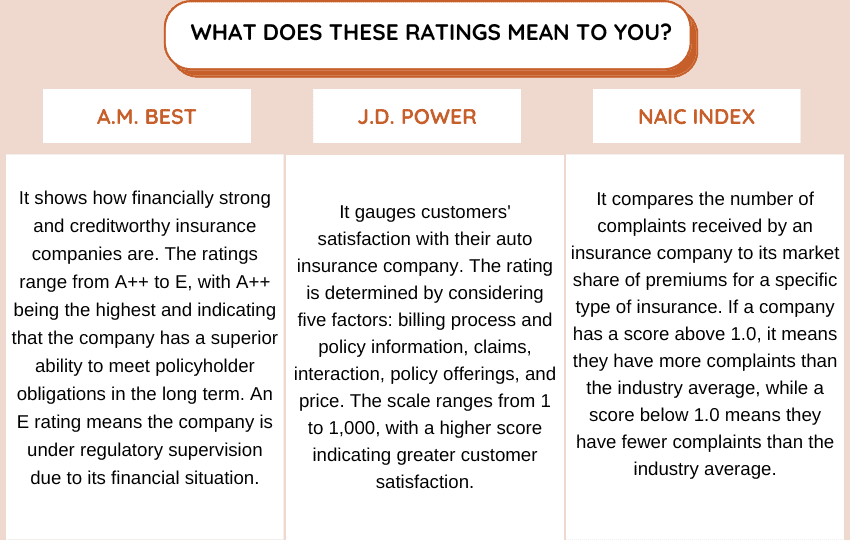 How to Reduce the Average Cost of Motorcycle Insurance in Texas?
Reducing motorcycle insurance costs in Texas can be achieved through a combination of strategies. Here are some tips to help you lower your premiums.
Take a Motorcycle Safety Course
Completing a recognized class can not only enhance your riding skills, but it also makes you eligible for insurance discounts. Check with your insurer to see if there are discounts for completing such courses.
Bundle Policies
If you have auto or home insurance, consider bundling them with your motorcycle policy with the same provider. Many companies offer multi-policy discounts but ask for individual quotes to ensure you get the best rate.
Pick a Higher Deductible
A deductible is the amount you pay out of pocket before your coverage offers support. Opting for more with your motorcycle insurance quote in Texas can lower your premiums associated with collision and comprehensive options.
Ask for Usage Coverage
If you don't drive your motorcycle daily, ask your insurer if there are ways you could structure the policy to save more. This step might involve tracking your miles or verifying your activities, but the result might offer significant savings opportunities.
Strategies for Stopping Motorcycle Theft in TX
Motorcycle theft is a significant concern in Texas. The good news is that several strategies are available to reduce the risk of this issue happening to you.
Here are some thoughts that might help maintain possession of your motorcycle and potentially keep your insurance rates from rising.
Install an Alarm. Alarms with loud sirens, motion sensors, and immobilizers can startle thieves and attract attention from passersby, making it harder for them to steal your motorcycle unnoticed.
Use a GPS Tracker. These devices can be hidden on your bike and let you track its location or final destination in case it gets stolen. Some GPS products can even alert your phone if your bike is moved without authorization.
Park in Secure Areas. When parking your motorcycle, choose well-lit and highly visible areas. Thieves are less likely to attempt theft in places where they can be easily seen. If at home, use your garage or a lockable outbuilding.
Join a Community. Participating in local motorcycle clubs can provide valuable support and information about recent thefts or suspicious activities.
Consider investing in a cover if you cannot park your motorcycle in a locked building. This product protects your bike from the elements while making it a less attractive target to potential thieves.
FAQ About Motorcycle Insurance in Texas
If you're looking for the best quote possible for Texas motorcycle insurance, you might encounter some questions during the process. Here are the answers to the common issues that arise for those seeking a policy.
How Much Is Motorcycle Insurance for an 18-year-old in Texas?
The average cost in Texas for an 18-year-old is just under $1,100. It is at age 23 that the annual rate dips below $1,000 per year.
Does Motorcycle Insurance Cover Passengers in TX?
Motorcycle insurance in Texas can provide passenger coverage, but it also depends on your specific policy terms and coverage options.
It's important to review your motorcycle insurance policy carefully to understand its specific coverage. Consider discussing your needs with your preferred provider to ensure you have an appropriate approach.
Can I Get Motorcycle Insurance with a Salvage Title in Texas?
If you own a salvage title motorcycle outright and are not required by law or a lender to carry insurance, consider self-insuring. Otherwise, working with a non-standard provider or an independent agent is the best option.
Most companies have an online quote process. You can also work with these agencies to see if they'll issue a policy.
Is It Illegal to Ride a Motorcycle Without a Helmet in Texas?
Riders under the age of 21 must wear a helmet in Texas. You can ride without this safety equipment if you meet an eligible exemption and are over that age.
To be exempt, you must have completed a safety course or medical insurance that covers motorcycle accidents.
Where Can I Buy Motorcycle Insurance with a DWI in Texas?
Motorcyclists with a DWI might need to work with a specialty or non-standard insurance provider to get the coverage required to operate their bikes. Working with an independent agent can be helpful since that approach allows access to multiple companies simultaneously.
If you cannot find insurance coverage through traditional means due to a DWI, you can explore the Texas Automobile Insurance Plan Association (TAIPA). TAIPA is a state-mandated program designed to provide high-risk auto insurance coverage for drivers who cannot obtain coverage from the voluntary market.
Is Insurance Required to Purchase a Motorcycle in TX?
Unlike auto insurance, which is mandatory in Texas, there is no specific legal requirement or expectation to have insurance in place before purchasing a motorcycle.
Having an insurance policy before riding your new motorcycle on any public road is strongly recommended.
Do Motorcycle Inspections in Texas Require Proof of Insurance?
When you take your motorcycle for inspection, you must provide proof of liability insurance coverage to the inspection station. It can be in the form of an insurance card or policy declaration page provided by your insurance company. The documentation should show the policy number, effective dates, and coverage details.
Can I Ride a Motorcycle Year-Round in Texas?
Riding a motorcycle throughout the year in Texas is often possible because of the state's mild climate. There is a diverse ecosystem across different regions, with those along the coast and the south in cities like Houston, Corpus Christi, and
Brownsville having average temperatures that rarely dip below freezing.
It can be cooler in the central part of the state, including cities like Austin, Dallas, and Fort Worth. There could be days when riding is uncomfortable, but you can get back on the bike in a week or two.
As you go further west to El Paso, you'll notice mild temperatures, while the north in Amarillo might be a better spot for seasonal insurance for some.
What Happens if I Ride a Motorcycle Without Insurance in Texas?
If you are caught riding your bike without insurance in Texas, you might face the following consequences.
– You can receive a traffic citation for not having insurance, resulting in substantial fines and court costs.
– The Texas Department of Motor Vehicles can suspend your motorcycle registration.
– Your driver's license can be suspended if you're involved in an accident.
Texas has a Financial Responsibility Verification Program (FRVP) that identifies uninsured motorcycles. If your bike is flagged, proof of insurance is required at the DMV.
What Insurance Is Required to Finance a Motorcycle in Texas?
Motorcyclists typically need a complete motorcycle insurance policy to secure financing, which includes liability, comprehensive, and collision insurance.
Where To Obtain Motorcycle Insurance Quotes in Texas?
In Texas, the size of a region has a major impact on monthly insurance premiums. Please provide your exact ZIP code using the box below to ensure you receive our most precise quote. There is no obligation to purchase.
Use This Tool for Free and Save on Quotes!