One of my favorite places to visit in the summer is North Dakota. Even when the heat of July and August arrives, it is still a comfortable ride through wide-open spaces.
The golden fields have spoken to me here, even as a kid. My family took a road trip to Bismarck when I was about 10, and I fell in love with the endless beauty.
Didn't You Try Our Quote Comparison Tool Yet? Save BIG by Doing it!
There are more than rural roads to explore when visiting North Dakota. I love the Theodore Roosevelt National Park Loop. You get to explore the rolling hills of the Badlands, often encountering wildlife along the route.
On one ride, I had to stop for an hour because a herd of wild bison was crossing the road. It was exhilarating.
The Sheyenne River Valley Scenic Byway is another charming route. It winds through picturesque small towns, open farmland, and alongside the water. There is arguably not a more tranquil ride you'll find in the country.

Before taking off on your next adventure, it is essential to have your motorcycle insurance updated in case something unexpected happens.
Is Motorcycle Insurance Required in North Dakota?
You'll need insurance if you're cruising around North Dakota on a motorcycle, even for a day. The state requires liability coverage to ensure that if you're involved in an accident, there's financial protection for potential damages or injuries you might cause.
It's all about keeping the streets safe and secure for everyone. So, before you hit the open road, ensure you have the right insurance coverage in place.
Here is a closer look at the liability minimums you must carry. You can purchase more coverage than the base rate if desired.
You'll need at least $25,000 for bodily injury or death per person.
Another $50,000 for total bodily injury or death liability per accident is required.
There is also a $25,000 requirement for property damage coverage.
If you bought your motorcycle with financing, the lender would likely require you to carry comprehensive and collision insurance. You'll need to follow their restrictions, as the state doesn't mandate specific levels outside the liability requirements.
How Much Is Motorcycle Insurance in North Dakota?
North Dakota has one of the country's lowest annual rates for motorcycle insurance. Since the average rider must consider storage for 3-5 months in the average year, it is understandable that you'll save more than someone in California, Texas, or Florida.
My research found the average policy cost to be $329.51. GEICO offered me the best rate, charging just $221 for full coverage throughout the year.
Nationwide offered me $322, while Progressive came in at $394.
Insurance Rates in Different Cities of the State
Geographic pricing is relatively consistent throughout the state.
I found the highest rates in Grafton, Grand Forks, Mandan, Bismarck, and Belcourt.
Everyone else pays slightly less than the state average, including those in Underwood, Williston, West Fargo, Kenmare, Jamestown, Horace, Carrington, and Ashley.
Top Motorcycle Insurance Providers in North Dakota
Here are my top three providers in North Dakota for various needs. Try them out if they fit your purpose.
| | |
| --- | --- |
| Motorcycle Insurance Provider | Annual Premium |
| GEICO | $221 |
| Nationwide | $322 |
| Progressive | $394 |
Best Overall: Progressive
When looking at the top providers in North Dakota, my first choice is Progressive. Although the cost is significantly more than the cheapest quotes I received, I found the coverage choices and A.M. Best "Superior" rating to be influencing factors.
With Progressive, you can include roadside assistance, trip interruption, and carried contents. There is a disappearing deductible add-on that reduces this figure by 25% for each policy term you remain claim-free.
Best for Saving Money: GEICO
The best provider for a cheap policy is GEICO. You'll save nearly $200 per year with this insurer compared to the other choices found in North Dakota. Although the discounts are minimal and fewer coverage options exist, you can still take care of the basics and ride confidently.
If you need carried contents or trip interruption coverage, you'll need to choose Progressive. If not, you'll find an excellent rate waiting for you here.
GEICO also delivers the only A++ rating from A.M. Best from the major insurers in the state.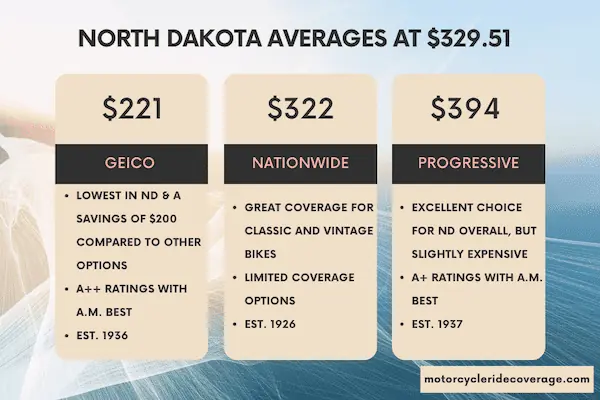 Best for Daily Rides or Commuting: Dairyland
Nationwide offers an excellent rate, but I prefer Dairyland ($399) for this need. You receive rental reimbursement coverage through this provider, which is helpful if you're on the bike daily.
The NAIC ratings for customer service are often lower each year than my other top picks, but you can streamline your experience with an online dashboard.
This insurer is also an excellent pick for riders with a driving infraction history. They handle SR-22 requirements easily, allowing you to get back on the road again without a lot of red tape.
Let's assess the financial strength, customer satisfaction, and complaint index of the mentioned companies to predict their future performance.
| | | | |
| --- | --- | --- | --- |
| Providers | AM Best Rating | J.D. Power Index Ranking | NAIC Complaint Index |
| Progressive | A+ | 820 | 1.41 |
| GEICO | A++ | 847 | 1.97 |
| Dairyland | A+ | – | 3.44 |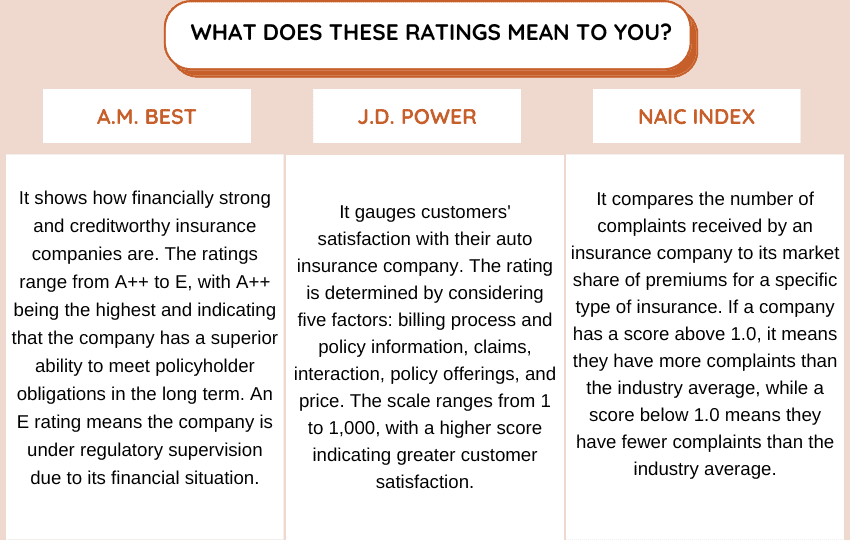 How to Save Money on Motorcycle Insurance in North Dakota?
If you've taken safety classes and purchased an entry-level motorcycle, you've taken practical steps to keep your insurance premiums low. Here are some of my top strategies to enhance those savings opportunities.
Usage-Based Insurance. Consider use-based policies, where your premium is calculated by how much you ride. If you're an occasional rider, this can lead to significant savings.
Vintage or Classic. If you own a vintage or classic motorcycle, some insurers offer specialized coverage that might be more cost-effective for these types of bikes.
Automatic Payments. Some insurers offer discounts for setting up ACH payments. The savings often total up to 10% but can be significantly lower. Those discounts do add up over time.
Memberships. You might qualify for club-based discounts if you belong to AARP, AAA, or similar organizations. Remember to ask about partnerships the insurer might have with your cellular provider or employer.
Some options may only be available with some insurers. It's crucial to shop around and ask about the possibilities with each company to find the best fit and cheapest rate.
FAQs About Motorcycle Insurance in North Dakota
Some questions often arise when looking for motorcycle insurance in North Dakota. Here are the answers to the issues I encountered when researching the cheapest rates and best coverage options.
Do I Need a Motorcycle License in ND?
You'll need a motorcycle endorsement if you plan to operate a bike in North Dakota. You must obtain one with a valid driver's license.
You'll need to pass an on-road skills test. This step can be accomplished through an approved safety course or at the NDDOT office.
Once you complete the requirements, a motorcycle endorsement is added to your license.
How Do I Get My Motorcycle Permit in North Dakota?
It is a straightforward process to obtain your permit. Heat to the local NDDOT office, bring identification documents and complete the required application.
You must take a written knowledge test focused on motorcycle rules, regulations, and safety. A vision screening is also mandatory.
Once you have the permit, you can practice riding under specific conditions and restrictions. The rules are outlined in your paperwork.
Are There Helmet Laws in North Dakota?
North Dakota does have helmet laws in place for motorcycle riders. If you're under the age of 18, it's mandatory to wear one while riding.
Adults can go without this equipment if certain insurance requirements are met. It is still a good idea to prioritize your safety and protect yourself.
Obtain Free Motorcycle Insurance Quotes in North Dakota
One of the most practical ways to get online quotes is by shopping around. By using the tool below, you can compare prices and find the cheapest rate.
Use This Tool for Free and Save on Quotes!