I've always enjoyed the opportunity to ride a motorcycle from Madrid to Upton when visiting Maine. Although you can complete the trip along Routes 4, 17, and 26 in about two hours, I like to take my time.
If I'm particularly ambitious, I'll tackle the summit trail on Old Speck. Some of the best views in the United States can be found there.
Didn't You Try Our Quote Comparison Tool Yet? Save BIG by Doing it!
Even if hiking isn't part of your prescribed adventure, dozens of pull-offs let you take a deep breath and enjoy the scenery.
Additional favorites include the Acadia Loop, North Anson to Coburn Gore in the fall, and Fryeburg to Gilead. When you know you've got proper motorcycle insurance for the journey, there's one less thing to worry about while enjoying the open road.
Do I Need Motorcycle Insurance in Maine?
According to Maine law, all motor vehicles, including motorcycles, must have liability insurance. You might also consider additional coverage types, such as comprehensive and collision, to protect your bike in the event of theft, damage, or an accident.

What Are the Minimum Motorcycle Insurance Laws in Maine?
If you choose a full coverage policy for your motorcycle, the collision and comprehensive limits are at your personal discretion. The state doesn't mandate these items, even though most lenders require them if you take out a loan to purchase your motorcycle.
Maine's minimum motorcycle liability insurance coverage is 50/100/25. That represents the following.
$50,000 is required for an injury or medical need related to one person.
$100,000 is necessary for injuries and treatments for two or more people.
$25,000 is set for property damage in an at-fault accident.
If you choose not to carry the minimums that Maine requires, you could be subject to fines, license suspension, or bike impoundment.
How Much Is Motorcycle Insurance in Maine?
As you explore Maine's beautiful coastlines and rugged wilderness areas on a motorcycle, it is essential to have appropriate coverage for your activities.
After contacting multiple motorcycle insurance providers, we found the average annual rate for full coverage was $486.39. Young riders pay about twice that amount, while those aged 35 with a clean driving record and three years of riding experience pay approximately $370 annually.
Living in Portland causes the average motorcycle insurance quotes for all riders to rise by 9%.
If you're looking for the cheapest places in Maine, consider Belfast, as its average is 5% below the state median.
Ellsworth, Old Town, and Rockland are significantly cheaper than the state average.
You'll find more savings opportunities when insuring a Honda Rebel 300, a Kawasaki Ninja 400, or a Yamaha R3. The costs are higher rates associated with the Ducati Panigale V4, BMW S1000RR, and Yamaha YZF-R1.
Rate variations can be as much as 25% above or below the state average with those motorcycles.
Who Offers the Cheapest Motorcycle Insurance in Maine?
When you need motorcycle insurance in Maine, the most affordable provider is Nationwide. I received a quote of $337.69 as a 30s-something biker with a clean record, good credit, and a decade of riding experience.
Progressive offered me another competitive quote at $357.80.
Here is a look at what you can expect in three popular motorcycle insurance categories based on your specific circumstances.
| | |
| --- | --- |
| Motorcycle Insurance Provider | Annual Premium |
| Nationwide | $337 |
| Progressive | $357 |
| Dairyland | $627 |
Best Overall: Progressive
Although more expensive than Nationwide, Progressive offers Maine riders better coverage options and limits. Their policies include enhanced injury protection, although some benefits are unavailable in every state if you travel a lot.
Progressive also offers a disappearing deductible for those who prefer full coverage for their motorcycles.
According to J.D. Power's 2023 U.S. Auto Insurance Study, Progressive ranked seventh overall in customer satisfaction, scoring 818 out of 1,000.
Best for Under 25: State Farm
State Farm is the best choice for riders under age 25. With highly rated customer service and policies tailored to specific needs, you can work with an agent to achieve an affordable policy. The only issue with this provider is that an online quote process or service is unavailable.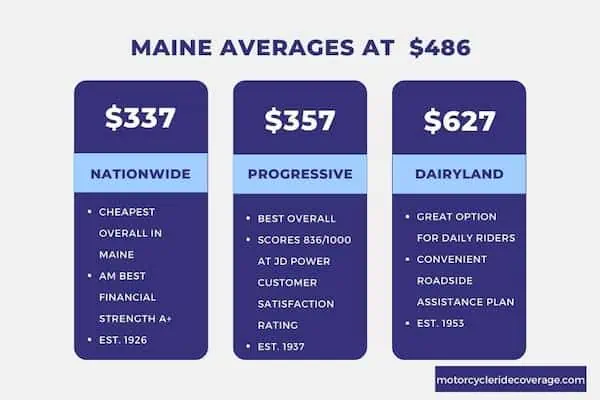 State Farm has been recognized as one of the world's most admired companies by Fortune magazine. In 2022, the company had total reported revenues of $89.3 billion.
A.M Best gives State Farm an A++ financial rating, indicating a superior ability to meet policyholder obligations.
Best for Daily Riders: Dairyland
Dairyland is an excellent choice if you're a daily rider in Maine. It offers options for OEM parts and total loss replacement with a base policy.
You also receive add-on options for roadside assistance and rental reimbursement. Although the $627.35 quote we receive is about one-third higher than the state average, you'll have more ways to protect your commuting need.
Dairyland is a subsidiary of Sentry Insurance, with headquarters in Wisconsin. The company has been recognized for its customer service and claims to handle, receiving high ratings from organizations such as J.D. Power and Associates.
Let's discover the financial strength rating, customer satisfaction, and complaint index of top insurance companies in your state and learn what they reveal.
| | | | |
| --- | --- | --- | --- |
| Providers | AM Best Rating | J.D. Power Index Ranking | NAIC Complaint Index |
| Progressive | A+ | 818 | 1.45 |
| State Farm | A++ | 838 | 1.47 |
| Dairyland | A+ | – | 3.41 |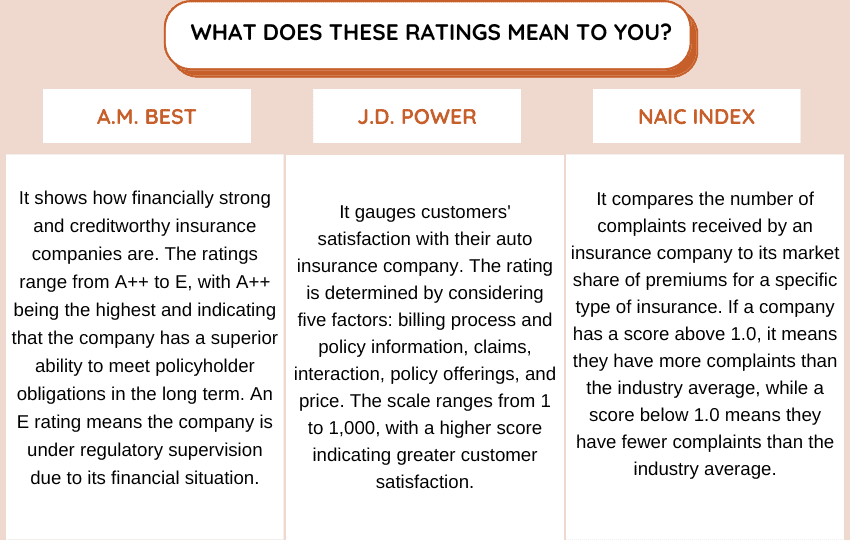 What Impacts My Maine Motorcycle Insurance Rates?
The seasonal nature of riding motorcycles has the most significant influence on your insurance costs in Maine. If you decide to insure your bike for riding all year long, you'll pay up to 50% more than someone who puts their gear into storage for the winter.
The motorcycle season typically runs from April through October. Most insurers offer policies designed to cover your riding habits during this period.
Starting and ending dates of seasonal motorcycle insurance policies can vary depending on the company and your specific requirements.
If you store your motorcycle during the off-season, consider buying additional coverage to protect against theft, fire, flooding, and other losses or damages that happen when not riding.
Additional factors that could influence your motorcycle insurance rates in Maine include the following.
Age and Experience.
Driving Record and Motorcycle Type.
Coverage Limits and Geographic Location.
Your Preferred Deductible for Collision and Comprehensive Coverage.
FAQs
Here are some common questions motorcyclists have when looking for insurance options or preparing to buy a bike for the first time.
How Old Do I Need to Be to Drive a Motorcycle in Maine?
You must be at least 16 and have completed a hands-on rider educational class if your goal is to ride a motorcycle in Maine alone.
When Do I Need to Wear a Motorcycle Helmet in ME?
Most riders don't need a motorcycle helmet, but the state's rules have three exceptions.
– You're currently under the age of 18.
– You are operating the motorcycle with a learner's permit only.
– The person operating the motorcycle is required to wear a helmet, and you're a passenger.
Can I Drive a Moped Without a Motorcycle Endorsement in Maine?
You don't need a motorcycle endorsement to operate motorized scooters or mopeds in Maine.
Motorized scooters and mopeds can be registered independently instead of as a motorcycle in Maine. A scooter, like a motorized tricycle or bicycle, can be used publicly without registration or inspection.
How to Get the Best Motorcycle Insurance Quote in Maine?
Looking for a reliable way to get multiple quotes online and compare them to find the best rate? Look no further than our tool below. It's the perfect solution for your needs. Take your time to shop around and save big on your insurance.
Use This Tool for Free and Save on Quotes!