My family decided to take a long road trip during the summer before I started high school. We went to several places where the average tourist doesn't tread, meandering from Keokuk, IA, to the backroads of Kentucky.
Although I remember mainly being bored during the trip, I vividly remember the Red River Gorge Scenic Byway. Its twisting roads and towering cliffs were beautiful. That stop became a priority for me once I had a motorcycle of my own and could travel at will.
Didn't You Try Our Quote Comparison Tool Yet? Save BIG by Doing it!
As I got older, my friends and I would follow the Bourbon Trail. You go through the Bluegrass Region, where you can visit famous bourbon distilleries like Maker's Mark, Woodford Reserve, and Jim Beam.
Then there are all the Appalachia backroads you can explore in the eastern part of the state, making you feel like you're riding on an entirely different planet.
Before you get started on a ride, you must review your motorcycle insurance to ensure it meets Kentucky's requirements.

Is Motorcycle Insurance Required in Kentucky?
Motorcycle insurance is required in Kentucky, and operators must show proof of their policy before registering the vehicle.
If you ride a motorcycle, you are required to carry pedestrian PIP insurance. This coverage provides benefits for medical expenses and other related costs if a pedestrian is injured in an accident involving a motor vehicle.
It can help cover medical bills, rehabilitation costs, lost wages, or additional expenses resulting from a pedestrian's injuries.
What Are the Minimum Motorcycle Insurance Requirements in KY?
The state currently requires motorcyclists to carry a minimum 25/50/25 BI/PD (bodily injury/property damage) policy. That breaks down into the following.
$25k of BI coverage per person.
$50k in BI protection per incident or accident.
$25k for property damage caused.
Additionally, Kentucky requires motorcyclists to carry $10,000 in pedestrian personal injury protection per person.
How Much is Motorcycle Insurance in Kentucky?
The average motorcycle insurance policy cost in Kentucky is $908.02, slightly higher than the national median.
Once you reach age 25, the annual premiums stabilize. From age 35 to 60, the average difference for most riders is just $100.
Young riders pay about double what those above age 25 can expect for their motorcycle insurance premiums, even with a clean driving record, good grades, and other potential discounts.
Progressive offered me a fantastic rate at $551, while GEICO came in at over $650. The next closest option was Nationwide, coming in with a quote of $775.
What Cities Let Me Save the Most Money on My Motorcycle Insurance?
After talking to motorcycle insurance providers in Kentucky, I found the cheapest rates came from Somerset. Riders in this community pay about 5% less in all risk categories than their counterparts in other cities.
Some great rates were available in Ashland, Bowling Green, Campbellsville, Glasgow, Maysville, Morehead, Owensboro, Paducah, and Winchester. Riders can expect to save 2% to 4% against the state's policy cost average.
I also found some communities were paying significantly more for their motorcycle insurance needs in KY. I received the highest overall rate quote with a Corbin ZIP code, which was 14% higher than the average cost.
Residents in Covington, London, Middlesborough, and Bardstown can expect to pay between 3% to 10% more for their insurance requirements.
Best Motorcycle Insurance Providers in Kentucky
For most riders, my pick is Progressive. You'll find the best rates in Kentucky across most risk pools, even if you've had claims or tickets in the past. Since this company is one of the country's largest, ample bundling options and additional discounts exist.
With Progressive, you can access replacement cost coverage, carried contents and accessories protection, and guaranteed OEM parts while crafting your policy.
The NAIC often rates Progressive as one of the best insurance brands in the state for customer service.
| | |
| --- | --- |
| Motorcycle Insurance Provider | Annual Premium |
| Progressive | $551 |
| GEICO | $650 |
| Nationwide | $775 |
Here are some other picks to consider.
Best for Military Families: USAA
I like USAA for motorcyclists currently serving in the military, with family in the service, or are veterans. The insurance comes through Progressive, but you receive a 5% discount through this association.
In Kentucky, GEICO is the only other insurer to receive an A++ rating from A.M. Best other than USAA.
That means you get a great rate, a proven carrier, and outstanding support. That's an excellent combination if you qualify.
Best for Customized Service: Nationwide
If you need to create a detailed policy because you have a vintage or antique ride, I recommend Nationwide. You can work with a local agent to tailor the policy to meet your specific requirements. The rates are relatively competitive, and you can add custom equipment coverage.
The NAIC consistently rates Nationwide with one of the lowest complaint index ratings in Kentucky year-over-year.
Best for Daily Riders: Dairyland
I prefer Dairyland's offer for those using a motorcycle to commute or for daily transportation. You receive rental reimbursement coverage, ensuring a vehicle is available if the bike requires repairs.
Since you're expected to ride more, the costs for a Dairyland policy are higher. They're still around the state average for most riders.
Below is a table that compares the financial strength, customer satisfaction, and complaint index of the companies mentioned earlier.
| | | | |
| --- | --- | --- | --- |
| Providers | AM Best Rating | J.D. Power Index Ranking | NAIC Complaint Index |
| Progressive | A+ | 842 | 1.41 |
| USAA | A++ | 886 | 1.65 |
| Nationwide | A+ | 850 | 1.05 |
| Dairyland | A+ | – | 3.43 |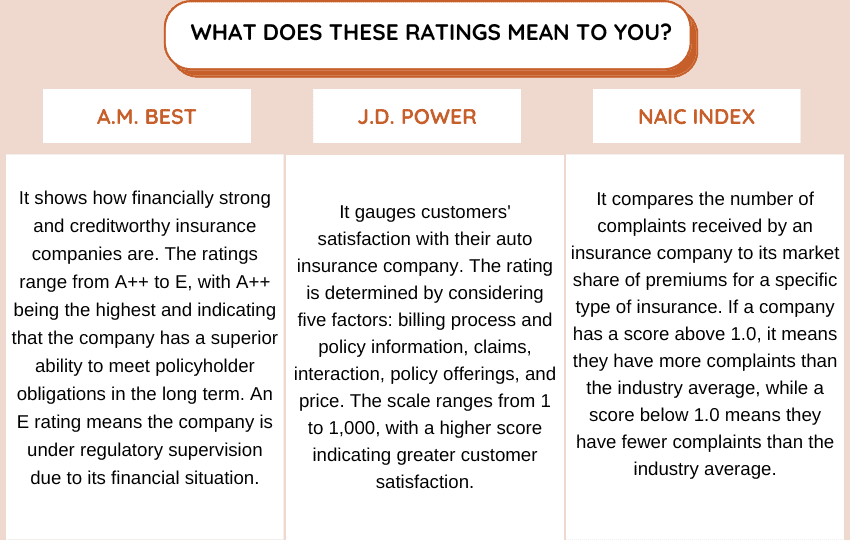 Ways to Save Money on Motorcycle Insurance in KY
Saving money on your motorcycle needs in Kentucky starts with understanding what coverage requirements are necessary for your riding habits. It helps to review factors like the age and condition of your bike and your budget.
Opting for liability coverage only is often cheaper than including comprehensive and collision coverage, but it also exposes you to more risks.
Here are some additional ways to get motorcycle insurance quotes to start creeping down a bit.
Insurance companies often reward safe and responsible riders with lower premiums. Avoid traffic violations, accidents, and claims.
Completing an approved motorcycle safety course could qualify you for discounts with many providers. Ask during the quote generation process.
If you have other insurance policies, such as auto or home insurance, bundling them with your motorcycle insurance under the same provider can often reduce rates.
Installing security devices, such as alarms, immobilizers, or GPS tracking systems, can make your motorcycle less prone to theft or damage.
You may be eligible for low-mileage discounts if you don't ride your motorcycle frequently or only use it for short distances.
Choosing a higher deductible can lower your insurance premiums if you prefer having full coverage or need it because you financed your motorcycle. However, ensure you can afford the deductible in case of an accident or damage.
Regularly review your coverage needs as your circumstances change and your motorcycle ages. I've found that adjusting my coverage can help me avoid paying for unnecessary extras and often lower my premiums.
FAQ About Motorcycle Insurance in Kentucky
If you're interested in obtaining a motorcycle insurance policy in Kentucky, you may have a few questions or concerns while requesting a quote. Here are the answers to the most common issues that arise.
How Much is Motorcycle Insurance for an 18-Year-Old in Kentucky?
Young riders in Kentucky pay significantly more for motorcycle insurance than those in other age demographics. The average policy is nearly $1,700 per year. In comparison, someone at age 23 typically receives a quote of about $950 if they have a clean driving record.
What Do You Need to Register a Motorcycle in KY?
You'll need the original proof of insurance from your preferred company within 45 days to register the motorcycle. The title or certificate of origin, a bill of sale, and a photo ID are necessary.
Check with your County Clerk's office for the fees, taxes, and accepted forms of payment.
A motorcycle brought in from another state requires a Sheriff's inspection before registration is permitted.
Is a Helmet Required in Kentucky?
Anyone under 21 in KY must wear a helmet when operating a motorcycle. If you're over that age, you must have held your motorcycle license/endorsement for at least 12 months before it is no longer necessary. Passengers must wear a helmet if they haven't reached the age threshold.
Finding the Cheapest Motorcycle Insurance Quote in Kentucky
To find affordable quotes in KY, it's a good idea to shop around. You can use the box below to get multiple quotes and compare them.
Use This Tool for Free and Save on Quotes!