My family took a long road trip through Connecticut when I was young, and the experience has always stuck with me. Seeing the ocean and taking long rides down streets guarded by colorful trees is a combination I try to replicate whenever possible.
I love the coastal rides in the state. Some of the best moments are along the Long Island Sound on Route 1, also known as the Boston Post Road. Enjoy beautiful shoreline views, coastal marshes, and charming towns like Mystic and Stonington.
Didn't You Try Our Quote Comparison Tool Yet? Save BIG by Doing it!
Another favorite place in CT is the rural charm found on Routes 45 and 202. You'll see breathtaking views of rolling hills, farmlands, and quaint New England villages.
Before taking one of those trips, it is essential to have your motorcycle insurance details figured out to ensure you're protected if something happens.
Is Motorcycle Insurance Required in Connecticut?
Connecticut mandates that all operators must have liability insurance coverage for their vehicles. This requirement applies to all motorcycles registered and operated in the state.

Liability insurance helps protect you financially if you cause an accident that results in bodily injury or property damage to others. You are not required to carry comprehensive or collision policies, although your lender might stipulate this requirement if you take out a loan to purchase your bike.
What Is the Minimum Motorcycle Insurance in CT?
Motorcycle insurance in Connecticut must have a 25/50/25 liability policy to qualify under the minimum guidelines.
That means you need $25,000 in bodily injury (BI) protection for your motorcycle insurance. There must be $50k in BI for each accident and then another $25,000 for damage caused to property.
You can obtain higher coverage limits or additional types of coverage for greater protection.
How Cheap Is Motorcycle Insurance in Connecticut?
The average motorcycle insurance policy is $679.83 in Connecticut. I found that riders in their mid-40s tend to get the best rates, going under $600 per year.
You can expect to pay about twice as much for your motorcycle insurance needs if you're a teen rider.
Rates drop significantly once you reach age 25. The most significant savings occur for most riders after celebrating their thirtieth birthday.
Top Motorcycle Insurance Providers in Connecticut
Nationwide offered me the best motorcycle insurance quote in CT, delivering a policy for $489 annually. Progressive offered a competitive rate at $620, while Allstate was a little more expensive at $633.
Based on the rates and services offered, these are the best motorcycle insurance providers in the state to consider.
| | |
| --- | --- |
| Motorcycle Insurance Provider | Annual Premium |
| Nationwide | $489 |
| Progressive | $620 |
| Allstate | $633 |
Best Motorcycle Insurance Provider: Progressive
I have to choose Progressive here. Although they don't offer the cheapest rate, their workflows for policy management are simple and easy to follow. You can access everything through an online dashboard or with the company's companion app.
You can access your insurance cards on your smartphone with Progressive. Several discounts are available, including ones for responsible driving, paying in full, or setting up automatic monthly ACH payments.
Progressive receives an A+ rating from A.M. Best for their ability to pay claims.
Best Motorcycle Insurance for Most Riders: Nationwide
If your goal is to save as much money as possible, the best option in Connecticut is Nationwide. Although policy management is slightly more complex, using this provider can save you $150 or more.
Several discounts are available, including one for switching your motorcycle insurance from a different company.
You'll find the crucial add-ons available with this provider, including coverage for OEM parts, roadside assistance, trip interruption, and custom equipment up to $30,000.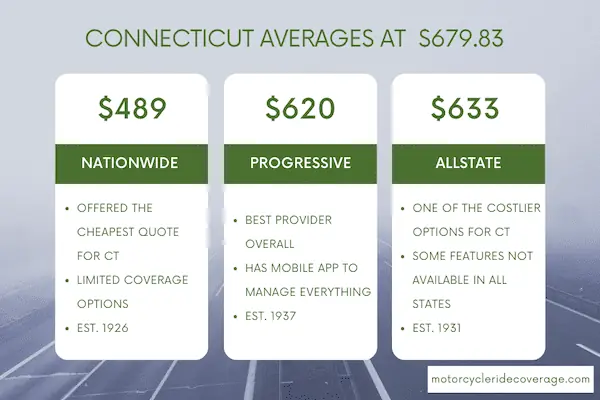 Best for Touring Motorcycles: Markel
I prefer Markel insurance in Connecticut for those that like to take their bike out to cruise the East Coast. You'll pay more since this company is a specialty insurer, but you can create a customized policy that covers your specific needs.
Bundling more than one motorcycle is possible with Markel, but the company doesn't provide home or auto insurance.
They're also among the highest-rated providers from a customer service perspective, often leading the state on the NAIC complaint index.
Let's analyze how providers maintain their businesses in the future by examining various metrics like financial strength, customer satisfaction, and complaint index.
| | | | |
| --- | --- | --- | --- |
| Providers | AM Best Rating | J.D. Power Index Ranking | NAIC Complaint Index |
| Progressive | A+ | 818 | 1.07 |
| Nationwide | A+ | – | 1.05 |
| Markel | A | – | 0.1 |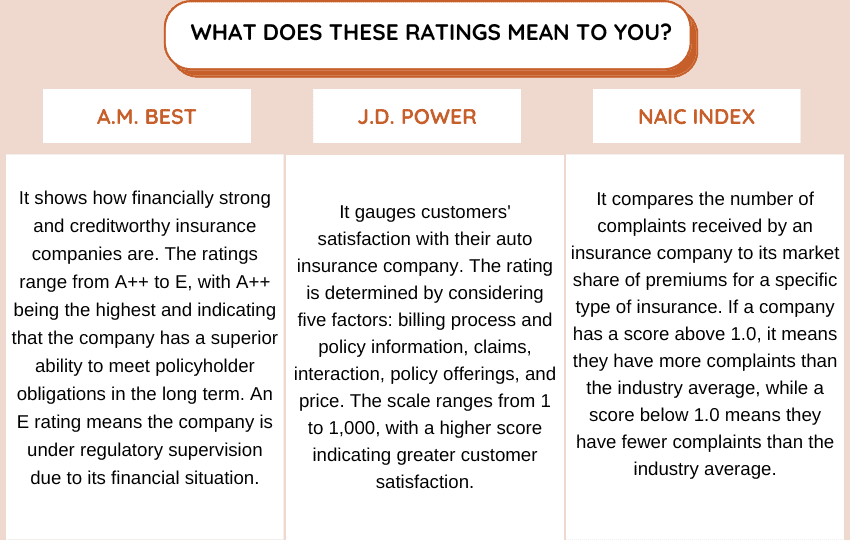 Best Discounts to Save Money on Motorcycle Insurance
Saving money on motorcycle insurance in Connecticut can be beneficial for riders. Here are some strategies and discounts that can help you lower your premiums.
Claims-Free Discounts. Maintaining a clean driving record without any accidents or claims can qualify you for a good driver discount. Insurance companies reward responsible riders with lower premiums, so avoiding accidents and traffic violations can help you save money.
Association Memberships. Being a member of certain motorcycle associations or clubs may entitle you to discounts on insurance premiums. Organizations like the American Motorcyclist Association (AMA) or Motorcycle Safety Foundation (MSF) often have partnerships with insurance companies, offering their members exclusive benefits.
Age and Experience. Due to perceived and statistical risk factors, younger or less experienced riders may face higher insurance rates. You can qualify for a lower quote as you gain more riding experience and get older.
Safe Rider Discounts. Insurance companies often provide discounts for riders who have completed approved motorcycle safety courses. These classes enhance your riding skills and reduce your perceived risks as a motorcyclist because of the knowledge you gain.
Before requesting a quote for motorcycle insurance in Connecticut, it helps to have all your information available to ensure you receive the best rate.
Top Cities for Saving Money on Motorcycle Insurance in CT
When you live in Hartford or New Haven, you can expect to pay significantly more for your motorcycle insurance based on the urban environment. Policy costs are about 30% higher than the state average.
You'll find similar increases in Bridgeport, West Hartford, and Stratford. However, if you live in East Hartford, your rates are about right on the state average.
Torrington, Norwalk, Manchester, Meriden, and Middletown are your best locations for those wanting to save money on motorcycle insurance. Riders typically save about 20% in these cities.
FAQs
Are you interested in receiving motorcycle insurance quotes in Connecticut? If so, you might encounter these common questions during that process. Here are the answers you may need to move forward with your policy estimate.
Do I Need Motorcycle Insurance with a Learner's Permit?
Yes, you must have motorcycle insurance if you have a learner's permit for riding a motorcycle in Connecticut. The state mandates that all operators obtain liability insurance coverage regardless of their permit status.
What Is the Penalty for Driving Without Insurance?
You are subject to a fine of $100 to $1,000 if caught operating a motorcycle without the minimum liability insurance. When you have a commercial registration and knowingly operate without a policy, the fine increases to potentially $5,000, imprisonment for up to five years, or both.
Connecticut law requires the DMV to suspend your driver's license and registration for one month for the first convicted offense. Each subsequent one is then six months. A $175 restoration fee must be paid after the time passes to regain those privileges.
Failing to keep insurance on private passenger vehicles or allowing them to be operated by another driver results in a fine of up to $500, up to three months in jail, or both.
Can Motorcycle and Auto Insurance Be Combined in CT?
It is possible to combine motorcycle and auto insurance into a single policy. Many insurance companies offer bundled coverage choices that allow both to be under the same umbrella.
By combining your motorcycle and auto insurance, you may be eligible for multi-vehicle discounts or other promotional offers from the insurance provider. It helps to request individual and bundled quotes to ensure you're getting the best rate.
Get Motorcycle Insurance Quotes in Connecticut
If you're searching for the most affordable rate in Connecticut, it's important to request multiple quotes. Luckily, our service makes this process effortless. Simply enter your zip code in the provided box below, and you'll receive all available offers.
Use This Tool for Free and Save on Quotes!