The first time I visited Oregon, my family was driving to a reunion outside of Bend. I can remember being instantly attracted to the rolling green hills, lonely roads, and small towns that you will miss passing through them if you blink.
Since those days when I was a young teen, I've tried to return to Oregon whenever possible with my motorcycle. It's such a beautiful state with plenty of scenic roads to explore. Whether you're along the coast, seeing the monoliths in the sea, or climbing a steep incline, there's always something new to find.
Didn't You Try Our Quote Comparison Tool Yet? Save BIG by Doing it!
If I had to pick a favorite trip, I'd say the scenic drive along the Columbia River Gorge is a must-ride for any motorcycle enthusiast. The route takes you past waterfalls, scenic overlooks, and winding roads that offer breathtaking views of the towering walls.
You can also take the coastal highway, explore the roads around Crater Lake, or enjoy a quiet ride through the farms situated on Highway 395.
Is Motorcycle Insurance Mandatory in Oregon?
Oregon law requires that all motor vehicles, including motorcycles, always have liability insurance coverage while on the road.

In addition to liability, which covers damages and injuries you may cause to others, you may also consider purchasing additional coverage. Options like collision, comprehensive, or uninsured/underinsured motorist insurance can help to cover your expenses if you're in an accident.
These additional coverages provide peace of mind while exploring the open road, even if they aren't mandatory in Oregon.
Minimum Liability Requirements for Motorcycles in Oregon
If you own a motorcycle in Oregon and want to ride it on public roads, you must carry a policy that includes 25/50/20 coverage.
That means your insurance must have these minimums. If you're pulled over and asked for proof of coverage, the card or document must have the insurer's information and show these limits or higher.
$25,000 for one person's bodily injury or death in an accident.
$50,000 for injuries or worse for two or more people from a single incident.
$20,000 for property damage in a collision.
These liability insurance requirements are meant to ensure that if you are at fault in an accident, you have enough insurance coverage to pay for the damages and injuries you may cause to others.
How Much is Motorcycle Insurance in Oregon?
The average cost of motorcycle insurance in Oregon is $809.44. If you're in your mid-30s, you'll pay significantly less than that amount if you have a clean driving record and at least three years of riding experience.
Young riders will pay much more for their motorcycle insurance. Here's a look at some common age groups and what to expect when requesting a policy.
Age 17 or Under: $814.97
Up to Age 23: $804.55
Between the Ages 26-35: $644.52
Between the Ages of 36-45: $722.89
Over Age 60: $801.06
Please note that these are only averages. Some riders could see significantly lower rates, while others might have higher costs due to SR-22 or FR-44 requirements.
Riders in Ashland, Eugene, and Grants Pass typically see the lowest insurance rates in the state, paying about 10% less than average.
If you live in the Portland metro area, expect to pay 25% or more than the median for your policy.
What Motorcycle Insurers Offer the Best Rates in Oregon?
When requesting motorcycle insurance quotes from authorized providers in Oregon, I found that Nationwide offered me the best rate at $483. When I talked to Farm Bureau, they provided me a quote of $662, which included the annual membership needed to secure a policy from them.
GEICO was slightly higher, offering a quote of $671.30. All three insurers offered policies with similar limits, features, and add-ons.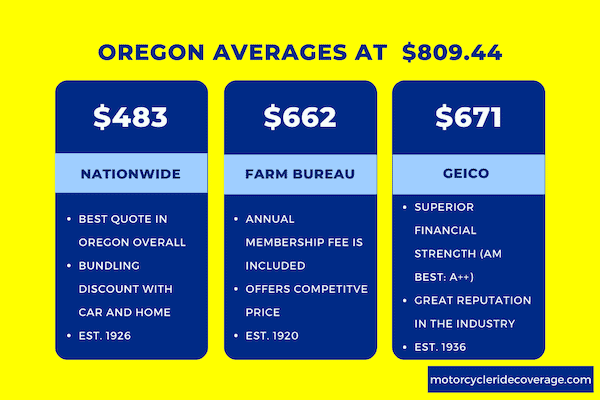 Best Overall Provider: Nationwide
I recommend Nationwide for most Oregon riders. I was impressed with the overall affordability, customer service, and coverage choices that were presented to me. You'll have several options to lower your rate with discounts or bundling, especially if you own a home and a car in the state.
At the time of my research, Nationwide had an A+ A.M. Best Rating, which makes the company a highly-rated option for its ability to pay claims.
Best Option for Daily Riders: Dairyland
Although they didn't offer me one of the cheapest motorcycle insurance rates, I'd have to choose Dairyland for those who ride daily. You receive rental reimbursement coverage with your policy and the equipment protections needed when commuting.
The rate I was quoted was nearly $1,100 per year, but that covered virtually any emergency I might have on the road. It's a good deal, considering most riders would need to purchase additional coverage for these options anyway.
Best Choice for Off-Road Use: Progressive
Oregon is the perfect playground for adventure-style bikes. If you love going off the grid, I recommend Progressive. They provide excellent options for those who want full coverage (liability, comprehensive, and collision).
Although the NAIC Complaint Index for Progressive is highly variable from year-to-year, you can still get a fantastic rate and options for managing your policy online.
Progressive also has an A+ A.M. Best Rating. Here is what Progressive offers to its customers.
Now let's just check how different providers performed in OR, from their financial strength, customer satisfaction, and complaint index rating.
| | | | |
| --- | --- | --- | --- |
| Providers | AM Best Rating | J.D. Power Index Ranking | NAIC Complaint Index |
| Nationwide | A+ | – | 1.28 |
| Dairyland | A+ | – | 3.43 |
| Progressive | A+ | 819 | 1.41 |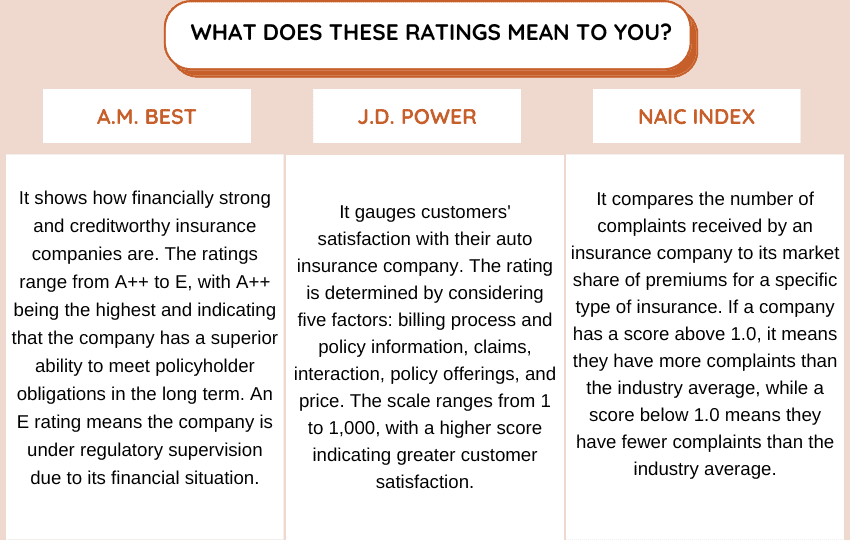 How to Keep Motorcycle Insurance Costs Low in Oregon?
The best way to keep your motorcycle insurance costs low in Oregon is to shop for a competitive quote. You can negotiate your rates or ask for discounts during this process, which can help you get the policy you need at an affordable rate.
Here are some additional options that can help you get a competitive rate for your motorcycle insurance.
Bundle Policies. Consider bundling them with your motorcycle insurance if you have other insurance needs. Most companies offer discounts for carrying multiple policies, but they aren't always cheaper when bound. Ask for individual and grouped quotes.
Deductible Increase. Picking a higher deductible can lower your monthly or annual premiums. It helps to have enough money set aside to cover the selected amount in case of an accident.
Take a Safety Course. This option lowers the risk factors associated with your activities, especially as a young rider. You'll also have more confidence when getting on the road faster.
Clean Driving Record. Avoid accidents whenever possible, and don't pick up any traffic violations. This option works for riders of all ages.
It can also help to ride a lower-cost motorcycle if you're concerned about insurance costs. I like the Kawasaki Ninja 400 since it still reaches a top speed of over 100 mph with a base MSRP of about $5,000.
Additional choices include the Yamaha MT-09 (MSRP of $9,400), the Suzuki SV650 (MSRP appx. $7,000), and the Honda CBR650R (MSRP of about $9,000).
Best Way to Manage Motorcycle Insurance while Living Along the Coast
Caring for a motorcycle used near the ocean requires extra attention because salt water can cause corrosion and damage to the bike's metal parts.
If you live along the Oregon coast, from Astoria to Brookings, you'll want to take extra care with the metal surfaces. Try using a rust inhibitor to prevent corrosion.
It helps to cover your motorcycle when it isn't being used for an extended time. Use a breathable product to create the best results while preventing salt spray exposure. If possible, keep the bike indoors.
Use a good quality lubricant on the moving parts of your motorcycle to prevent rust and corrosion. Then check it regularly for any signs of damage. Don't wait to address any issues you find.
Then get into the habit of rinsing your motorcycle with fresh water after taking it out for a spin. In return, you may notice lower overall costs and fewer risk factors that could drive insurance quotes upward.
How Do I License a Motorcycle in Oregon?
You must follow these five steps to license a motorcycle in Oregon successfully.
You must have valid motorcycle insurance that meets the state's minimum liability coverage.
Complete an Application for Title and Registration form, which is available at your local Oregon DMV office or can be downloaded online.
Bring a title or certificate of origin, a bill of sale, proof of insurance, and an odometer disclosure statement if the bike is less than ten years old.
Pay the registration fees and applicable taxes or other costs.
Once you have completed the application process, you will receive your license plate and registration stickers, which must be affixed to your motorcycle.
Oregon Motorcycle Insurance FAQs
If you're interested in Oregon motorcycle insurance and what is possible with a bike in the state, these frequently asked questions cover your circumstances.
Is Year-Round Riding Possible in Oregon?
It is possible to ride a motorcycle throughout the year in Oregon, but it depends on where you live in the state. The winter months tend to be wet and cold, but the coastal climate averages temperatures in the 40s and 50s.
You can also ride all year in some of the valleys along the eastern border.
Are There Age Restrictions for Motorcycles in Oregon?
You must be at least 16 and have a valid driver's license to apply for a motorcycle endorsement. For anyone under age 18, a motorcycle instruction permit and completing a motorcycle safety course approved by the Oregon Department of Transportation are necessary before the application.
No one under age 17 can operate a motorcycle on public roads but could be permitted in training programs for young riders.
When Do I Need a Motorcycle Learner's Permit in Oregon?
You need a motorcycle learner's permit to legally ride a motorcycle on public roads in Oregon. The minimum age is 16, and you must be able to pass a knowledge and a vision test before one will be issued.
Once you have the permit, you can ride a motorcycle with restrictions. It is allowed during daylight hours, without passengers, and you cannot be on any road with a speed limit of over 50 mph.
Where to Get Quotes for Motorcycle Insurance in Oregon?
To save money on motorcycle insurance, comparing the cost of different providers is a proven way. Our tool below can help you with this task and keep more money in your pocket.
Use This Tool for Free and Save on Quotes!