I appreciate how Maryland delivers a variety of scenic routes and destinations that are perfect for motorcycle road trips. Whether you prefer coastal views, picturesque countryside, or historic landmarks, you can find something new to love with each excursion.
The Chesapeake Bay Loop is my favorite option. Start in Annapolis, following Route 50 East, crossing the Chesapeake Bay Bridge. Continue north on Route 213, passing through charming communities like Chestertown and Rock Hall. Then you'll complete the loop by returning to Annapolis through scenic back roads.
Didn't You Try Our Quote Comparison Tool Yet? Save BIG by Doing it!
I also love the trip from Ocean City to Assateague Island. Ride south along Route 611, enjoying ocean views along the way. Once you reach your destination, you might encounter wild horses, quiet beaches, and plenty of relaxation opportunities.
Before you start your next motorcycle trip in Maryland, it'll help to have your insurance needs squared away. Here's the information to help you do that while staying within your budget.
Is Motorcycle Insurance Required in Maryland?
Maryland requires all motorcyclists to carry liability insurance when operating their bikes on public roads. The current minimums are found in the Transportation Article of the Maryland Code.

You must purchase motorcycle liability insurance in Maryland to register the bike and receive your tags. If you financed the purchase or signed a lease, you might be required to buy collision and comprehensive coverage.
Maryland also requires motorcyclists to purchase uninsured motorist coverage. It will be included in your quote.
PIP insurance in Maryland for a motorcycle is not required like for cars.
What Are the Motorcycle Insurance Minimums in Maryland?
Maryland motorcycle insurance requirements must meet the liability coverage mandates set by the state. In 2023, the current levels are 30/60/15.
That means it must have the following coverage limits to qualify as a legal policy.
$30,000 for bodily injury (BI) per person.
$60,000 for BI coverage per accident or qualifying incident.
$15,000 in property damage (PD) protection.
The uninsured motorist requirements in Maryland have the same minimum requirements for BI/PD coverage.
How Much Is Motorcycle Insurance in Maryland?
When I requested motorcycle insurance quotes in Maryland, the average policy rate was $711.50. GEICO offered me the best rate, offering coverage for only $500 yearly.
Progressive gave me a competitive annual quote of $630. I didn't qualify for some discounts, so some riders might receive a better rate.
Nationwide was the cheapest option for the agencies that couldn't meet the state average. Their quote was $757, which barely beat Dairyland's offer of $764.
Cheapest Cities for Motorcycle Insurance for Marylanders
If you live in one of Maryland's urban areas, you can expect to pay significantly more for your motorcycle insurance needs. Here are some examples.
Baltimore residents pay about 95% more than the state average for a policy.
In Cheverly and District Heights, expect to receive a quote about 50% over the median cost.
For those in Bladensburg, Hyattsville, New Carrollton, or Glenarden, you'll receive estimates about 40% higher.
When you move away from those areas, you'll find some communities that see significant savings on their motorcycle insurance quotes.
Brunswick, Cambridge, and Easton residents have Maryland's lowest motorcycle insurance rates, averaging 25% less than the state median.
You'll also find significant savings when living in Ocean City, Mount Airy, Salisbury, Thurmont, Walkersville, Hampstead, and Westminster.
Everywhere else, including College Park, Greenbelt, and Laurel, see estimates around the state's average.
Top Motorcycle Insurance Providers in Maryland
After reviewing the policies and quotes received, I've developed these picks as the top motorcycle insurance providers in Maryland.
| | |
| --- | --- |
| Motorcycle Insurance Provider | Annual Premium |
| GEICO | $500 |
| Progressive | $630 |
| Nationwide | $757 |
Top Overall Pick for Motorcycle Insurance: Progressive
My pick for the best motorcycle insurance in Maryland is Progressive. You receive a generous policy with several coverage options while getting a rate that falls below the state average for most riders.
You receive full replacement cost coverage, $3,000 in accessories and custom parts, and OEM as part of your standard policy. You can add carried contents, trip interruptions, roadside assistance, and total loss from there.
Several discounts are available, including those with clean driving records and who take a certified safety course.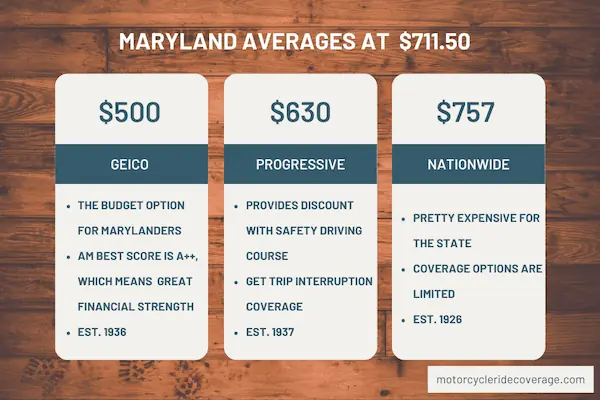 Best Motorcycle Insurance for the Budget: GEICO
GEICO is the obvious choice for this category. Their rate was over $100 less than the next closest competitor. Savings opportunities come from several discount options, but fewer are available than with other companies.
The coverage choices are somewhat modest, but that works well for those on stock motorcycles who ride during the weekend. GEICO also has one of the highest stability ratings in the state from A.M. Best.
Best Motorcycle Insurance for Military Families: USAA
Maryland has more military families than the average state, so searching for a great deal on motorcycle insurance is a priority. If you or someone in your family currently serves or is a veteran, you'll likely qualify for USAA membership.
Why is USAA a top pick?
You get the same motorcycle coverage that Progressive customers receive and a discount on top of that for your service. Most policies are sold online, which makes it easy to take your coverage with you when PCS orders come along.
We can assess how providers sustain their businesses in the future by analyzing different metrics such as their financial stability, level of customer satisfaction, and complaint index.
| | | | |
| --- | --- | --- | --- |
| Providers | AM Best Rating | J.D. Power Index Ranking | NAIC Complaint Index |
| Progressive | A+ | 827 | 1.41 |
| GEICO | A++ | 834 | 1.21 |
| USAA | A++ | 881 | 1.65 |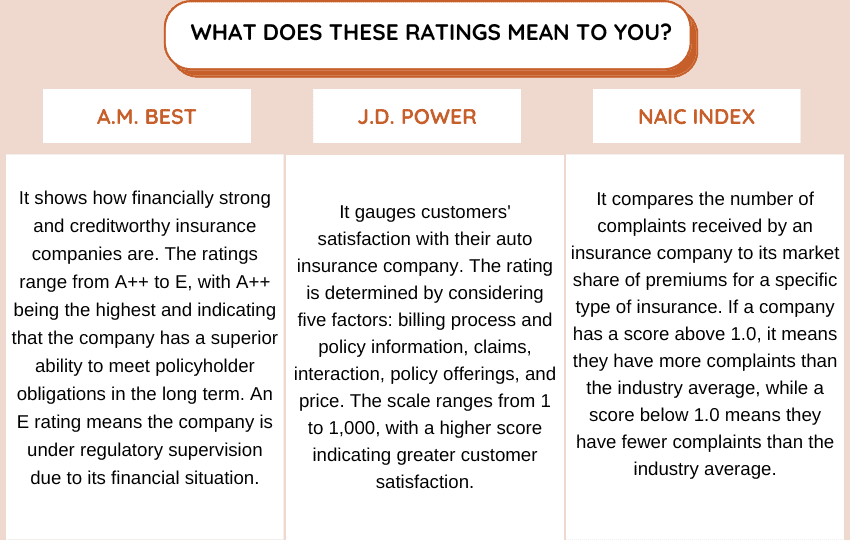 How to Save Money on Your Motorcycle Insurance Needs in MD?
The best way to save money on motorcycle insurance is to shop for the best rate. I recommend contacting at least three providers, but you might talk with five or more to ensure you save the most money.
If you already insure a home or a vehicle, consider asking about bundling your policies. You'll save time managing this need while potentially saving 10% or more on all your coverage requirements.
Another option is to avoid unnecessary add-ons. Review the additional coverage options offered and exclude those you don't require. For instance, if you already have roadside assistance through another membership, you may not need it with your motorcycle insurance.
Maryland Motorcycle Insurance FAQs
If you're interested in a motorcycle insurance quote in Maryland, you might encounter some questions about the process while submitting information to insurers. Here are the answers you need to proceed.
What Is the Best Motorcycle Insurance in MD?
Determining the "best" motorcycle insurance in Maryland depends on several factors, including your needs, budget, and personal preferences.
Here are some of my top choices to consider.
– Progressive offers several coverage options and discounts, including a safe-driver option that can help you save some money.
– GEICO delivers customizable coverage options and competitive rates.
– Allstate has a strong presence in the state, offering additional features like roadside assistance and accident forgiveness.
– State Farm has flexible policies and a network of local agents that deliver more personalized services.
Is It Illegal to Ride Without Motorcycle Insurance in Maryland?
Yes. It is illegal to ride a motorcycle without having an insurance policy that covers the legal minimums. These coverage limits are mandated if an accident occurs, resulting in property damage or injuries.
If you ride with no insurance on a motorcycle in Maryland, you could have several potential consequences, including fines, license suspension, and even legal liabilities in the event of an accident.
Does Maryland Have a Motorcycle Helmet Law?
In Maryland, all motorcycle riders and passengers are required by law to wear helmets. The rule applies to everyone, regardless of their age or experience level.
The helmets must meet the standards set by the U.S. Department of Transportation (DOT) and should be appropriately fastened under the chin with a strap. Failing to comply with the helmet law can result in fines and penalties.
Get Motorcycle Insurance Quotes in Maryland
If you're looking to reduce your insurance costs, it's a good idea to gather quotes from various providers and compare them. By shopping around, you can find the best rates available online. Feel free to use the box below to get started.
Use This Tool for Free and Save on Quotes!