When I was 19, one of my coworkers had a similar love for motorcycles. She had the cubicle on the other side of mine, so we'd talk about the different rides we enjoyed while processing credit reports and making collection calls on past-due balances.
She took three weeks off that year to take her bike from Iowa to Sturgis with a big group from our hometown. Everything was fine on the trip there, but she had to lay down the motorcycle on the way back because a tanker truck jackknifed in front of her.
Didn't You Try Our Quote Comparison Tool Yet? Save BIG by Doing it!
When she returned to the office, she proudly showed off the road rash from her ankle to her hip. She said it was uncomfortable, but she was proud of the fact that she went underneath the truck trailer and that she and her bike had come away with scratches.
Her passenger wasn't as lucky. She was wearing shorts on the motorcycle, so her injuries were extensive. It took three skin grafts and six months in the hospital to finish her recovery.
As a passenger, you're held to the same standards as the operator in many ways when riding a motorcycle. You can even be ticketed in some states for the choices you make.

That's why safety must be a priority. With that in mind, what you wear must be the first thing you consider before taking a ride.
What Items Must You Wear to Legally Ride a Motorcycle?
The specific safety equipment required for motorcycle passengers can vary depending on the jurisdiction and local laws. Most states have three provisions that you'll need to follow.
Helmets. Most states require riders and passengers to wear helmets while riding a bike. The helmets should comply with approved safety standards specific to motorcycles.
Eye Protection. In some regions, riders and passengers may be required to wear eye protection, such as goggles or a face shield, to safeguard against debris, wind, and insects if the bike doesn't have a windscreen.
Protective Clothing. Although this equipment isn't always legally mandated, wearing long pants, long-sleeved jackets, gloves, and sturdy footwear that covers the ankles is still a good idea. You receive protection from abrasion, potential injuries, and the weather.
Best Helmets to Wear as a Motorcycle Passenger
I highly recommend considering the ILM Full Face Street Bike Helmet if you're on a budget. The design comes with a removable scarf for the winter and two visors. You can pick from seven different colors. It is lightweight, comfortable, and meets DOT standards.
For those who can afford a little more, I like the ScorpionEXO T520 helmet. You have different sizing options for a comfortable fit, several color choices, and a Bluetooth communications kit that comes standard. The interior uses a system of air check pads to customize how it sits, reducing lift and wind noise.
Best Eye Protection to Wear as a Motorcycle Passenger
If you wear a helmet with a visor, you've already met the eye protection requirement. I like this three-pack of affordable riding glasses for those that opt for a brain bucket or go without a helmet (where it is legally allowed). You get three lens choices that let you manage the conditions appropriately while staying comfortable during the ride.
I recommend the Oakley L-Frame with clear lenses for those who prefer goggles. There's enough space inside for those with prescription glasses, and the anti-fog lens doesn't create a polarization effect that interferes with contacts. The design uses a triple layer of foam to keep sweat away.
Best Clothing Choices for Motorcycle Passengers
A leather jacket and heavy-duty jeans are the classic look for riding a motorcycle. These options are available in several styles and fits.
That option isn't comfortable for me, so I use the BORLENI Motorcycle Jacket. It gives you more of a racing look in three different color choices. It's made of 600-D polyester to provide a high-performance solution with enough elasticity to keep you comfortable. A removable cotton layer lets you wear it in all seasons.
If you prefer extra protection, the KLIM Kodiak Touring Jacket uses a three-layer Gore-Tex shell with stretch fabric under the arms for more mobility. Then you can pair them with the Marrakesh Street Motorcycle Pants to complete the fit while keeping the legs protected with its carbonite mesh.
Optional Gear to Wear as a Motorcycle Passenger
When riding as a motorcycle passenger, it's essential to prioritize your safety and comfort. Several items are available to consider for enhancing your experience to have a great time. Here are some examples to review.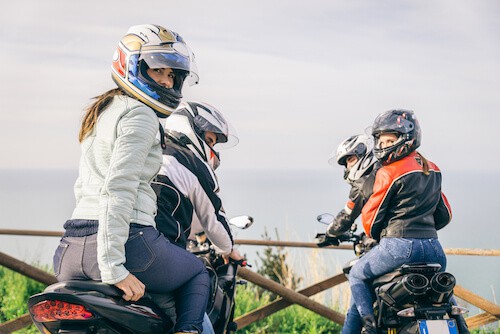 | | |
| --- | --- |
| Optional Gear to Wear | Best Option to Consider for Comfort and Convenience |
| Riding Boots | I like the straightforward nature of the Bruno Marc Combat Oxfords. They're super affordable, holding up well with the premium synthetic leather and a durable TPR outsole. Another option is to wear racing boots like the Fly Racing Maveriks. |
| Rider Armor | Although you can get armor plates for most jackets, I like the extra bulkiness and protection points that come with the Alpinestars Shell. It is lightweight and breathable, giving you a grid structure that absorbs and dissipates impact forces. If you prefer just the pads, MOTOSTYLEWEAR offers a set of five that do an excellent job. |
| Motorcycle Gloves | My issue with most motorcycle gloves is the bulkiness around the knuckles. With the Fox Racing Dirtpaw Motocross design, you still get that protection without feeling restricted or encumbered. Another option is to wear this Milwaukee Leather Gel Palm design. |
| Earplugs | If you have wind or road noise issues, the MotoSafe Earplugs are comfy enough to wear for up to eight hours with their soft filters. They're comfortable under the helmet, and the patented design is made without silicone. |
| Rain Gear | Getting caught in the rain is never fun. If you have the Milwaukee Leather Rain Suit, you can keep riding. It uses hi-vis colors with reflective tape to ensure you're seen on the road. You can save a little while receiving a similar design with this HWK Two-Piece Reflect Jacket and Pants combination. |
| Balaclava | With this gear, you can protect your neck and face from the wind, cold temperatures, and light debris. The design options from Venswell let you add some personality to the riding experience. |
What to Wear While Riding a Motorcycle and Pregnant
When riding a motorcycle while pregnant, it's important to prioritize your safety and comfort. Start with a DOT-approved helmet that fits correctly.
Then wear abrasion-resistant and protective clothing to safeguard your body in case of a fall. It helps to look for jackets and pants with adjustable waistbands or panels to accommodate your growing belly.
Even as a passenger, try to avoid tight-fitting clothes that may cause discomfort or put pressure on your abdomen.
Items You Should Never Wear as a Motorcycle Passenger
When riding as a motorcycle passenger, it's crucial to prioritize safety and choose appropriate clothing that provides protection. Some items should not be part of your daily apparel, including sandals, high heels, platform shoes, and baggy clothing.
Scarves or long neckwear can pose a risk of getting entangled in the motorcycle's moving parts, potentially causing accidents or injuries.
Exposing your legs while riding can lead to injuries from road debris, hot engine parts, or contact with the pavement in case of a fall. Skirts and shorts should be avoided whenever possible.
It's best to avoid sleeveless tops as they leave your arms exposed to sunburn, insects, or potential abrasions.
Finally, excessive jewelry can become entangled or pose hazards while riding. Bracelets, necklaces, and large earrings should be kept at home.
While the specifics may vary depending on the policy and jurisdiction, it is possible that an insurance company could deny a claim if the rider were found to be wearing unsafe apparel that contributed to the accident or increased the risk of injury.
You never know when something might happen. Instead of being caught unprepared, think about how to protect yourself as a motorcycle passenger. That way, you can reduce the injury risk and ride confidently!
Use This Tool for Free and Save on Quotes!