My first motorcycle experience was on the back of my stepfather's Yamaha. It was a small bike, even with my young eyes at the time, but it had a lot of speed.
Learning to move, lean, and press in during rapid acceleration helped me fall in love with motorcycles. I started as a passenger, but that quickly transitioned into me being a full-time rider.
Didn't You Try Our Quote Comparison Tool Yet? Save BIG by Doing it!
Today, some makes and models are better than others if you anticipate carrying passengers. Consider the following motorcycles to meet your specific needs.
Best Motorcycle for Passenger Comfort
I prefer the 2023 Honda Gold Wing for absolute comfort. Passengers receive a raised area behind the operator with a backrest on some models, ensuring that you can have a little freedom of movement.
Four trim levels are available for this model year, but they all come with the super smooth 1833cc six-cylinder engine. You also have plenty of luggage space, Apple CarPlay compatibility, and comfortable positioning at any speed.

Best Motorcycle for Tall Passengers
If you have someone tall as a passenger, I recommend getting the 2023 BMW R 1250 GS Adventure Bike. It offers a spacious seating position and adjustable footpegs, making it suitable for taller riders.
Seat heating is one of the available features for this motorcycle. You can regulate them separately, allowing for a comfortable ride when the weather gets colder. If the stock design isn't for you, customization options are available.
You can even build your own to meet your current and future needs.
Best Motorcycle for Heavy Passengers
When you have a heavy passenger riding in the back, the best motorcycle to support your ride is the 2023 Harley-Davidson Ultra Limited. This touring model is known for its robust build and comfortable seating.
The sturdy frame is designed to handle 500 pounds easily. The design includes a vented batwing fairing and a twin-cooled Milwaukee-Eight 144 engine. Several colors and finishes are available, ABS comes standard, and you can set it on cruise control for those quiet, empty roads.
Best Motorcycle for Child Passengers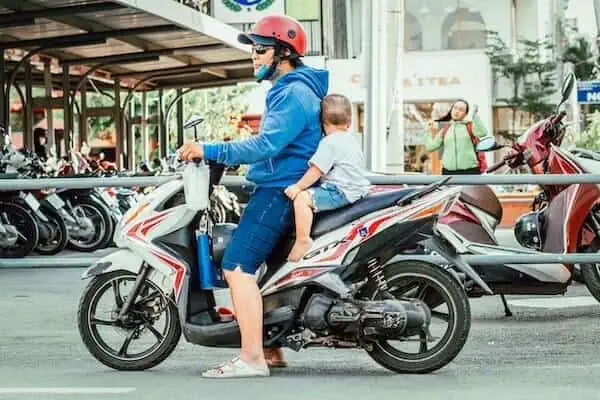 If you have kids that want to ride your motorcycle with you, I recommend investing in the 2023 Yamaha Star Venture. The design features a spacious seating arrangement that can be turned into a spot for a trunk or a top case when riding solo.
There's enough room to let a child feel secure without feeling uncomfortable in the saddle. A backrest is available for extra stability.
It has a 1854cc engine and a V-twin 8-valve type design, ensuring you have plenty of power. Yamaha discontinued this model a couple of years ago, but it is back in 2023 and better than ever.
Make sure to adhere to the minimum passenger age and mandatory equipment requirements set by your state.
Best Motorcycle for Long Road Trips
When planning a long road trip with a passenger, you need a bike that combines comfort, accessibility, and good fuel economy. For me, that motorcycle is the 2023 Kawasaki Vulcan Voyager. It offers a relaxed riding position, plush seating, and plenty of storage space for the essentials needed during an extended trip.
The best motorcycles for passengers also depend on your preferences and riding style. I highly recommend visiting a local dealership to test-ride these models and others to ensure you find the best fit for everyone.
Use This Tool for Free and Save on Quotes!