It might be tempting to cancel your motorcycle insurance during the winter months or when you're not riding. If your bike isn't on the road, you're not required to carry coverage.
That doesn't mean you should cancel your policy.
Some insurers let you drop specific coverages or change your limits while the motorcycle is off the road or in storage. If you're leasing or financing the bike, the company or lender will require you to maintain your insurance throughout the year.
Why Canceling Motorcycle Insurance Isn't a Good Idea
When your motorcycle is stowed away in the garage or a safe storage area during the winter, several risks are still involved with ownership.
Here is why you shouldn't cancel your motorcycle insurance during your non-riding months.
Did You Try Out Our Quote Comparison Tool? Save BIG!
1. Fire Threats
If the place where you're storing the motorcycle catches fire, an active policy with comprehensive coverage will help to repair or replace the bike. You'll get to choose what deductible applies to this insurance.
2. Theft Issues
When someone steals an uninsured motorcycle, you could end up losing your ride with no financial relief. The only recourse you'd have without a policy is to have law enforcement recover and return the bike in the same condition.
3. Price Increases
When you cancel an insurance policy for motorcycles, there aren't any guarantees that your price will be the same. Although it might seem like it costs more to pay for coverage during the winter, some riders can save money because they lock in rates for the year. You won't get the same result by stopping and starting all the time.
The insurance company might not insure you again when you come back, which means even less predictability when it's time to ride.
4. Weather Changes
When the weather gets warm for a few days here and there during the winter months, you might be tempted to hop on for a good ride. Without insurance coverage, you wouldn't have the option to operate the bike on the road legally.
5. Snow and Ice Problems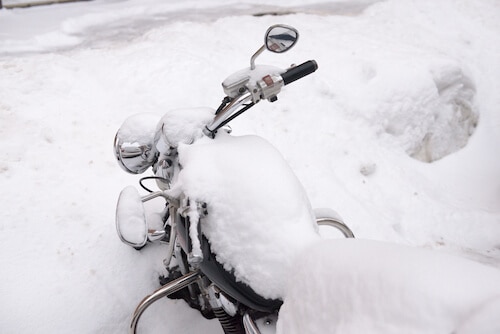 Winter weather can cause significant damage to storage structures. If your carport, shed, or garage gets crushed with heavy snow or ice, anything that affects the bike would require an appropriate insurance policy to manage this issue. You'd want to investigate comprehensive coverage to prevent this issue.
6. Fees and Penalties
Most motorcycle insurance policies come with 12-month terms. Although you have the right to cancel, there could be a fee charged for that privilege.
7. Extra Paperwork
Each time you cancel or reinstate your motorcycle insurance, you fill out more paperwork online or in person. It takes time, actual paper requires trees or recycled products, and it can all be avoided by keeping your coverage active.
Instead of canceling your insurance and potentially violating the terms of your lease or financing package, consider seasonal or laid-up coverage instead. If you need to lower your rates even further, try raising your deductible during the winter to make things more affordable without compromising your coverage.