You should always take measures to lock and secure your motorcycle when not in use. This means using a bar or chain to secure the bike. Plus, you should park it in as secure and safe a location as possible. Keep your bike secured in the garage at home and use security devices if possible.
If you infrequently travel on your motorcycle, consider taking off the front wheel and seat. This may dissuade all but the most determined thieves.
Didn't You Try Our Quote Comparison Tool Yet? Save BIG by Doing it!
But what happens if your bike is stolen? You will need to file a police report for a stolen motorcycle. Then, you will need to contact your insurance company. While this sounds relatively straightforward, it is often a new experience to report stolen motorcycles for many bike owners.
Where to Start
Everything starts with the discovery that your bike is missing. Before taking action, you should search to see if the bike is still on your property. Plus, call anyone who might have taken the bike. Although rare misunderstandings can happen, your bike may not have been stolen.
Once you determine that your motorcycle has been stolen, you must take the following steps.

File Police Report for a Stolen Motorcycle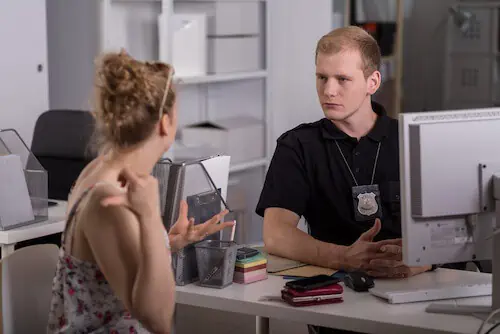 The first step is to file a police report. You call the non-emergency number of the police department. Describe what happened to the officer on the phone. An officer will likely arrive to take down all theft details at your location.
Once the details are reported and the police have all the information, the case is turned over. This means that you can call the police department on future dates and find out about the progress of your case.
Inform Your Insurance Company
Armed with the police report, you can inform your insurance company that the bike has been stolen. This assumes that you have theft coverage. Remember that even some comprehensive insurance does not include theft as part of their coverage. If you do not have theft insurance on your motorcycle, you will not file a successful claim.
But assuming you have theft insurance, you can file the following claim.
Make, model, and year of your motorcycle
Mileage, the location from which it was stolen, and when
Number on the police report
The insurance company may ask other questions, such as if you own the title, who else can access the motorcycle, etc.
The motorcycle stolen insurance payout will depend on the policy, the bike, and the insurance company. You can expect the claims process to take some time as the insurance company will wait to see if the police recover your bike.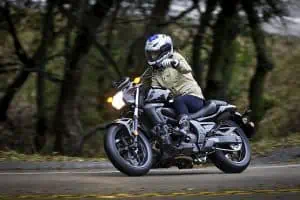 You don't need to file a claim if the bike is recovered and undamaged. The claim payment may cover the losses if the bike is recovered and damaged or has missing parts. If the bike is not recovered, you will receive an amount equivalent to the current blue book value of the motorcycle. Remember that all payments will be just short of the policy's deductible.
How to Locate Your Bike?
Remember that the statistics that determine your chances of recovering the motorcycle are not 100%.
Some interesting stats:
Although there is no national average, the chances of your motorcycle being recovered may be as high as 74% in Wyoming. Or as low as 22% in the state of Connecticut. Only eight states have a recovery rate of more than 50%. That includes Wyoming, Utah, Arkansas, Washington, Alaska, North Dakota, Wisconsin, and Colorado.
This means the chances of your bike being recovered outside the eight states mentioned are less than 50%. Many bikes are altered so thieves can use or break the motorcycle up for parts. The latter makes getting your bike back challenging since it no longer exists in one piece.
But you can do some things to maximize the chances of recovering your bike.
Register Your Bike
If you did not register your bike before it was stolen, you still have time to do so. For 99 cents, you can add your motorcycle to the National Bike Registry. It will be in their database for six months. This is a wise move on your part because if a police officer discovers your bike, even if that officer is in another state, they can check the national registry and contact you.
Local Advertisements
You may be surprised to learn that criminals may be smart enough to steal your bike but are stupid enough to use local advertising to sell it. Search your local newspaper and selling pages online to see if a bike fits the description. If so, you should contact the police and let them handle it. Do not intercede yourself, as that may put you in danger.
Pawn Shops
Although it doesn't happen often, some thieves will take bikes to pawn shops for a quick cash payment. While most pawn shops will not purchase such bikes, they can take down any personal information about bikes they see that fits your motorcycle's description.
Contact the pawn shops in your area. Ask them if they have seen anyone coming in with a bike that matches your description. The chances are relatively low, but it is worth a shot.
But what about stolen bikes found after an insurance claim?
That is a more common instance than you might first believe. But what happens if you receive the money from the insurance claim and then discover your motorcycle?
The answer is that the motorcycle is no longer yours. The payment made by the insurance company on the claim is the same as purchasing the bike from you. That means it is now the insurance company's bike and not yours. So, if the police report they have discovered your motorcycle, be sure to report it to your insurance company.
Use This Tool for Free and Save on Quotes!