Motorcycle road trips in Alabama offer a perfect blend of Southern charm, scenic routes, and hidden gems to find. Whenever I find myself in this state, I head for the coast. I love starting that ride in Mobile before heading south to Dauphin Island and the Gulf Shores.
I go to the Bankhead National Forest when I'm in the mood to challenge some winding roads. It's an excellent spot for camping.
Didn't You Try Our Quote Comparison Tool Yet? Save BIG by Doing it!
If I'm in Alabama during the fall season, another priority is the Lookout Mountain Parkway that heads into Georgia. The foliage is beautiful, and the crisp air feels invigorating when you're in the saddle.
Before you start riding as a state resident, it is essential to know the legal requirements for motorcycle insurance.
Is Insurance Required for Motorcycles in Alabama?
Motorcycle insurance is necessary for riders living in Alabama. You must also show proof of coverage before you can register the bike. If you fail to follow those steps, your license might be suspended or fined.

For those riding without motorcycle insurance in the state, you might need to pay for any vehicle repair or medical costs you cause in addition to the legal consequences.
That's why reviewing the various policy options available today is crucial. Affordable insurance is an investment that protects your finances and healthcare costs if something should happen when you ride.
What Is the Minimum Motorcycle Insurance in AL?
The minimum motorcycle insurance requirements in Alabama are often called "25/50/25." Here's what those numbers mean if you want to secure a policy that lets you legally ride throughout the state.
You'll need at least $25,000 in coverage for bodily injury that covers one person per accident or claim.
The $50,000 in total coverage for bodily injury is for two or more people as a maximum claim amount.
Another $25,000 is required for property damage that occurs for each incident.
It is essential to note that these figures are the absolute minimum for a motorcycle insurance policy in the state. Many riders choose to get more coverage for better protection, especially since medical costs and property damage can easily exceed these limits.
Consider your financial situation and the risk levels you are comfortable with as you request estimates from today's top motorcycle insurers.
How Much is Motorcycle Insurance in Alabama?
When I looked into the average cost of motorcycle insurance in the state, I found the average policy is about $700. That assumes you get the minimum amount to legally travel on your bike.
If you want or need comprehensive and collision added to your insurance, the quote you receive could be significantly higher.
As I asked providers for policy estimates, Progressive quickly stood out as the cheapest choice. They offered a quote of $397 per year. The next-closest option was GEICO, with a $522 estimate.
After these two affordable quotes, Allstate provided a price of $915 per year before any bundling discounts. No other insurer was under $1,000 per year for my motorcycle insurance.
For reference, I ride a Harley Softail for most of my daily needs. It has a Milwaukee-Eight 107 V-twin, 1753cc displacement, and a curb weight of 655 pounds.
Cheapest Cities for Motorcycle Insurance in Alabama
Some communities see significant discounts on their motorcycle insurance policies compared to others in Alabama.
If you live in Albertville, Alexander City, Arab, Athens, Carbon Hills, Centre, Clayton, Decatur, Florence, Madison, Oneonta, Moulton, Trussville, or Tuscaloosa, your rates are typically 30% lower – if not more.
Talladega was the cheapest city in Alabama for motorcycle insurance, with an average of just $339 annually.
In Mobile, your average policy cost is $801. That makes it one of the most expensive places in Alabama for coverage.
Jackson, Chatom, and Thomasville all average more than $800 annually.
Top Motorcycle Insurance Providers in Alabama
After evaluating all the motorcycle insurance options for Alabamian, I've compiled my top choices for three categories for you to consider.
| | |
| --- | --- |
| Motorcycle Insurance Provider | Annual Premium |
| Progressive | $397 |
| GEICO | $522 |
| Allstate | $915 |
Best Overall Motorcycle Insurance Provider: Progressive
There is no question that Progressive delivers the best price and value combination. You receive many benefits and add-on options while having access to several discounts based on your experience, education, and driving history.
This insurer offers multi-policy, responsible driver, and pay-in-full discounts that could lower your premiums.
Not only was the rate the cheapest, but the online quotes were easy to obtain. Policy management happens through your account dashboard, which you can access anywhere with a data connection. Progressive has a helpful app that lets you accomplish changes from your mobile device.
They also have 24/7 customer service, which can be crucial in stressful situations like accidents.
Best for Everyday Riding Needs: GEICO
I like GEICO for those who ride their bikes regularly and live in Alabama. You can add coverage like accessories protection or roadside assistance to suit your needs while keeping costs affordable.
The GEICO app and online portal make managing your policy, filing claims, and making payments straightforward. You'll find several options to tailor your coverage to protect your bike and finances.
This insurer is one of the largest and most trusted companies of its type in the United States. If you have a claim, the process is straightforward to manage.
Best for Vintage, Antique, or Custom Bikes: Hagerty
If you have a unique bike or one with extensive modifications, I like Hagerty for this category's top motorcycle insurance provider. You can visit their website to generate a competitive quote with some basic information.
You'll get asked for an approximate value of the motorcycle once you select what you ride from a series of clickable choices. The quote process requests information about your mods, including horsepower increases, custom paint over $10,000, and structure frame changes.
Hagerty allows you to enter multiple motorcycles into the quote process before requesting your details. This added step simplifies the estimation even further to meet your needs.
The coverage can give you the minimums that an Alabamian requires or something more extensive to protect your financial investment.
Let's learn about the financial strength, customer satisfaction, and complaint index of the listed companies above.
| | | | |
| --- | --- | --- | --- |
| Providers | AM Best Rating | J.D. Power Index Ranking | NAIC Complaint Index |
| Progressive | A+ | 842 | 1.41 |
| GEICO | A++ | 843 | 1.96 |
| Hagerty | A- | – | – |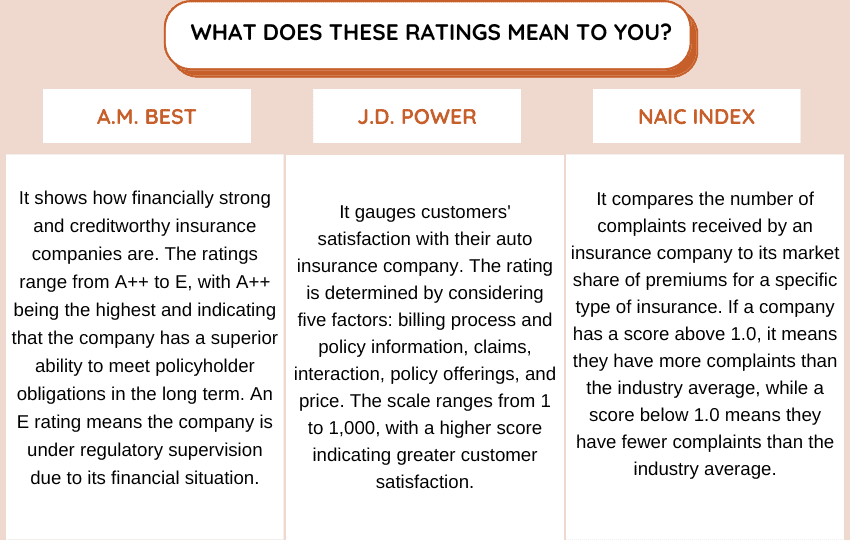 How to Find the Cheapest Motorcycle Insurance Rates in Alabama?
It can take a little work to score a fantastic deal on your motorcycle insurance needs in AL, but these steps ensure you can get an affordable quote for your ride.
Don't settle for the first quote you get. Compare prices from different companies. Websites that allow you to compare multiple rates at once can be a lifesaver.
Many companies offer discounts if you bundle multiple insurance policies, especially if you own a home, car, or motorcycle.
Completing a motorcycle safety course can make you a better rider and get a discount on your insurance. Some companies offer discounts for things like being a good student or a member of specific organizations.
A higher deductible generally means a lower premium. Just ensure you can afford that amount if you have to pay it.
Your ZIP code can affect your premiums. You might pay more if you're in an area with high accident rates.
Cheap rates are great, especially when the insurer offers excellent customer service. Reading online reviews for today's best motorcycle insurers provides a clearer picture of what to expect with your investment.
If your bike isn't brand new or particularly valuable, consider getting the minimum coverage required by Alabama law. In return, you know you'll meet the legal stipulations while protecting your finances.
It helps to request a quote from at least three providers for your Alabama motorcycle insurance needs. From there, compare price and value based on your specific needs to get a great rate from my top providers or others.
FAQs About Motorcycle Insurance in Alabama
Is Motorcycle Insurance in Alabama More Expensive than the National Average?
Yes, motorcycle insurance coverage in Alabama can be costly compared to many other states in the US. After conducting some research, I discovered that Progressive offers the cheapest policy, priced at just under $400. However, all other providers, except GEICO and Allstate, had rates exceeding $1000.
Is Proof of Insurance Demanded when Registering Motorcycle in Alabama?
According to DMV, you are not required to show proof of insurance when registering your motorcycle in Alabama.
How to Get The Most Affordable Quotes in AL?
It helps to request a quote from at least three providers for your Alabama motorcycle insurance needs. From there, compare price and value based on your specific needs to get a great rate from my top providers or others.
Use This Tool for Free and Save on Quotes!