When a driver's license is suspended, the individual affected by that action can no longer operate a motor vehicle. That means getting behind a car's wheel or taking a motorcycle for a spin is impossible without facing potential charges.
If you own a moped, there could be more room to operate. Even if you've had a DUI conviction that caused a driver's license suspension, you might be permitted to drive this vehicle legally on the road.
Didn't You Try Our Quote Comparison Tool Yet? Save BIG by Doing it!
Mopeds are not typically allowed on highways, freeways, or interstates. Some communities might not permit them to operate on high-speed arterials. Local laws are highly variable, so please contact your local Department of Motor Vehicles or equivalent for the specific regulations in your area.
Don't forget about insurance too. Getting proper coverage for your mopeds can save your out-of-pocket expense should anything unexpected happens.
Some States Don't Require a Driver's License for a Moped
Most states require moped operators to have a driver's license to use the bike legally. It is sometimes necessary to have a motorcycle endorsement.

Suppose you have a suspended driver's license. In that case, these states may allow you to operate a moped for your transportation needs: Mississippi, Montana, North Carolina, South Carolina, Rhode Island, West Virginia, and Wyoming.
Some states don't require a motorcycle endorsement or a specific scooter/moped license, but you must have a valid driver's license to operate the bike.
If you live in South Carolina, you must acquire a moped operator's license if your driver's license is suspended for over six months.
What Happens If I Drive a Moped on a Suspended License?
You'll likely face citations and fines if you are caught driving a moped while your driver's license is suspended. The bike could be impounded for up to 30 days in most jurisdictions.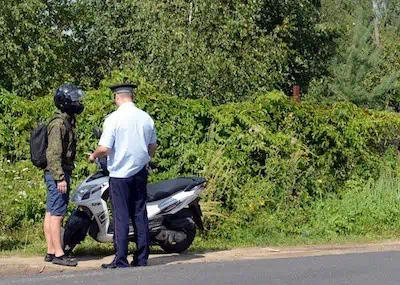 People with other charges or violations caught operating a vehicle with a suspended driver's license could be arrested.
Each state has different rules, laws, and consequences regarding suspensions. The National Conference of State Legislatures has a complete list of what to expect in the United States for those facing this situation.
Drivers, including those on mopeds, with more than one driving charge with a suspended license, could face felony charges. This issue could result in up to five years in jail and $5,000 in fines in Florida and Georgia.
In Indiana, a first offense of driving with a suspended license is considered a felony.
Is a Suspended License the Same as a Restricted License?
If you've received notice from the courts that your driver's license is suspended, you can only drive if you restore your qualifications or qualify for restricted use.
A restricted driver's license is not the same as a suspended one. It provides permission to travel to school, work, medical appointments, or any necessary trips that the judge permits in your case.
Anyone with a restricted license caught outside their designated time or area could face similar charges to those with active suspensions.
Since the definition of a moped can also be variable in each state, it is crucial to review the expectations and standards before driving anywhere with a suspended license. In most situations, being on a motorized bike with this status is prohibited.
Use This Tool for Free and Save on Quotes!