I got to spend the summer between my freshmen and sophomore years of high school in rural West Virginia. It was a quiet time where the biggest issues we faced were snakes coming into our cabin and water that looked like rust.
The best times that summer involved riding our motorcycles and trucks up to the summit to watch the sunset. We'd sit with a soda, listen to the silence, and enjoy each other's company.
Didn't You Try Our Quote Comparison Tool Yet? Save BIG by Doing it!
When I make my way to WV with my motorcycle today, I'm headed for the Greenbrier River Trail. It's a peaceful ride that takes you through some charming towns while getting beautiful river views.
I also like visiting Seneca Rocks. The formations are just incredible. You can continue down Smoke Hole Road (Route 28/55) as it winds through the Monongahela National Forest, offering stunning mountain views and the opportunity to explore the picturesque Smoke Hole Caverns.
Before you get going, it is important to have your motorcycle insurance up to date. Here's how you can do that while sticking to a reasonable budget.

Is Motorcycle Insurance Required in WV?
West Virginia has mandatory insurance requirements for motorcycles. According to state law, all owners must carry liability insurance coverage, which provides financial protection in the event of an accident that causes property damage or bodily injury to others.
If you ride in WV, you'll also have uninsured/underinsured insurance minimums to meet when requesting a free quote from your preferred provider.
What Are the Motorcycle Insurance Minimums in WV?
When you operate a motorcycle on public roads in West Virginia, you'll need to prove that you have an insurance policy on your bike that contains the following.
$25,000 for bodily injury liability.
$50,000 for bodily injury per accident for two or more people.
$25,000 in property damage liability.
$25,000 for uninsured/underinsured motorist bodily injury protection per person.
$50,000 for uninsured/underinsured motorists per accident for two or more people.
$25,000 for uninsured/underinsured property damage.
If you're in a collision with your motorcycle that exceeds these minimum limits, you'd likely be responsible for paying the difference.
It is highly recommended to purchase higher limits when setting up your policy.
How Much Is Motorcycle Insurance in WV?
Motorcycle insurance rates are extremely affordable in West Virginia. The average policy cost in the state is just $593.48.
Even young riders in WV pay less than $800 per year for their coverage needs. If you're a rider in your 30s with a clean driving record and three years of experience, you can get quotes under $400 from some providers.
Best Places to Live for Cheap Motorcycle Insurance in WV
The places where motorcycle insurance in WV is the cheapest may surprise you.
Morgantown has one of the best rates in the state, averaging 6% below average.
Similar savings are found in Clarksburg, Cross Lanes, Elkins, Grafton, Grantsville, Martinsburg, Point Pleasant, and Ripley.
The insurance rates are higher in Charleston, Culloden, Huntington, Madison, Moorfield, and Romney. Living in these communities means you can expect to pay about 10% more than the state average.
Top Motorcycle Insurance Providers in West Virginia
When I requested motorcycle insurance quotes in WV, Allstate offered me the best overall rate. They were the only provider that provided a policy for under $400. GEICO gave me a rate of $490.
Dairyland was able to barely beat the state average for me, quoting $587 for the year to cover my insurance needs.
| | |
| --- | --- |
| Motorcycle Insurance Provider | Annual Premium |
| Allstate | $400 |
| GEICO | $490 |
| Dairyland | $587 |
Best Insurer for All Riders: Allstate
It's tough to beat the rate that Allstate provided. Not only are you getting the cheapest rate, but you're also pairing it with well-rounded coverage options.
You can have added equipment coverage ($1,000 is included for aftermarket upgrades already), towing and labor, or transport trailer damage protection.
Additional add-ons are available, including rental reimbursement and new bike extended coverage.
Best Option for Discounts: Nationwide
Although Nationwide gave me one of the most expensive quotes at nearly $800 per year, I only qualified for a few discounts during the quote-generation process.
You have a long list of savings opportunities to consider, ranging from pay-in-full to adding a theft recovery device.
This insurer also has an A+ rating from A.M. Best, allowing you to be confident in the company's overall financial stability.
Best Choice for Daily Riders: Dairyland
I like Dairyland here. This insurer's rental reimbursement and roadside assistance options are excellent choices for those that ride daily in West Virginia.
If something happens on the road, you'll have 24/7 access to water, fluid, and fuel refills. Your coverage includes service for flat tires, dead batteries, and electrical issues.
The policy can even reimburse you for the rental cost if your bike is in the shop. Replacement cost coverage is available for makes and models less than 36 months old.
To gain insight into how these companies may perform in the future, it's helpful to consider various factors such as financial strength, customer satisfaction, and complaint index.
| | | | |
| --- | --- | --- | --- |
| Providers | AM Best Rating | J.D. Power Index Ranking | NAIC Complaint Index |
| Allstate | A+ | 832 | 2.42 |
| Nationwide | A+ | 829 | 1.28 |
| Dairyland | A+ | – | 3.43 |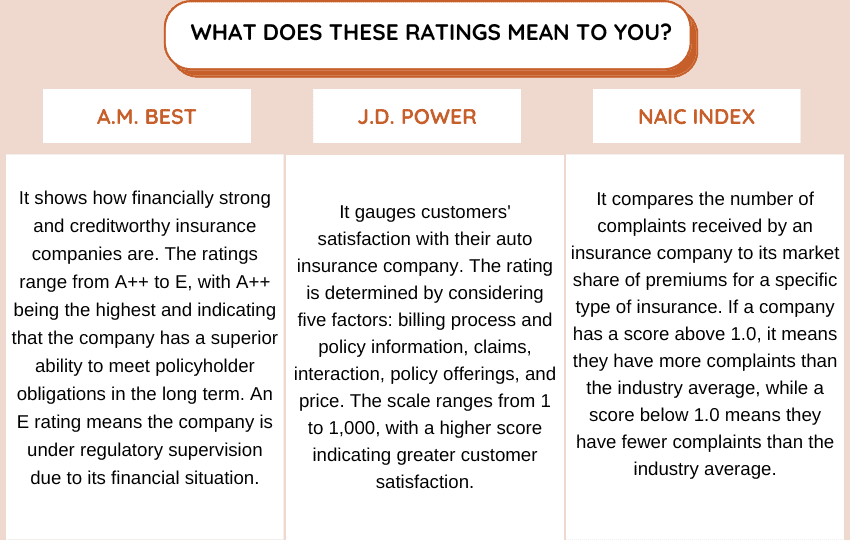 How to Save Money on Your Monthly Motorcycle Premiums in WV?
If you want to save money on your motorcycle insurance in West Virginia, consider shopping around with several different providers. Request quotes from three to five companies to see which offers the best rates.
Here are some other ideas that can help you reduce your monthly insurance costs for your motorcycle.
Have a Clean Driving Record
Safe driving habits can help you maintain a clean driving record, leading to lower insurance rates over time. Avoid traffic violations, accidents, and claims to demonstrate your responsible behavior.
Take a Safety Course
Completing a recognized motorcycle safety course, such as those offered by the Motorcycle Safety Foundation (MSF), can often qualify you for insurance discounts.
Consider Your Motorcycle
Before purchasing a motorcycle, research the insurance costs for different models. Sport bikes and high-performance designs typically have higher insurance premiums due to their increased risk factors.
Adjust Your Coverage Each Year
Regularly review your insurance policy to ensure it meets your current needs. If you have made changes to your lifestyle or riding habits, you may be eligible for lower premiums.
Ask About Discounts
Contact your preferred insurance provider and ask about any available discounts. They may offer savings opportunities for being a member of certain associations, having three years of riding experience, or being a mature rider.
FAQ About West Virginia Motorcycle Insurance
You may encounter some questions when requesting motorcycle insurance quotes in West Virginia. Here are some of the issues people experience and the answers that help you proceed with the process.
Do You Need a Motorcycle License in WV?
Yes, you need a motorcycle license or endorsement to legally operate a motorcycle on public roads. The state's DMV requires individuals to obtain a Class F motorcycle endorsement, an additional credential added to their regular driver's license.
Are Mopeds Included with the Motorcycle Rules in WV?
In West Virginia, mopeds are generally treated differently from motorcycles regarding licensing requirements.
It must have a maximum piston displacement of 50 cubic centimeters (cc) or less and a top speed of 30 miles per hour (mph) or less on level ground.
Do I Need to Wear a Helmet While Riding in West Virginia?
Regardless of age or experience, all motorcycle riders must wear a helmet while operating a motorcycle on public roads in West Virginia. Moped operators under 18 must wear helmets, which change once the driver's license is earned.
Where to Find Free Motorcycle Insurance Quotes in WV?
Take advantage of potential savings by using the tool below to obtain quotes and compare them. Simply input your zip code and receive instant results at no cost. Enjoy the savings!
Use This Tool for Free and Save on Quotes!