We decided to take a long motorcycle trip to South Dakota when we first got married. It wasn't quite a honeymoon, but not really a vacation either. Those three weeks were an incredible experience.
Together, we spent a day exploring everything in Wall. We stopped at the national parks, saw all the monuments, and visited countless Western museums.
Didn't You Try Our Quote Comparison Tool Yet? Save BIG by Doing it!
When we got into Sturgis, we overheard someone talking about Spearfish Canyon. After discussing what we heard that night, we decided to go exploring. There were no regrets!
This lush, tree-lined canyon route stretches for about 20 miles. You'll ride past waterfalls and granite walls alongside a gentle creek. The changing seasons bring different colors to the area, making it a captivating ride at any time of year.
Then we spent a weekend camping in Custer State Park. You can ride the Needles Highway or Iron Mountain Road there. Both deliver unique experiences while seeing Mount Rushmore in the background.

Don't forget to keep your motorcycle updated when living in South Dakota so that you can enjoy the beautiful landscapes each day.
Does South Dakota Require Motorcycle Insurance?
While it's one of the few states that doesn't mandate car liability insurance, motorcycles are a different story in South Dakota.
To legally ride a motorcycle for South Dakotans, you must have liability coverage that meets the state's minimum requirements. This rule ensures that riders have enough financial protection in place if an accident or injury occurs.
In SD, the minimum liability insurance requirements for motorcycles are as follows.
$25,000 BI (Bodily Injury) per person.
$50,000 BI per accident.
$25,000 in property damage coverage.
These minimums apply to liability insurance only. You can purchase comprehensive and collision insurance at your discretion.
How Much Do You Pay for Motorcycle Insurance in SD?
The average full-coverage motorcycle insurance cost in South Dakota is $455 annually. That makes the state one of the cheapest for liability, comprehensive, and collision combined in the United States.
Two agencies gave me a quote under $200 per year for full coverage. Through Dairyland, I received an estimate of $152 annually, which was just phenomenal.
Harley-Davidson Insurance came in a little higher with their rate, but it was still only $164. GEICO had the next best rate to consider, asking $349 for similar coverage.
Comparing Insurance Rates Across Various Cities in the State
Regional price variations can significantly affect the quote you receive from your preferred motorcycle insurers.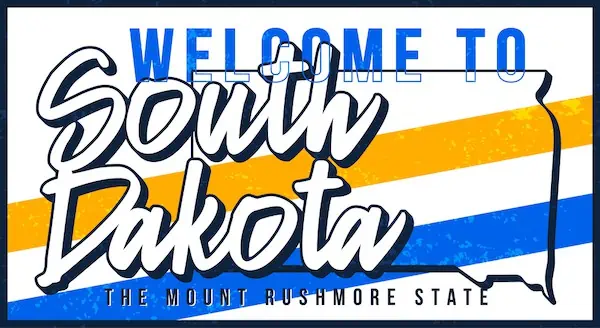 Costs were about 5% lower in Watertown, Webster, Sturgis, Sisseton, Pierre, Madison, Miller, Aberdeen, Brookings, and Groton.
In contrast, insurance costs were about 5% higher in communities like Box Elder, Freeman, Harrisburg, Hot Springs, Lennox, Philip, Rapid City, Sioux Falls, Trip, and Vermillion.
Top Motorcycle Insurance Providers in South Dakota
Cheap motorcycle insurance is a staple of life in South Dakota. You'll pay about 70% less for your coverage here compared to states like California, New York, and Florida.
That means cost isn't necessarily the first factor to review when selecting an insurer. I got two fantastic rates from Dairyland and Harley-Davidson, but individual estimates can be highly variable.
| | |
| --- | --- |
| Motorcycle Insurance Provider | Annual Premium |
| Dairyland | $152 |
| Harley-Davidson | $164 |
| GEICO | $349 |
Best Overall Provider in SD: GEICO
GEICO is my pick here. Although the costs are a little higher, you'll be working with one of two agencies (USAA is the other) with an A++ rating from A.M. Best. Price reductions are available for taking safety courses, policy transfers, and bundling.
Although the add-on options are limited, you still have access to accessories and roadside assistance. You just won't have carried contents coverage or accident forgiveness options.
Best for Daily Riders in South Dakota: Harley-Davidson
My pick here is Harley-Davidson Insurance. Even if you don't ride a Harley, you can get excellent coverage choices with the underwriting options available through this provider.
Although Dairyland was a little cheaper, that agency specializes more in providing high-risk drivers with the necessary insurance coverage. My policy from H-D is more geared to the daily needs of commuters and long-distance riders in the state.
You have options for OEM parts coverage, custom equipment protection, and brand-specific benefits.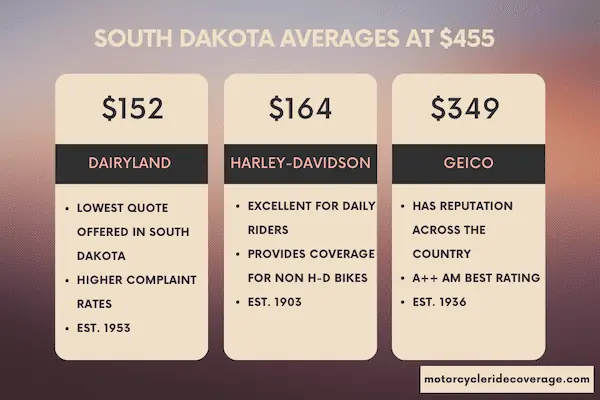 Best for Coverage Needs: Progressive
If you have specific coverage needs to manage with your motorcycle, I'd recommend giving Progressive a closer look. They gave me a quote of $429, which was significantly higher. You can add trip interruption, carried contents, and replacement OEM parts to your policy.
It is robust coverage, which is why the policies come with a higher rate. Most riders should still be around the state average, but you could save a little by going with a different insurer. Just consider everything you want to protect, then take the time to get quotes from at least three providers.
For your better understanding, we will assess the financial strength, customer satisfaction, and complaint index of the listed companies.
| | | | |
| --- | --- | --- | --- |
| Providers | AM Best Rating | J.D. Power Index Ranking | NAIC Complaint Index |
| GEICO | A++ | 847 | 1.97 |
| Harley-Davidson | A+ | – | – |
| Progressive | A+ | 820 | 1.41 |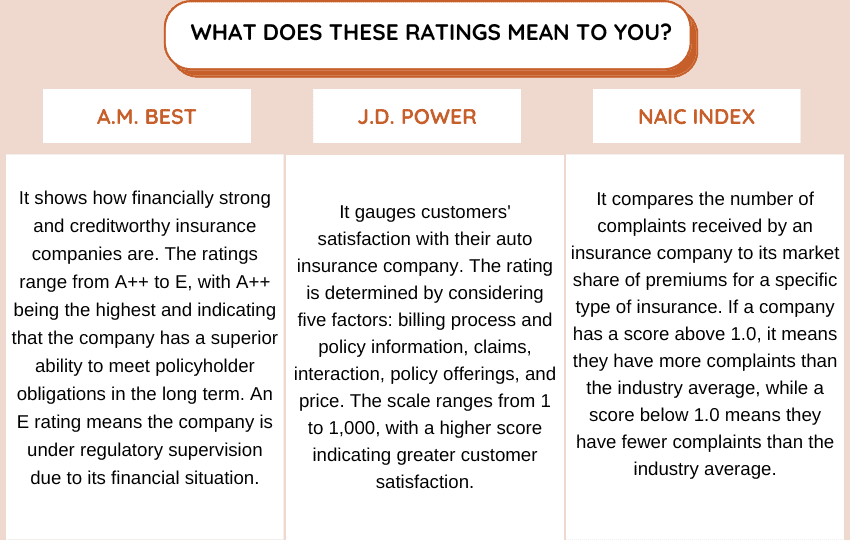 South Dakota and Sturgis: An Incredible Opportunity
The Sturgis Motorcycle Rally is a legendary event. It is a celebration of our culture and the freedom of the open road.
Visiting Sturgis during the event allows you to connect with fellow enthusiasts, enjoy the scenic landscapes in the area, and participate in themed activities.
It is safe to say Sturgis has become an iconic event in the biking community, offering camaraderie, entertainment, and a unique atmosphere that bikers find appealing.
Moreover,
A visit can also be a way to save money on your motorcycle insurance.
Over ten days, you'll meet with motorcycle manufacturers, attend concerts and enjoy exploring numerous rural roads. Registering for the event gives you a free ride pin and patch each year.
Then you can connect with different insurance providers to see if you're getting a great rate. Some local independent agents may offer specific discounts tied to your attendance that can save you 15% or more.
If you're not planning to attend the Sturgis rally, you can still find an excellent deal online by shopping around with today's top motorcycle insurance providers.
Here are some tips to help start a conversation with an independent agent.
Contact Directly. Reach out via phone, email, or even in person. Express your interest in discussing insurance options.
Listen Carefully. Let the agent explain the available policies for your motorcycles. It is okay to ask questions about coverage, costs, and benefits.
Be Specific. Discuss your needs while being open about your coverage requirements and overall budget. The policy must meet the state's minimums, but there is some flexibility to tailor options to your specific situation.
The best insurers build connections. Trust your instincts about their professionalism and rapport. Then remember to ask for quotes from other agencies to ensure you get the cheapest or most valuable rate for your bike.
FAQs About Motorcycle Insurance in South Dakota
If you're interested in cheap motorcycle insurance in South Dakota, you might have questions when requesting a quote. Here are the issues I encountered and the answers I found.
Is It Illegal to Drive Without Insurance in South Dakota?
Riding a motorcycle in South Dakota without insurance is not permitted. The state requires all riders to carry a minimum level of liability coverage.
If you're caught riding without insurance, you could face penalties such as fines, license suspension, and even potential criminal-level consequences.
How Much Does It Cost to Register a Motorcycle in SD?
All vehicles, including motorcycles, must pay an excise tax fee of 4% of the purchase price. If you paid $15,000 for a new bike, you'd pay $600. There are also title, lien notation, and duplicate title fees of $10 each that could apply.
You're given a 45-day grace period to complete your title application. After that, it is $1 weekly until the paperwork is submitted. The maximum cost in this category is $50.
Does South Dakota Have a Motorcycle Helmet Law?
South Dakota requires anyone under age 18 to wear a helmet on a motorcycle, moped, or similar vehicle. You can ride without this safety gear if you meet these three conditions.
– You're of the appropriate age.
– You have a motorcycle operator's endorsement on your license.
– Your medical insurance covers at least $20,000 in injuries from an accident.
How to Get the Cheapest Motorcycle Insurance Quote in SD?
To find affordable rates for services in your area of South Dakota, simply enter your zip code below. Request quotes from multiple companies and compare rates.
Use This Tool for Free and Save on Quotes!