Finding the cheapest motorcycle insurance in Ohio involves requesting quotes from providers, deciding what factors could raise or lower rates, and understanding what limits you prefer for your bike.
Start by researching insurance companies that offer motorcycle insurance in Ohio. Once you have a list of potential insurers, compare their quotes. You can do this by visiting their websites or calling their customer service representatives to ask for quotes.
Didn't You Try Our Quote Comparison Tool Yet? Save BIG by Doing it!
Be sure to compare each company's coverage, deductibles, and monthly costs.
Do You Need Motorcycle Insurance in Ohio?
Motorcycle insurance is required in Ohio. The state requires riders to carry minimum levels of liability coverage to manage the costs of injury or property damage they may cause while riding their bike.
What Are the Minimum Motorcycle Insurance Requirements in Ohio?
Liability insurance provides protection against claims of damage or injury that you are legally responsible for causing to other people or their property.

In the case of motorcycle insurance, it covers damages or injuries you cause while operating your bike. It might include damage to another person's vehicle or medical expenses related to an at-fault accident.
It is divided into two primary types in Ohio: bodily injury and property damage.
Here are the current minimum liability coverage levels required in Ohio. Please note that these limits are subject to change, so refer to the state's legal statutes to determine the current requirements.
$25,000 to cover bodily injury or death of one person per accident.
$50,000 covering the bodily injury or death of two or more people from a qualifying collision.
$25,000 for property damage sustained in an accident.
It might be necessary to purchase additional coverage above these minimums to protect your finances if something unexpected occurs.
How Much is Motorcycle Insurance in Ohio?
Motorcycle insurance costs an average of $612.55 in Ohio. It is significantly higher for younger riders ($877.21 for those under-17 and $776.51 for those under-23).
Regionality plays a significant role in motorcycle insurance costs throughout the state. Here is our findings:
If you live in Barberton, the average quote is about 2% less than the median.
For those living in Athens, motorcycle insurance rates are about 15% above the state average.
The most expensive city for motorcycle insurance is Cleveland, where the median cost for all riders is $926.27 per year.
As for the cheapest motorcycle insurance rates in Ohio, you'll find them in Middletown. Riders pay 13.8% less than average for their policies in this community.
Motorcycle Insurers with the Cheapest Rate in Ohio
According to our exclusive analysis of average motorcycle insurance rates in the United States, GEICO and Progressive offer the most affordable rates. In contrast, Nationwide offers specific coverage options that work well for some riders.
| | |
| --- | --- |
| Motorcycle Insurance Provider | Annual Premium |
| GEICO | $321 |
| Progressive | $522 |
| Nationwide | $670 |
Best Overall: GEICO
At $321, this insurer offered a total coverage package that was $200 cheaper than any other competitor in Ohio.
GEICO provides straightforward resources by phone and online to simplify policy management while keeping costs low for most riders.
Best for Young Riders: Progressive
Although the average cost for motorcycle insurance was $522, their rates were more consistent for young riders than any other insurer.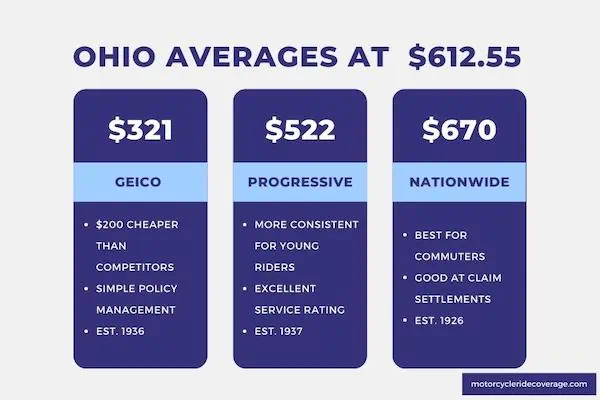 Progressive receives a customer service review rating ranging from 3.8 to 4.2 on websites that accept more than only complaints.
Best for Commuters: Nationwide
This insurance company offered a $670 quote, but it was thorough for the needs of the average motorcycle commuter. Several discounts are also available to keep the cost low for some riders potentially.
Nationwide receives excellent customer ratings for claim outcomes and settlements.
Let's compare the recommended insurance companies' financial strength rating, customer satisfaction, and complaint index in your state and learn what they tell you.
| | | | |
| --- | --- | --- | --- |
| Providers | AM Best Rating | J.D. Power Index Ranking | NAIC Complaint Index |
| GEICO | A++ | 847 | 1.96 |
| Progressive | A+ | 827 | 1.40 |
| Nationwide | A+ | 809 | 1.27 |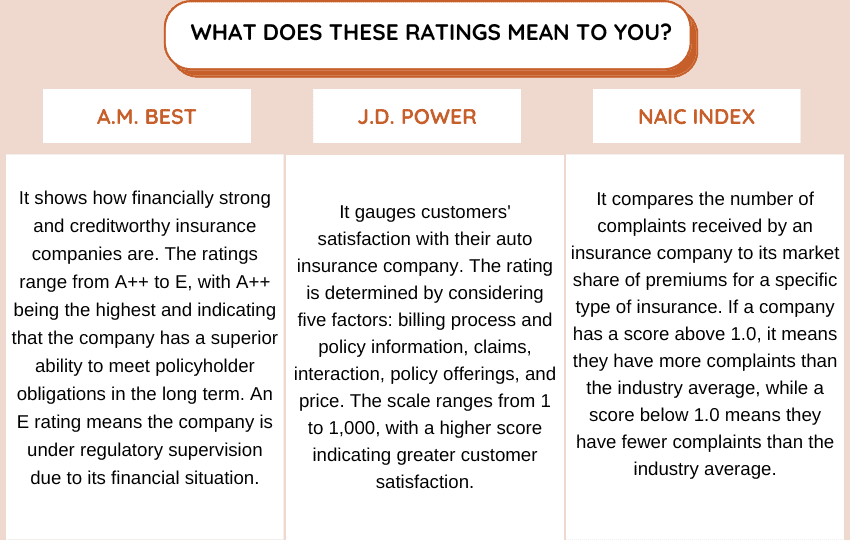 Factors Impacting Your Motorcycle Insurance Rate in Ohio
Ohio insurance costs directly reflect a motorcyclist's experience, the make and model of bike they ride, and the limits they carry.
Higher levels of coverage will generally result in more expensive premiums. High-performance sports bikes typically cost more to insure than standard motorcycles.
The deductible you select impacts your quoted rate if you carry full coverage, defined as liability, comprehensive, and collision. This amount is what you pay out of pocket before your insurance kicks in.
Choosing a higher deductible often lowers your insurance costs, but you will be responsible for more expenses if you have an accident.
Ohio Motorcycle Insurance Discounts
Several discounts are available to riders in Ohio to help them lower their motorcycle insurance premiums. Here are the most common options that insurers offer.
Multi-Policy Discount. If you have another policy with the same provider, such as auto coverage, you might qualify for a bundling option that saves money.
Safety Course Discount. Completing an approved motorcycle safety course can help to lower your monthly insurance premiums.
Anti-Theft Device Discount. Installing products that prevent motorcycle theft can help you qualify for some insurance discounts in Ohio.
Good Driver Discount. You may qualify for this option if you have a clean driving record with no accidents or tickets.
Low Mileage Discount. When you ride your motorcycle occasionally, some insurers charge less or offer a discount because of the lesser levels of travel.
When you find an affordable motorcycle insurance policy that protects your financial well-being if an accident occurs, you can ride with confidence.
FAQs
Here is a closer look at some of the common questions Ohio motorcycle owners ask when looking for insurance products.
What Other Types of Motorcycle Insurance Are Available in Ohio?
Other types of motorcycle insurance available in Ohio include collision coverage, comprehensive coverage, uninsured/underinsured motorist coverage, and medical payments coverage.
How Do I Get Motorcycle Insurance in OH?
You can get motorcycle insurance in Ohio by contacting an insurance company or agent and requesting a quote. You can also purchase insurance online or over the phone.
What Is Medical Payment Coverage?
What Should I Do If I'm in a Motorcycle Accident in Ohio?
If you're involved in an accident while riding a motorcycle, you should immediately seek medical attention for any injuries. Contact the police to report the accident and exchange information with the other riders or drivers.
Once you've taken those steps, talk to your insurance company to report the incident and file a claim.
How to Get Ohio Motorcycle Insurance Quotes?
Our online tool makes it easy to find the best options in your area. Simply enter your zip code below and compare quotes from multiple providers. With our help, you can find the coverage you need at a price you can afford
Use This Tool for Free and Save on Quotes!