It makes sense to store a motorcycle when the winter months come along. The road conditions are challenging with the extra moisture, not to mention sometimes icy and slick. It isn't always pleasant to get in the saddle, even with cold-weather gear on.
Most cold seasons produce a few days where the weather is sunny, bright, and warm. Those are the times when you are tempted to take the bike out of storage to take a ride.
If you are using seasonal insurance, your motorcycle might not be covered if you take it to the road. Is it essential to have coverage if you're only using the bike for a day?
You Must Have Insurance to Ride in Almost Every State
Florida is the only state that doesn't require you to have motorcycle insurance when you take the bike out for a ride on a nice day.
It would also be unusual for most Florida motorcyclists to look at winter layup options because of the state's climate.
Did You Try Out Our Quote Comparison Tool? Save BIG!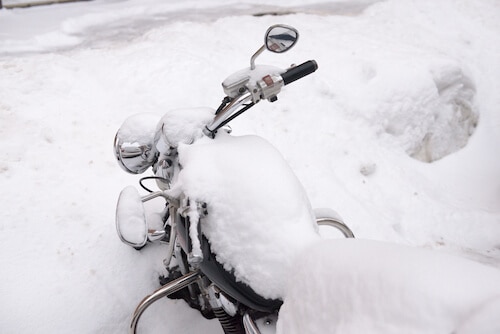 When you need insurance coverage for a day after putting your motorcycle in storage, please speak to your agent or broker about having an option to take it for a ride on a nice day. Most policies offer this feature, although you might receive a single 24-hour window of use.
Before taking advantage of that one-day exception, you'd likely need to contact your agent or provider to let them know you're using it.
A better option for many riders is to maintain insurance coverage throughout the year, even if the bike isn't ridden very often.
Who Needs Single-Day Coverage for a Motorcycle?
Most riders use single-day coverage for seasonal rides during unseasonal weather. Those who live in the northern states often store their motorcycles in the winter. If it isn't built into the existing coverage, a one-day policy is necessary to operate the bike legally.
Temporary motorcycle insurance is another option to consider. It's an affordable and flexible solution that covers you when borrowing a bike from a friend, test-riding a new motorcycle or picking your purchase up from a previous owner.
Selecting a temporary policy ensures you receive enough protection for as long as needed.
Insurance Protects Your Investment
When your motorcycle gets safely stored during the winter months, you face several risks of having no insurance coverage.
If someone stole your bike, the entire investment could be lost. The motorcycle would need to be recovered and returned without damage for you to be whole in that situation.
Your bike wouldn't be covered against fire, snow, or ice damage without appropriate insurance coverage during the off-season.
Without liability protection, you could be held responsible for damages caused in an accident you cause. That includes property damage recovery and medical bills for injured parties.
All riders must meet their state's minimum liability requirements to take a ride, even if it is only for a day. If you expect that you'll need this coverage, it helps to structure your seasonal policy to accommodate this need.