If you are 16 years old and would like to enjoy the thrill of riding around on two wheels after getting your motorcycle license, it is important to figure out the average cost of motorcycle insurance. However, the concept of insurance might seem hard to grasp at such a young age.
Still, so many hidden fees and conflicting reports are usually tacked on once the paperwork has been signed. The misleading quotes provided online don't always showcase the exact cost of motorcycle insurance. Therefore, figuring out the market average is the best gauge of motorcycle insurance.
Didn't You Try Our Quote Comparison Tool Yet? Save BIG by Doing it!
Is There Affordable Insurance?
The simple answer is yes, and it is possible to buy motorcycle insurance for 16-year-olds. However, insurance is usually more expensive because statistics show teenagers are more likely to be involved in accidents than people over 25. The extra risk thus translates into more expensive premiums that partly depend on the type of coverage purchased.
Are There Restrictions Over Getting Insured at 16?
The good news is that 16-year-olds can start driving out on the road since they can get insurance, even if they choose to get a separate policy from their parent's policy. Today, there isn't a single state in the U.S. that doesn't allow 16-year-olds to buy their own insurance policies. The simple reason is that anyone who qualifies to drive a vehicle is also eligible for insurance.
The amount of money that 16-year-olds pay for insurance is completely different. Depending on their driving record, insurance providers may deny coverage based on their driving habits, but not their age, as long as they are at least 16.

How Much Does Motorcycle Insurance Cost for 16-Year-Olds?
The cost of motorcycle insurance for 16-year-old riders varies depending on several factors. Still, generally speaking, it costs about double what a 30-year-old experienced motorcycle rider would have to pay for an identical policy.
Here is an excellent example of the average motorcycle insurance cost:
Liability coverage for a 16- to 24-year-old with a good driving record for a cruising/sports motorcycle will range between $1,600 and $2,400 annually.
Full coverage for a 16- to 24-year-old with a bad driving record for a cruising/sports motorcycle will range between $1,600 and $3,200 annually.
Motorcycle insurance policy rates start dropping noticeably once the rider turns 20. By the time he or she turns 25, it will often have dropped below the national average as he or she maintains a good driving record.
How Much Does It Cost to Get Moped Insurance at 16?
The average moped insurance cost for a 16-year-old may range from $300 to $1,000 per year, but this can vary widely based on several factors. Insurance companies consider 16-year-old riders to be high-risk, and therefore, they often charge higher premiums.
The quotation process looks at the state where you live, the moped you own, your driving record, and the level of coverage you require.
Many teen riders are eligible for special rates or discounts. Consider completing a safety course, taking defensive driving classes, and having a 3.0 GPA or higher in school to qualify for lower rates.
It can also help some 16-year-old riders to be added to a parent's policy instead of trying to take one out themselves.
Is It More Affordable to Get Moped Insurance?
Generally, mopeds and scooters are cheaper to insure than motorcycles at any age. This outcome occurs because of the smaller engines and lower maximum speed they deliver, so they're considered less risky to insure.
Mopeds are often less expensive to repair or replace than motorcycles, which can help keep insurance costs down.
The exact cost of moped or scooter insurance for teen riders depends on several factors, including geographic location, driving history, and the specific make and model used on public roads.
That's why shopping around and comparing quotes from multiple motorcycle insurance providers can help to find the best rates and coverage options for your current needs.
Finding Affordable Motorcycle Insurance Policy at 16
For many, it might not seem likely to find affordable motorcycle insurance for a 16-year-old, but it does exist. It might be hard to obtain decent rates, but due to the competition among providers, it is still possible to find a good package.
To find a cheaper rate for motorcycle insurance for 16-year-olds, here are five effective tips: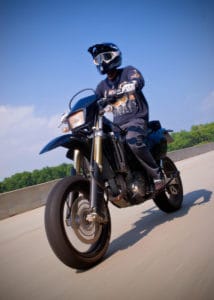 Drive Safe: Driving safe is the best way to get the best rates at this age. While the discounts won't be applied immediately for safe driving, the more years driven without a claim, the lower the rate will likely be.
Getting involved in an accident at this age will significantly increase rates. It is much harder to get decent coverage with a poor driving record. Even a single accident can shoot rates skyward as a result.
Increasing Deductibles: Deductibles are the amount that must be paid before processing a claim. If the deductible is increased, the premiums will get lowered, but if the deductible is lower, the premiums will likely be higher.
Parents' Policy: Many 16 years old get coverage on their parent's policy, assuming they drive a vehicle. By bundling the coverage, the overall rates will be lower than getting a policy alone. This is because the rates are combined with the parents, who are paying a far lower rate in most circumstances.
Good Grades: Most people are still in high school at this age. Most insurance providers can offer additional savings for getting a GPA higher than 3.0. It means you can save some extra cash if you maintain at least a "B" average.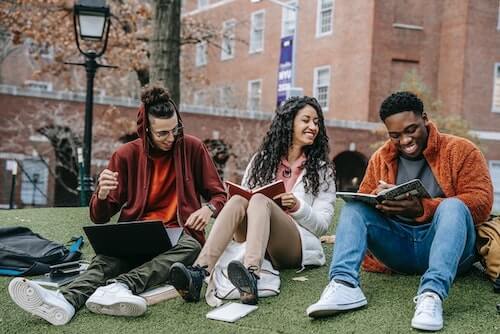 Safety Classes: Safety classes are typically available to people of this age. The classes help new riders hone their riding skills and learn proper road etiquette and safety. They make you a safer rider, and the insurance company will likely offer a discount on coverage.
Companies That Offer Motorcycle Insurance to 16-Year-Olds
Not all insurers provide policies or coverage options to 16-year-old motorcyclists. The risk factors are considered extremely high, even when adding a teen to a parent's policy.
Progressive, Nationwide, and GEICO offer liability-only policies for 16-year-old motorcyclists. Rates that exclude comprehensive and collision coverage are typically $400 or less.
Motorcycle Insurance Discounts Available to 16-Year-Olds
While motorcycle insurance for 16-year-olds can be expensive, several discounts can help lower costs.
Here are some of the most common options available to young riders and how to apply this discount to your policy.
Safety Course Discount
Completing a motorcycle safety course helps to make 16-year-olds safer riders while helping to save on insurance costs. Many providers offer discounts for riders who have completed an approved safety course.
Good Student Discount
If you're a 16-year-old currently enrolled in school, be sure to ask your insurance provider about any good student discounts available. A minimum GPA, typically 3.0 or higher, is required to qualify for this discount.
Multiple Vehicle Discount
If you or your family have more than one vehicle insured by the same provider, you may be eligible for a discount on your motorcycle insurance.
Loyalty or New Rider Discount
When you purchase consecutive policies from the same insurance company, you can receive discounts for that loyalty. For 16-year-olds, that often means being part of a parent's or a guardian's coverage. If this policy is new, a first-time discount could be applied for signing up.
Anti-Theft Device Discount
Some motorcycles are equipped with alarms or GPS tracking systems to prevent theft proactively. These features often make young riders eligible for potential discounts.
Since 16-year-olds don't have a driving record or a credit score in most situations, there isn't much information for an insurance company to access for assessing risk. Until that info becomes available, the quotes that young riders receive are typically higher.
Final Thoughts
Motorcycle insurance for 16-year-olds is likely more expensive than for older riders. The reason is that younger riders are statistically more likely to get into accidents. However, it doesn't mean people of this age cannot get good policy deals.
To find the best insurance provider, it is always advisable to do comparison shopping. Apply for free quotes, compare the rates, and select the most suitable and affordable offer.
Use This Tool for Free and Save on Quotes!