If you are 16 years old and would like to enjoy the thrill of riding around on two wheels after getting your motorcycle license, it is important to figure out the average cost of motorcycle insurance. However, the concept of insurance might seem hard to grasp at such a young age.
Still, so many hidden fees and conflicting reports are usually tacked on once the paperwork has been signed. The misleading quotes provided online don't always showcase the exact cost of motorcycle insurance. Therefore, figuring out the market average is the best gauge of motorcycle insurance.
Did You Try Out Our Quote Comparison Tool? Save BIG!
Is There Affordable Insurance?
The simple answer is yes, and it is possible to buy motorcycle insurance for 16-year-olds. However, insurance is usually more expensive because statistics show teenagers are more likely to be involved in accidents than people over 25. The extra risk thus translates into more expensive premiums that partly depend on the type of coverage purchased.
Are There Restrictions Over Getting Insured at 16?
The good news is that 16-year-olds can start driving out on the road since they can get insurance, even if they choose to get a separate policy from their parent's policy. Today, there isn't a single state in the U.S. that doesn't allow 16-year-olds to buy their own insurance policies. The simple reason is that anyone who qualifies to drive a vehicle is also eligible for insurance.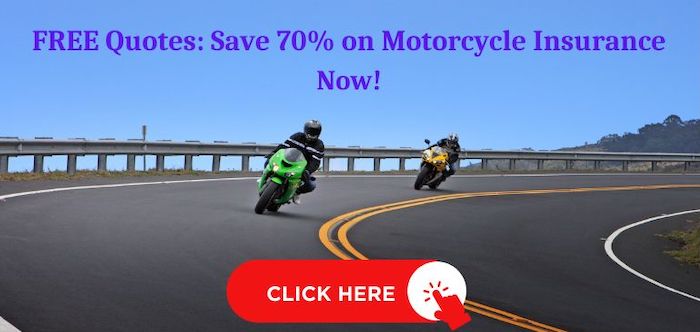 The amount of money that 16-year-olds pay for insurance is completely different. Depending on their driving record, insurance providers may deny coverage based on their driving habits, but not their age, as long as they are at least 16.
How Much Does Motorcycle Insurance Cost for 16-Year-Olds?
The cost of motorcycle insurance for 16-year-old riders varies depending on several factors. Still, generally speaking, it costs about double what a 30-year-old experienced motorcycle rider would have to pay for an identical policy.
Here is a good example of the average motorcycle insurance cost:
Liability coverage for a 16- to 24-year-old with a good driving record for a cruising/sports motorcycle will range between $1,600 and $2,400 annually. The full coverage for a 16- to 24-year-old with a bad driving record for a cruising/sports motorcycle will range between $1,600 and $3,200 annually.
Motorcycle insurance policy rates start dropping noticeably once the rider turns 20. By the time he or she turns 25, it will often have dropped below the national average as he or she maintains a good driving record.
Finding Affordable Motorcycle Insurance Policy for 16-Year-Olds
For many, it might not seem likely to find affordable motorcycle insurance for a 16-year-old, but it does exist. It might be hard to obtain decent rates, but due to the competition among providers, it is still possible to find a good package.
To find a cheaper rate for motorcycle insurance for 16-year-olds, here are five effective tips: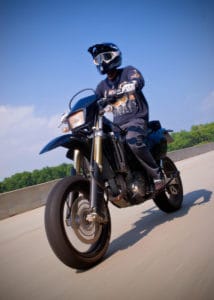 Drive Safe: Driving safe is the best way to get the best rates at this age. While the discounts won't be applied immediately for safe driving, the more years driven without a claim, the lower the rate will likely be. Getting involved in an accident at this age will significantly increase rates. It is much harder to get decent coverage with a poor driving record. Even a single accident can shoot rates skyward as a result.
Increasing Deductibles: Deductibles are the amount that must be paid before processing a claim. If the deductible is increased, the premiums will get lowered, but if the deductible is lower, the premiums are likely to be higher.
Parents' Policy: Many 16 years old get coverage on their parent's policy, assuming they drive a vehicle. By bundling the coverage, the overall rates will be lower than getting a policy on their own. This is because the rates are combined with the parents, who are paying a far lower rate in most circumstances.
Good Grades: Most people are still in high school at this age. Most insurance providers can offer additional savings for getting a GPA higher than 3.0. It means that you can save yourself some extra cash if you maintain at least a "B" average.
Safety Classes: Safety classes are typically available to people of this age. The classes help new riders hone their riding skills and learn proper road etiquette and safety. They make you a safer rider, and the insurance company will likely offer a discount on coverage.
Final Thoughts
Motorcycle insurance for 16-year-olds is likely to be more expensive than for older riders. The reason is that younger riders are statistically more likely to get into accidents. However, it doesn't mean that people of this age cannot get good deals on policies.
To find the best insurance provider, it is always advisable to do comparison shopping. Apply for free quotes, compare the rates, and select the most suitable and affordable offer.
This Tool is FREE to Use!