Rhode Island might be famous for being the smallest state in the US, but it still offers plenty of historic and beautiful sites that are perfect for taking a trip on a motorcycle.
I love visiting the lighthouses along the coast with my bike when I'm in the area. You can start your tour in Newport and visit the Castle Hill, Beavertail, and Point Judith Lighthouses.
Didn't You Try Our Quote Comparison Tool Yet? Save BIG by Doing it!
In the northern part of the state, you'll find the Blackstone Valley. I love to start in Pawtucket, then visit the Blackstone River State Park.
When you take a ride, it's essential to have your motorcycle protected by the best insurance possible. Here's a look at the cheapest rates, who has them, and why that matters.
Do I Need Motorcycle Insurance in Rhode Island?
Motorcycle insurance is required in Rhode Island. All owners must have at least liability coverage to operate their bikes on public roads and highways legally.

Moped and scooter owners need insurance for the same reasons.
The minimum liability coverage required in Rhode Island is as follows.
$25,000 for bodily injury or death of one person in an accident.
$50,000 for injuries or fatalities involving two or more people in a single accident.
$25,000 for property damage in an accident.
These limits do not apply to comprehensive or collision coverage. It is also recommended that motorcyclists carry uninsured/underinsured motorist coverage when riding in the state.
Cheapest Motorcycle Insurance Rates in Rhode Island
Since much of Rhode Island is classified as an urban environment for insurance purposes, the average policy that motorcyclists pay is significantly higher than the national average.
For those looking for full coverage (liability, collision, and comprehensive), the average policy in RI is $915.04. Progressive offers the best rate at $725, while Dairyland offered me something similar at $743.
Allstate quoted me $966.47, a little higher than the state average.
| | |
| --- | --- |
| Motorcycle Insurance Provider | Annual Premium |
| Progressive | $725 |
| Dairyland | $743 |
| Allstate | $966 |
Best Overall Provider: Progressive
Progressive earns this title. Their rates are competitive, you can manage your policy online, and the insurer has above-average customer service foundations to help motorcyclists. You can upgrade to trip interruption coverage, offering up to $500 for food, lodging, and other needs.
Best for Daily Riders: Allstate
Allstate offers several excellent options for those who use a motorcycle for their daily commute or love to ride. You have upgrade choices everywhere to ensure your best interests are always protected, even if the average policy quote is higher for most owners.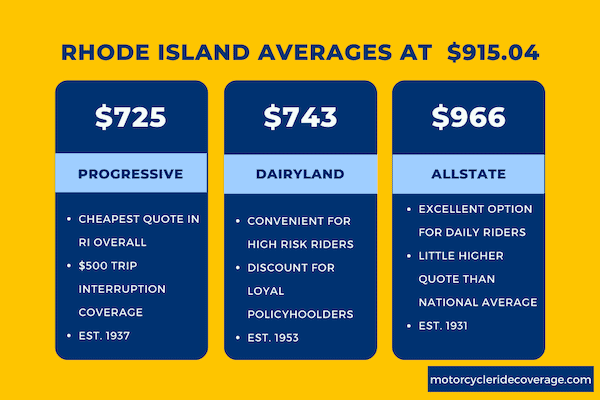 Best for Military Families: USAA
If you're a military family headed to the East Coast (or are already there!), consider requesting a quote from USAA. Their A++ A.M. Best rating is better than the other top insurers in the state.
The quotes are individualized, so you may receive an offer that beats Progressive or Dairyland.
For a comprehensive understanding of insurance companies' financial strength, customer satisfaction, and complaint index, refer to the table below.
| | | | |
| --- | --- | --- | --- |
| Providers | AM Best Rating | J.D. Power Index Ranking | NAIC Complaint Index |
| Progressive | A+ | 818 | 1.40 |
| Allstate | A+ | 787 | 2.40 |
| USAA | A++ | 884 | 1.73 |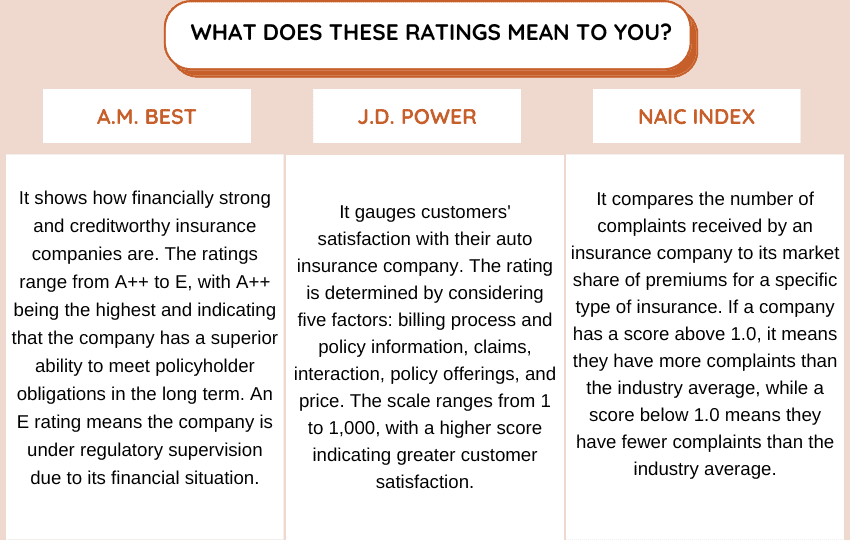 What Influences My Motorcycle Insurance Rates in RI?
Age, experience, and the motorcycle you own tend to be the most significant drivers of your insurance quote in Rhode Island.
Younger riders with less experience and a history of accidents or traffic violations may be considered higher risk and therefore asked to pay higher rates.
High-performance bikes could be more expensive to insure than standard motorcycles due to the increased risk of accidents. Most riders on a BMW S 1000 RR, Aprilia RSV4 RF, or Kawasaki Ninja H2R will pay higher rates than someone on a standard Harley-Davidson or Yamaha.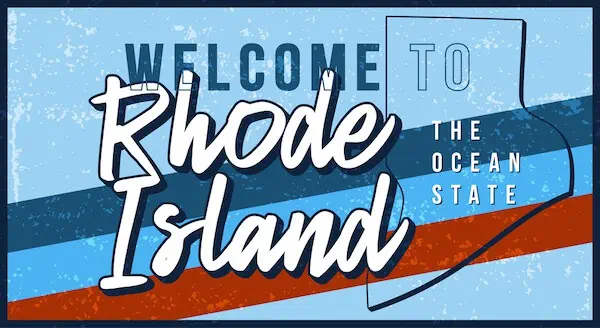 Where you live in Rhode Island can also affect your insurance rates. You may pay higher costs if your home is in an area with high levels of motorcycle accidents or theft.
Those living in Westerly or Pascoag typically pay approximately 11% less for their coverage
The residents of Providence, Pawtucket, and Central Falls pay 15% more than the average rate.
FAQs
Here are some common questions motorcyclists have when getting ready to take their bikes on the road for the first time.
Can I Order a Vanity Plate for My Motorcycle in RI?
Rhode Island allows owners to have vanity plates on their motorcycle if it is available and not currently registered to another vehicle or bike.
What Should I Do If I Change the Color of My Motorcycle?
If your motorcycle has received some customization that changes its color, you must update the bike's information on your registration. This step is only possible by visiting your local DMV branch.
What Happens If My Plate Comes Off the Motorcycle?
If you leased the motorcycle, you'd need to provide the DMV with a Power of Attorney form from the leasing company authorizing a plate change. You can request a re-issue of the same number or obtain a new one. A mandatory 90-day waiting period is in effect. Before issuing new plates, you must present evidence of insurance and your license.
Where Do I Get the Cheapest Quotes in Rhode Island?
As motorcycle insurance in RI is relatively expensive despite the state's small size, shopping around for the best rates is worthwhile. You can use our tool below to find competitive quotes and potentially save a significant amount on your insurance costs.
Use This Tool for Free and Save on Quotes!