Oklahoma is one of those states I try to visit whenever possible. It delivers some incredible drives, out-of-the-way sites, and one of the best diners I've ever visited.
It was 2002. My SO and I were headed to a football game in Dallas when we decided to stop for something to eat. A billboard along the interstate grabbed my attention.
Didn't You Try Our Quote Comparison Tool Yet? Save BIG by Doing it!
I drove about ten miles off the highway to find this tiny diner. The menu was limited, but they still offered fresh fried catfish for breakfast. They served it with some hush puppies, pancakes, sausage, and a couple of eggs. Easily one of the best meals I've ever had.
We cruise Highway 59 just to visit that diner still today.
Another favorite option is to visit Grand Lake. You can explore many of the state's small towns while enjoying a cruise along the shoreline. There's even a riverboat to see.

Before you get started, it is essential to review the motorcycle insurance requirements you'll need to meet the state's requirements.
Do I Need to Carry Motorcycle Insurance in Oklahoma?
Before legally riding a motorcycle in Oklahoma on public roads, you must obtain a liability policy with specific coverage minimums.
This insurance is required to protect yourself and others from financial losses resulting from unexpected events or accidents.
Imagine that you cause an accident while riding a motorcycle. The cost of medical bills, property damage, and other expenses can be very high.
Without insurance, you might be responsible for paying these costs out of pocket, which could result in financial problems. With coverage, the insurer pays for damages up to your coverage limits.
That's why there are mandated minimums when securing a motorcycle insurance policy in Oklahoma.
What Are the Liability Minimums in Oklahoma?
The amount you must carry in 2023 is $25,000 injury per person, $50k per accident, and $25,000 to cover property damage. These minimums are often expressed as 25/50/25.
These coverage levels provide funds for other drivers' injuries or damage when you're the one who causes the accident. Additional motorcycle insurance types are available, and it could be helpful to have additional support based on your riding activities.
If you lease or purchase a motorcycle with financing, the lienholder often requires you to purchase liability, collision, and comprehensive insurance. The state's minimums apply to the liability portion only.
Cost of Oklahoma Motorcycle Insurance
The average cost of motorcycle insurance in Oklahoma is $766.67. It is about 20% cheaper for riders aged 35 to 54, while young riders and seniors could pay slightly more than the median.
Teen motorcyclists in Oklahoma tend to pay the most, averaging nearly $1,100 per year for minimum coverage needs.
Geographic location is an essential consideration when evaluating the cost of Oklahoma motorcycle insurance.
Riders in Durant pay 17% less than the state average
Those in Tulsa pay 17% more
It's 12% higher in Oklahoma City.
Motorcyclists in Enid, Ponca City, and Stillwater also receive very competitive insurance rates.
There are some ways for young riders to lower their annual premiums. Good student discounts are a great choice, and it might be possible to save money by staying in a parent's policy.
Another option is taking a motorcycle safety class with a learning permit.
What Motorcycle Insurance Companies Offer the Best Rates in Oklahoma?
Progressive offered the best rate, charging $555.39 for a pay-in-full motorcycle insurance policy. Allstate provided the next best quote, asking $712 for similar coverage choices.
GEICO is a third competitive option. They provided me a quote of $714.26, so minimally higher than Allstate.
| | |
| --- | --- |
| Motorcycle Insurance Provider | Annual Premium |
| Progressive | $555 |
| Allstate | $712 |
| GEICO | $714 |
Best Overall Provider: Progressive
Progressive is the best provider in this category for me. You can access several discounts to drive down rates, including being a member of specific motorcycle associations.
You can receive another discount if you ask for a quote more than a day before your policy starts.
Even if the rates are high, you'll earn future discounts by paying your monthly premium on time. The coverage options are plentiful, and OEM parts are guaranteed with each policy.
Best Option for Families: Allstate
Allstate is an excellent choice for families that love to ride together. They offer rental reimbursement coverage, which is helpful for daily riders.
You can bundle them together to get one great rate or cover them individually. You have many choices, and the customer service receives solid yearly ratings.
Best Young Rider Motorcycle Insurance: GEICO
GEICO wins out over Dairyland and Progressive in this category. With an A.M. Best rating of A++ and a national presence, you can access plenty of coverage options. Although you receive fewer discounts or add-ons, many young riders aren't seeking expanded coverage.
You get the basics at a fair rate while receiving helpful customer service during the claims process. If you need to make changes, an online dashboard is available to help make that happen.
Refer to the table below to gain insight into the financial strength, customer satisfaction, and complaint index of preferred insurance companies in your state.
| | | | |
| --- | --- | --- | --- |
| Providers | AM Best Rating | J.D. Power Index Ranking | NAIC Complaint Index |
| Progressive | A+ | 820 | 1.40 |
| Allstate | A+ | 816 | 2.40 |
| GEICO | A++ | 847 | 1.95 |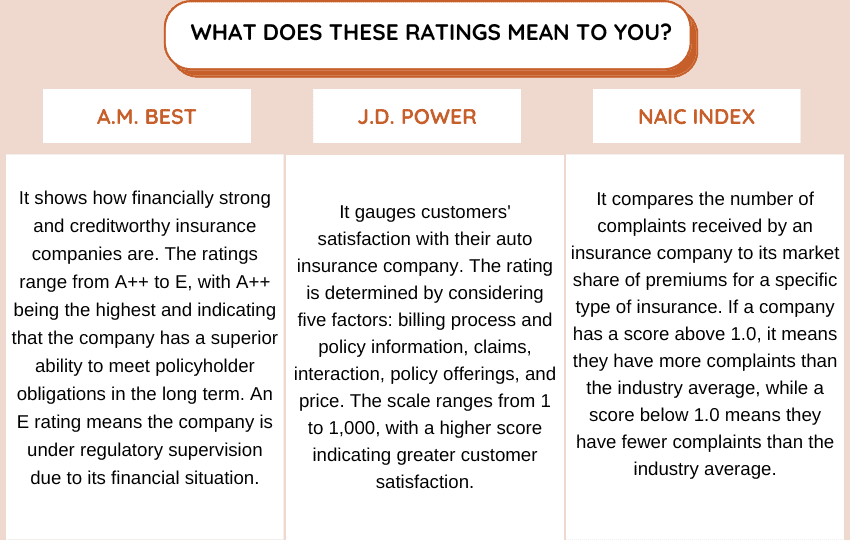 How to Limit My Motorcycle Insurance Expenses in Oklahoma?
The motorcycle you choose to ride in OK significantly affects how much you'll pay each month or year for your insurance premiums.
One of the most expensive motorcycles you can purchase today for daily riding is the Ducati Panigale V4 R. With a base price of over $40,000, its high-performance engine and powerful acceleration profile make it a high-risk bike for insurers to consider. That raises your rates.
Additional motorcycles that fall into a high-risk category include the BMW K1600GTL luxury touring bike, the Harley-Davidson Road Glide, and KTM 1290 Super Duke R.
Instead of riding one of those motorcycles, consider riding the Honda Rebel 300, Yamaha XT250, or Suzuki DR200s. All three options have an MSRP of around $5,000, which keeps insurance costs low because repair or replacement concerns are significantly less to manage if a collision occurs.
The cost of motorcycle insurance can vary widely depending on several additional factors, including age, driving record, and home address.
Oklahoma Motorcycle Insurance FAQs
If you're getting ready to ride a motorcycle for the first time, knowing what to expect when protecting yourself, your bike, and your finances is essential. Here are the commonly asked questions that riders have when getting ready to explore OK's open roads.
What Are the Equipment Laws in Oklahoma?
Motorcycles must have two rear-view mirrors, fenders on each wheel, and a minimum of one red taillight that can be seen from at least 500 feet away.
All bikes are required to have a horn and a muffler. If your motorcycle doesn't meet these expectations, an insurance company might not provide coverage that lets you ride on public roads.
Are There Lane Splitting Laws in OK?
It is illegal to split lanes with a motorcycle in Oklahoma. Riding between stopped or busy traffic can result in a ticket, fines, and other consequences.
Nothing in the legal statutes prevents two motorcycles from riding side-by-side in the same lane. There should be enough space to allow both riders to manage their equipment safely.
How Old Do I Need to Be to Operate a Motorcycle?
You must be at least 16 years old. Riders under this age minimum can apply for a permit. Anyone wanting to ride a motorcycle in Oklahoma must have an endorsement on their driver's license. This process includes several tests, including skills, knowledge, and vision.
Where to Get FREE Quotes Online for Oklahoma?
Each scenario is different. So, take your time requesting multiple quotes with us. The tool below will help you find the cheapest quotes in your city. You only need to check out as many providers as possible and compare the rate.
Use This Tool for Free and Save on Quotes!