Delaware may be a small state, but it offers scenic routes and road trips perfect for motorcycle enthusiasts like me.
I love the coastal highway. Growing up, one of my first memories was taking Route 1 with my parents and seeing the Atlantic Ocean. You'll go through towns like Rehoboth Beach, Dewey Beach, and Bethany Beach.
Didn't You Try Our Quote Comparison Tool Yet? Save BIG by Doing it!
As I've gotten older, I've fallen in love with the Brandywine Byway. It takes you through the picturesque countryside of northern Delaware. You'll get to see historic sites, visit a few wineries, and do some exploring.
Before taking the bike out on a trip in the state, having the required motorcycle insurance minimums is important. The rules are relatively strict compared to other states, so you don't want to be caught short.
Is Motorcycle Insurance Required in Delaware?
In Delaware, motorcycle owners must have liability insurance coverage to operate their bikes on public roads legally.

Comprehensive and collision insurance is considered optional.
Delaware also has a personal injury protection (PIP) requirement for motorcyclists that isn't required in several other states across the country.
What Are the Minimum Liability Insurance Requirements in Delaware?
If you operate a motorcycle in DE, you must ensure that your policy contains the following minimums before hitting the open road.
$25,000 for bodily injury liability per person for a single incident.
$50,000 for this protection per accident (involving more than one injury).
$10,000 for property damage liability.
$10,000 for damage to properties other than another motor vehicle in a collision.
$15,000 in PIP per person.
$30,000 in PIP protection per incident.
If you don't have motorcycle insurance with these minimums and you're caught riding in the state, you'll likely face a steep fine and possible license suspension.
Since additional coverage is needed, the insurance costs tend to be slightly higher than average in Delaware compared to the rest of the United States.
Some insurance companies allow you to carry $15,000 in PIP insurance with a $15k deductible, effectively permitting you to waive coverage.
How Much Does Motorcycle Insurance Cost in Delaware?
The average cost of a motorcycle insurance policy in Delaware is $797.22. Some companies offered me very competitive rates when I requested quotes, including GEICO ($541) and Nationwide ($682).
Riders under 23 can expect to pay at least $1,000 annually for their insurance needs regardless of their make and model.
If you're in your 30s or 40s, most quotes are under $700 in the state if you have a clean driving record.
Markel gave me a quote that was also below the state average, but it was $752.
Where Can I Get the Best Rates in Delaware?
The highest insurance costs tend to congregate around the metro areas in Delaware.
If you live in Elsmere, New Castle, or Wilmington, you can expect to pay up to 10% more for your motorcycle coverage.
Cheswold, Claymont, Dover, Middletown, and Newark are also above average.
If you live in Clayton, Delaware City, Delmar, Georgetown, Harrington, Laurel, Lewes, Milford, Millsboro, Ocean View, Rehoboth Beach, or Selbyville, you can expect rates to be about 2% lower than average.
Who Has the Best Motorcycle Insurance in Delaware?
I like Nationwide as the best provider in DE. Although the policy cost was slightly higher than GEICO, their services have been quite dependable over the years.
When you enter the discount matrix that Nationwide offers, your cost might get driven lower than what I achieved.
Nationwide also has a consistently good score each year in the NAIC Complaint Index. They have an A+ A.M. Best rating to match.
| | |
| --- | --- |
| Motorcycle Insurance Provider | Annual Premium |
| GEICO | $541 |
| Nationwide | $682 |
| Markel | $752 |
Best Choice for Casual Riding: GEICO
I believe GEICO is the better option if you're a casual Delaware rider. They have the lowest rates of any insurer I contacted, and most people should see quotes about one-third less than what other companies offer.
There aren't as many opportunities for possible discounts with GEICO, and you might find the coverage options a little lacking if you're a daily commuter.
GEICO is the only major provider in Delaware to have an A++ A.M. Best rating.
Best Choice for Vintage Motorcycles: Markel
If you have a specific make and model that requires motorcycle insurance in Delaware, I'd recommend Markel. Although the rates are higher than Nationwide or GEICO, it's still a policy that beats the state average for most riders.
Since Markel is a specialty insurer, you can miss out on some discounts. In return, you can pick up trailer coverage or rental reimbursement.
There isn't a better option in the state for me if you have particular coverage needs. They do have a lower A.M. Best rating than the other two providers.
To help you make an informed decision, you can compare the providers listed above by evaluating their financial strength, customer satisfaction, and complaint index using the table below.
| | | | |
| --- | --- | --- | --- |
| Providers | AM Best Rating | J.D. Power Index Ranking | NAIC Complaint Index |
| Nationwide | A+ | 829 | 1.28 |
| GEICO | A++ | 834 | 1.97 |
| Markel | A | – | 0.10 |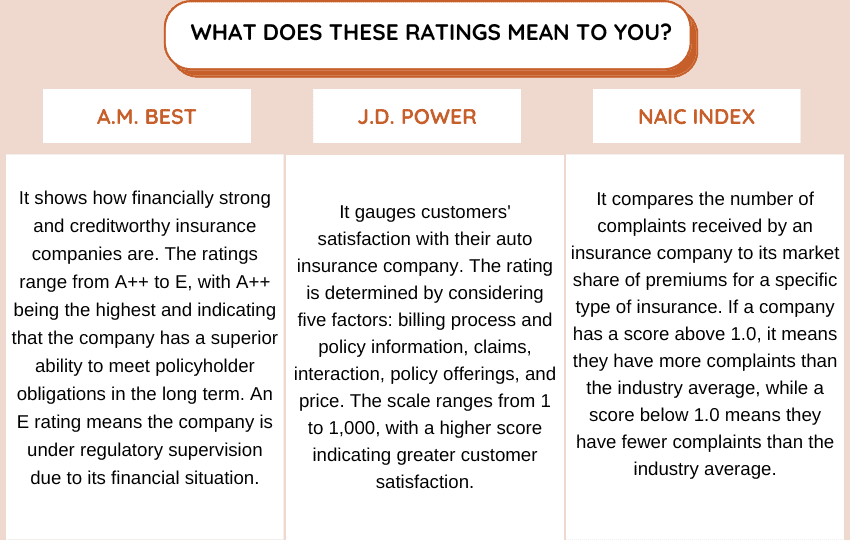 How to Save Money on Motorcycle Insurance in DE?
The best thing you can do to save money on your insurance is to maintain a clean driving record and keep paying your monthly premium. These factors show insurers that you're less of a risk than other riders.
Here are some additional strategies to consider following.
Ask for a Higher Deductible
Increasing the amount you pay before receiving coverage helps lower your monthly premium. If something happens to your motorcycle, you'll want to ensure you can afford the total cost.
Bundle Your Policies
If you have other insurance policies, such as auto or homeowner's insurance, consider bundling them with your motorcycle's needs.
Take a Safety Course
Completing a recognized motorcycle safety course can lead to insurance discounts. These classes demonstrate your commitment to safety and responsible riding, which insurers often reward with lower premiums.
Secure Your Bike
Installing security devices, such as an alarm system or a tracking device, can reduce the risk of theft and potentially lower your insurance premium. Some insurers have specific equipment you'll need to use before qualifying for this savings opportunity.
Pay in Full
Paying your motorcycle insurance premium in one annual lump sum instead of monthly installments can sometimes lead to a discount.
FAQ About Delaware Motorcycle Insurance
If you're interested in obtaining motorcycle coverage in Delaware, you might encounter a few questions on your journey. These are the answers that many typically need while getting a free quote.
Does Nationwide Offer Motorcycle Insurance in Delaware?
Over 30,000 residents in the state own a motorcycle. If you're counted as one of them, you need reliable insurance coverage to protect your assets. Nationwide proudly offers policies that fit your specific needs, with several discounts available to keep rates low.
Is There a Penalty for Driving Without Insurance in Delaware?
If you're caught riding without the minimum liability insurance in Delaware, your fine for the first offense is a minimum of $1,500. Each subsequent offense is at least $3,000 if it happens within three years of the first.
Your driver's license or privileges are suspended for six months if you drive a motorcycle without appropriate insurance.
Am I Required to Wear a Helmet in DE?
Anyone up to age 19 must wear a safety helmet when operating a motorcycle in Delaware. If you're over this age, the equipment must be in your possession while riding, but it doesn't need to be on your head.
Where to Get FREE Motorcycle Insurance Quotes in Delaware?
If you want to get the best rate, it's a good idea to compare rates from different companies. We've simplified this process for you. Feel free to use the tool provided below.
Use This Tool for Free and Save on Quotes!