Vintage scooters are typically defined as being at least 25 years old by today's insurance companies. If you have a classic, it must have reached its 15th birthday.
Some insurers have separate categories for vintage, classic, and modern scooters, while others lump these vehicles in with motorcycles. When requesting a quote online, knowing what options are available for your make and model is important.
Didn't You Try Our Quote Comparison Tool Yet? Save BIG by Doing it!
How to Insure a Vintage or Classic Scooter
Before insuring your vintage or classic scooter, you'll need to know its value. This information makes it easier to understand the right level of insurance coverage to purchase.
Once you've determined, it is time to work with an insurer specializing in options that protect your scooter. There could be specialized policies that safeguard the added value, OEM parts, or customizations that are part of the riding experience.
After you get to this stage, here are the other steps to ensure you're getting the policy you need at a price you can afford.

Contact insurance companies and get quotes for insuring your vintage or classic scooter. Make sure you provide accurate information about the make and model to get an exact price.
You can choose from various types of coverage, such as liability, collision, and comprehensive. Liability insurance is required by law and covers damages or injuries caused to others in an accident. Collision coverage pays for damages to your scooter in a collision, and comprehensive coverage protects your scooter from other damages such as theft, fire, or vandalism.
Some insurers offer discounts for multiple vehicles or for having a good driving record. Be sure to ask about anything that applies to your scooter or situation.
Once you have chosen an insurer and coverage, finalize your policy by signing the paperwork and paying the premium.
Vintage and classic scooters are known for their traditional designs and stylish looks, but they also provide a fun and unique way to get around. If you own a Vespa, Lambretta, or Piaggio that qualifies under this definition, consider investing in an insurance policy that protects it and you.
Can I Insure a Vintage or Classic Scooter Like a Modern One?
It is possible to insure a vintage or classic scooter like a modern one, but there could be differences in cost and coverage.
Since older scooters could be considered collectible, their value might be higher than the MSRP or current Blue Book valuation. As a result, an insurer should offer a specialized policy that caters to these unique needs.
Suppose there aren't options for vintage or classic scooters with your preferred insurer. In that case, you might need to negotiate higher comprehensive and collision limits to ensure enough protection is available should you find yourself filing a claim.
Insurance companies might need proof of ownership and documentation of modifications or customization efforts to ensure the actual value is insured.
The liability requirements for scooter insurance remain the same where you live, even with the vintage or classic label attached.
Do I Need Insurance for a Vintage or Classic Scooter?
Insurance requirements for scooters can vary by state in the United States. While most require a policy for all vehicles, some exceptions involve engine size or the top speed you can reach.
Here are a few examples to consider when looking for insurance options for your vintage or classic scooter.
Before taking your scooter out for a spin, please remember to check with your Department of Motor Vehicles (DMV) and other relevant agencies to confirm what insurance requirements are in place for your make and model.
How to File a Vintage or Classic Scooter Insurance Claim?
If you have scooter insurance and need to file a claim, the first step is to contact your insurance provider. Let them know that something has happened, and they'll provide you with instructions on how to proceed.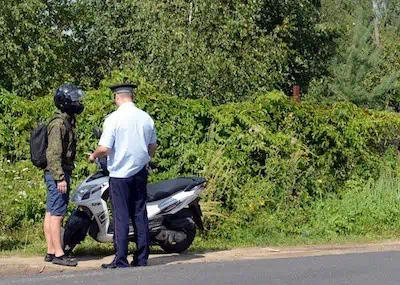 Most claims require documentation and evidence. Collect everything you can regarding the incident or accident that led to the incident. Police reports, photographs and witness statements are common requests.
Since it is a vintage or classic scooter, you might be asked for a professional evaluation of the necessary repairs at a local mechanic or shop. You'll need an estimate from that provider to be included with the required paperwork.
After gathering everything, you can submit the claim to your insurer. The provider will process your claim, potentially requesting additional information as needed. Quick responses prevent unnecessary delays during the decision-making process.
If your claim is approved, your insurance provider will either pay for the repairs or replacement of your vintage or classic scooter and offer a settlement payment based on the terms of your policy.
After owning a classic Vespa for a few years, I can say that filing an insurance claim for it is more complicated than for a modern car or motorcycle. Have patience with the paperwork, review your policy, and contact your provider with any questions.
Use This Tool for Free and Save on Quotes!