The first time I saw a Vespa, I spent the day home sick from school. My grandmother turned on The Price Is Right, and it was one of the prizes that were awarded that day.
It was a beautiful pink model with a white seat. I can still hear my grandmother offer a light chuckle. "I'd probably break my hip trying to ride that," she said. "Can I get you some orange juice or something?"
Didn't You Try Our Quote Comparison Tool Yet? Save BIG by Doing it!
Strange as it might seem, that moment was when I knew I wanted to ride anything with two wheels. It didn't matter if I was going fast or slow because I needed to feel the road's vibrations and the wind hitting my body.
If you own a Vespa and need to insure it or are thinking of purchasing one of this brand's models, this information and guide take you through the process I discovered to ensure you get an accurate quote for the coverage you need.
What Are the Different Vespa Models to Insure?
Vespa offers several models for sale across different markets. Some of the most popular options are the Primavera, Sprint, and GTS.

You can also find the Sei Giorni, Notte, and 946 Red, offering ways to get around town while having a good time riding.
Vespa scooters are fun to ride because of their unique style, design, and functionality. Here is why I try to get some time on them whenever possible.
Easy to Maneuver. Vespa scooters are lightweight and compact, making them easy to maneuver as you navigate through traffic issues and tight spaces. They deliver a low center of gravity, creating excellent stability and balance and making them easy to handle.
Surprising Comfort. Vespas feature a comfortable seat and suspension system that can help absorb shocks and vibrations, providing a smooth, comfortable ride even on rough roads.
Fuel Efficiency. These scooters are highly fuel-efficient and can offer excellent mileage, which can help save money on fuel costs and make riding them more economical.
Supportive Community. Vespa riders often form a close-knit group and share a passion for their scooters, making it feel like you're joining an extended family. Becoming part of a Vespa club or attending scooter rallies can be a fun way to meet like-minded people and enjoy this lifestyle.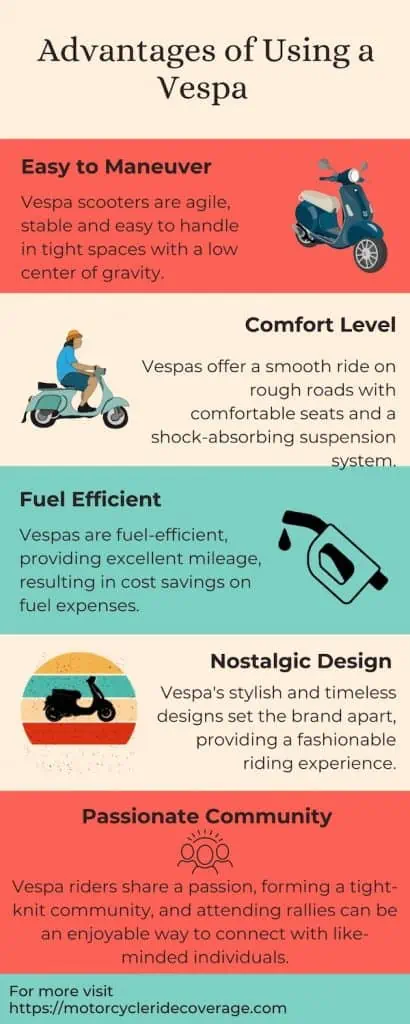 Vespa stands out as a brand because of the stylish designs incorporated into each model. They are classic and timeless, making you feel fashionable while riding one.
The vintage-inspired look of a Vespa evokes a sense of charm and nostalgia that you won't get from other mopeds, scooters, or motorcycles, which adds to the fun you get while riding.
Do I Need Insurance for My Vespa?
In most states, it is a legal requirement to have insurance coverage for a Vespa. Even if you live somewhere that doesn't mandate this protection to operate your model on public roads legally, it is still recommended to have coverage to protect yourself financially if an accident occurs.
When insurance is required, states typically want Vespa owners to have a liability policy. This protection covers damages or injuries you might cause to others if an accident or collision occurs.
A liability policy won't cover costs to repair your Vespa or if damage occurs because of a natural event, such as a flood. To manage your situation, you can look at uninsured/underinsured motorist protection, roadside assistance, equipment coverage, and other add-ons.
Is It Illegal to Drive a Vespa Without Insurance?
The requirement for insurance when operating a Vespa or any other type of motor vehicle varies depending on the state.
In most states, having at least liability coverage for any motor vehicle you operate on public roads is a legal requirement. Florida offers an alternative by allowing for a certificate of financial responsibility, but it is cheaper for most drivers to secure an affordable Vespa insurance policy.
Liability insurance covers damages or injuries you may cause to others or their property while operating your Vespa.
If you plan to drive a Vespa on public roads, it is highly recommended that you have insurance coverage. Driving a Vespa without insurance where it is required by law may result in legal consequences such as fines or even license suspension.
Check first to see if scooter insurance is required for Vespa make and model. If it is, consult an insurer about getting a policy for your engine displacement. Some states lump all two-wheeled vehicles on the road into a general motorcycle category.
What Kind of Insurance Is Needed for a Vespa?
The types of insurance needed for a Vespa are variable, depending on your location and the specific laws and regulations in your area.
Generally, at a minimum, liability insurance is required to operate a Vespa on public roads. Additional insurance coverage, such as collision or comprehensive coverage, may also be available.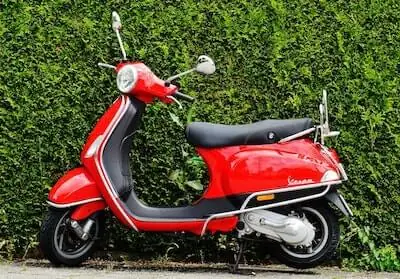 Collision coverage may help cover the cost of repairs or replacement if you are involved in an accident with another vehicle or object.
In contrast, comprehensive policies can help cover the cost of repairs or replacement if your Vespa is damaged due to theft, vandalism, or other non-collision events.
Vespa theft is a common issue as thieves can easily carry it away. To ensure protection, having Vespa theft insurance can be a helpful solution.
Since everyone has unique needs when protecting their Vespa, requesting an insurance quote from multiple providers is important to ensure the best rate is available. This process can help you understand how to secure coverage for your specific requirements and see the options in your area.
How Much Insurance Is Required for a Vespa?
The insurance required for a Vespa depends on several factors, including the specific model, where you live or drive, and the type of coverage you want. Most states in the US require that all drivers carry liability insurance, which covers damages or injuries you may cause to others in an accident.
The minimum amount of liability insurance required can also vary, so it's crucial to check your state's specific requirements.
Some states may require a minimum of $25,000 in bodily injury liability that applies per person, and $50,000 for accident protection, while others might need different amounts.
In addition to liability insurance, consider additional coverage for your Vespa, such as collision coverage, which can help pay for repairs or replacement of your scooter if it is damaged in an accident.
The amount required for your Vespa ultimately depends on your specific situation. Doing your research, working with reputable insurers, and requesting quotes from multiple providers ensures you receive the best rate for your model.
Can I Use Car Insurance on a Vespa?
Yes, you can use car insurance on a Vespa, but it depends on your insurance policy.
Most car insurance policies have a provision for liability coverage that extends to any vehicle you operate, including a Vespa or other type of scooter.
You should purchase additional coverage if you want protection for your Vespa if it is stolen or damaged. Some insurers offer specific policies designed for scooters and motorcycles, which may provide more comprehensive support than a standard car insurance policy.
Reviewing your current auto coverage or speaking with an agent or broker to determine if your policy provides Vespa support is essential. If you don't have adequate coverage, you'll need to purchase it to protect yourself while on the road.
How Much Does Insurance Cost for a Vespa in the US?
The current Vespa models that are available to the US market range from a 49.9cc model to one with a 300cc engine. At the lower end, you can find an MSRP of $4,199 for the 2023 model year of the Primavera 50.
If you want the 300cc engine for a Vespa, you can expect to pay at least $8,499 for the GTS Super 300.
The estimated top speed of the Primavera 50 is 40 mph. If you ride the GTS Super 300, it can reach up to 80 mph. The Sei Giorni and the standard GTS 300 also reach up to 80 mph with their equipped engines.
Most states classify Vespa insurance under a motorcycle category, but some exceptions apply.
Massachusetts, Pennsylvania, Kansas, Iowa, and Minnesota are the cheapest states for Vespa insurance for models under 300cc. The average for a liability-only policy in these areas is less than $100 annually.
Massachusetts and Montana have the cheapest annual rate for scooters and mopeds for those looking for full coverage, as they are the only states under $200 per year. You can still get competitive quotes under $300 annually in Alaska, Iowa, Kansas, and Alabama.
Riding a Vespa can be lots of fun. Whenever I get the chance to take one for a spin, I think about that day with my grandmother and hear her laugh. It connects me to my family, who I am, and all the dreams I had while growing up.
Although the experience differs for everyone, it is still important to protect yourself financially by investing in an insurance policy that protects your equipment and how you ride.
Use This Tool for Free and Save on Quotes!