My friends think I'm a little crazy, but one of my favorite spots in the United States is Vaughn, NM. It's a small town in the middle of nowhere, but the community supports railroad workers in the area.
Why pick Vaughn? Beyond having a great diner, this small town is centrally located on three highways. You can head south to Roswell, go east to connect with Albuquerque or head north to reach Santa Rosa.
Did You Try Our Quote Comparison Tool? Save BIG by Doing it!
The roads are generally quiet, traffic is light, and the ranches are expansive.
Another personal favorite is the Enchanted Circle Scenic Byway. This 84-mile loop takes you through beautiful mountain scenery, including the towns of Taos, Questa, Red River, and Eagle Nest. It's fun to slow down while exploring the Carson National Forest.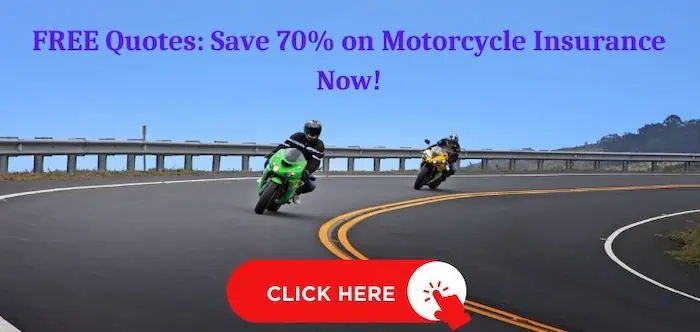 There is also the High Road to Taos for a different experience. You can see several Spanish colonial towns while traversing the Sangre de Cristo Mountains.
Is Motorcycle Insurance Required in New Mexico?
New Mexico has mandatory insurance requirements for motorcycles that are operated on public roads. All owners must carry a liability policy that meets specific minimum requirements.
You can choose to purchase additional coverage or increase the amount the policy protects at your discretion.
Looking at collision, comprehensive, uninsured/underinsured motorist coverage may be advantageous. Daily riders might consider MedPay coverage to protect themselves if an incident occurs.
Liability Minimums for Motorcycle Insurance in NM
The current liability minimum for motorcyclists in New Mexico is expressed as 25/50/10. That means the policy must offer up to $25,000 for bodily injury per person, have a $50,000 per accident maximum in that category, and offer $10,000 for property damage.
These minimums are meant to ensure an at-fault accident provides enough coverage to pay for the losses that other parties experience. You might consider carrying higher minimums if you're concerned about medical bills or additional costs if you're found to be responsible for damages.
What Is the Average Cost of Motorcycle Insurance in New Mexico?
Motorcycle insurance in New Mexico is relatively inexpensive when compared to other states. The average cost for riders is $650.50 per year.
Even when looking at the cost of insurance for young riders, the $803.13 average for teens is one of the best rates in the country.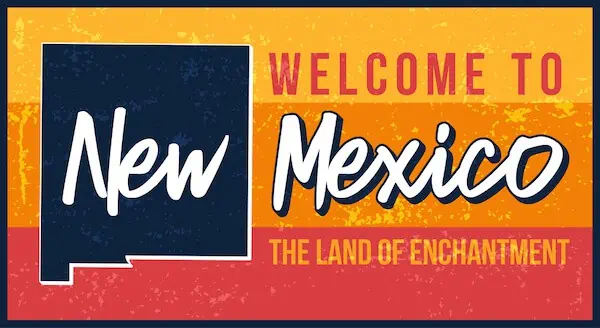 If you live in Albuquerque, Los Lunas, or Belen, your quotes are about 20% higher than the state average.
In contrast, riders in Bloomfield, Hobbs, and Lovington pay about 8% less.
Cheapest Motorcycle Insurance Providers in New Mexico
When requesting motorcycle insurance quotes in New Mexico, I found that Progressive had the best rate. They offered a policy at $513 per year, while Allstate wanted to charge $600 annually for similar coverage.
Dairyland was the only other insurance provider in the state that offered a rate just below $700 per year.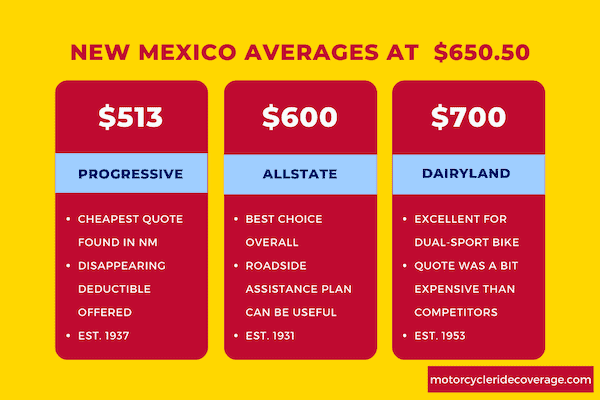 Best Overall Insurance Provider: Allstate
Although Progressive has a cheaper rate, I'm picking Allstate as the best overall provider for motorcyclists in New Mexico. You receive rental reimbursement coverage, an affordable rate, and a company that scores consistently well on the NAIC complaint index.
If you use a motorcycle for a daily commute, you'll have many options for add-ons. Roadside assistance is almost mandatory in NM, so consider including it in the quote request.
Best for Custom Motorcycles: Progressive
Progressive is the natural choice for me if you have a custom ride. They deliver several add-on coverages and endorsements that let you manage your equipment effectively.
You can also tap into a disappearing deductible through Progressive. When you can avoid an accident for an entire policy term, the amount you pay for collision or comprehensive claims before coverage starts is reduced by 25%
Best for Off-Road Adventures: Dairyland
I like Dairyland for insurance if you have an adventure or dual-sport bike that you use in New Mexico. The insurer offers excellent coverage choices without getting their prices out of hand.
Although you'll likely pay a little more than with other companies, you can tailor your insurance coverage to meet specific needs.
Let's evaluate the performance of various providers in NM based on their financial stability, customer satisfaction, and complaint index by different data analysts and credit rating agencies.
| | | | |
| --- | --- | --- | --- |
| Providers | AM Best Rating | J.D. Power Index Ranking | NAIC Complaint Index |
| Allstate | A+ | 824 | 2.06 |
| Progressive | A+ | 800 | 1.41 |
| Dairyland | A+ | – | 3.43 |
Care Tips to Keep Motorcycle Insurance Rates Low in New Mexico
Caring for your motorcycle in the deserts of New Mexico can be a challenging task due to the harsh conditions that the environment can present. You might find a cheaper insurance quote waiting when you take the following steps to maintain your bike.
Keep It Clean. The desert environment can be dusty and gritty, so keeping your motorcycle clean is essential to prevent dirt and debris from getting into the engine. Regularly wash your bike with soap and water, and consider using a specialized cleaner.
Protect from the Sun. Prolonged sunlight exposure can cause your motorcycle's paint to fade and its plastic parts to crack. Park your bike in the shade whenever possible, or use a cover to protect it from the sun's rays.
Check the Fluids. Check the oil, coolant, and brake fluid regularly, and top them up as needed.
Maintain the Air Filter. The dusty desert conditions can quickly clog your motorcycle's air filter, reducing performance. It helps inspect the air filter regularly and clean it or replace it as needed.
Desert heat can warm roads to conditions exceeding the motorcycle tire's ratings. Check your PSI regularly and inspect them for signs of damage or wear after a long trip.
FAQ for Motorcycle Insurance in New Mexico
If you want to ride a motorcycle in New Mexico, you might encounter some questions when navigating this process. Here is a look at the common issues people face when getting ready to use their bikes for the first time.
Do Tribal Rules Supersede State Motorcycle Rules in NM?
In New Mexico, there are several Native American tribes with their own sets of laws and regulations, including traffic and vehicle laws that apply within their jurisdictional boundaries.
Tribal laws can supersede state laws within their lands and boundaries.
When reviewing motorcycle rules and regulations, there could be variations that can change at any time. If you plan to ride on tribal lands, it helps to research what to expect to ensure there aren't any unexpected changes.
What Equipment Laws Do I Need to Follow in New Mexico?
All riders under the age of 18 are required to wear a helmet while riding a motorcycle. Each bike must have at least one rearview mirror that offers a view of at least 200 feet.
If the motorcycle was built after 1/1/73, it must have turn signals. Bikes must also have working headlights, taillights, and brake lights that meet certain specifications.
How Old Do I Need to Be to Ride a Motorcycle in NM?
In New Mexico, to legally operate a motorcycle on public roads, you must be at least 16 years old and hold a valid motorcycle license or an endorsement of your driver's license.
You need to obtain a learner's permit before getting a motorcycle license, which requires you to be at least 15 and pass a written exam. After holding the permit for at least 30 days, you can take the skills test to obtain your license.
Those with a driver's license can get their endorsement by completing a safety course and passing a written exam.
Get FREE Quotes for NM Motorcycle Insurance
Prepare for your motorcycle journey through New Mexico and ensure protection for yourself, your bike, and other motorists with an insurance policy.
Use This Tool for Free and Save on Quotes!