Before visiting Idaho for the first time, I envisioned a state where everyone grew potatoes and there were many outdoor opportunities to enjoy. When I finally got onto my bike and chose a few roads to explore, I was surprised by how much diversity was available.
My purposeful first trip was in the early fall. I rode from Twin Falls to Salmon on my way to Missoula. The golden fields, warm temperatures, and overall peace I experienced are something I'll never forget.
Didn't You Try Our Quote Comparison Tool Yet? Save BIG by Doing it!
Another drive I'd recommend is the Hells Canyon Scenic Byway. It's a 218-mile route that takes you to the best view of the continent's deepest river gorge. If you prefer the small-town experience, take the Teton Scenic Byway to see Victor and Driggs.
When you ride a motorcycle through Idaho, it is essential to have the proper levels of insurance for your trip. If you live in the state, there are additional requirements you need to meet.
Is Motorcycle Insurance Required in Idaho?
Idaho law requires all motorcyclists to carry a minimum liability insurance policy. It is recommended that everyone consider purchasing additional coverage such as collision, comprehensive, and uninsured/underinsured motorist insurance to protect themselves and their motorcycle in the event of an accident.

If you don't have the required minimum liability insurance in Idaho, you could face fines, license suspension, and legal liability for injuries or damages caused during an incident.
Liability Minimums for Idaho Motorcycle Insurance
The current liability minimums for Idaho motorcyclists are typically expressed as 25/50/15. That means you need $25,000 for bodily injury or death per person, $50,000 for each accident, and $15,000 to cover property damage.
You must carry those minimums for liability, but each rider can choose to have more insurance if they prefer.
If your driving record has caused the courts to require an SR-22 in Idaho, this certificate must come from a company already licensed to do business in the state.
What Is the Cost of Motorcycle Insurance in Idaho?
Motorcycle insurance rate is comparatively affordable when looking at the state averages compared to what people pay nationally across the US. The median policy charges $644.98 annually.
Young riders pay more, but the percentage increase is significantly less than in other states.- even policies for those under 18 average less than $900.
Compared to other states, geographic location doesn't matter as much in ID.
You'll pay a little more if you live in Boise, CDA, or Pocatello.
You'll pay a little less living in Kuna, Homedale, or Payette.
Motorcycle Insurers Offering the Best Rates in Idaho
I found GEICO offered the best rate when contacting insurers for motorcycle insurance quotes. Their rate of $422 per year was significantly cheaper than any other company.
Allstate provided the next cheapest policy, charging $580 annually for coverage. Nationwide offered me a rate of just under $600.
All three insurers were able to beat the state average.
| | |
| --- | --- |
| Motorcycle Insurance Provider | Annual Premium |
| GEICO | $422 |
| Allstate | $580 |
| Nationwide | $600 |
Best Overall Provider: GEICO
I must pick GEICO as the best overall motorcycle insurance provider in Idaho. Their rates aren't touchable by anyone else. Most riders will pay about one-third less when requesting a quote.
Although GEICO doesn't offer specialized coverage options, you still receive a straightforward policy that meets the needs of the average rider.
GEICO is also the only major insurer in Idaho to receive an A++ rating from A.M. Best.
Best Option for Long-Distance Commutes: Progressive
I like Progressive here for most riders. You have several discounts available to consider, including being a member of a qualifying association.
When you live in Boise, CDA, or Moscow, commuting to Washington for work is not unusual. If you drive 30 miles or more, cross state lines, or spend more than an hour in the saddle, having an insurer specializing in your activities helps.
Your policy lets you opt for guaranteed OEM parts, carried contents, and trip interruption coverage.
Best Choice for Recreational Riding: USAA
I like USAA or Progressive for recreational riders in Idaho. USAA offers insurance to the military, but they secure their policies through Progressive. If you qualify, you'll receive a 5% discount compared to non-military families.
Let's take a look at the table below to see how these providers are performing in terms of their financial stability, customer satisfaction, and complaint index rating in Idaho.
| | | | |
| --- | --- | --- | --- |
| Providers | AM Best Rating | J.D. Power Index Ranking | NAIC Complaint Index |
| GEICO | A++ | 832 | 1.21 |
| Progressive | A+ | 819 | 1.41 |
| USAA | A++ | 883 | 1.65 |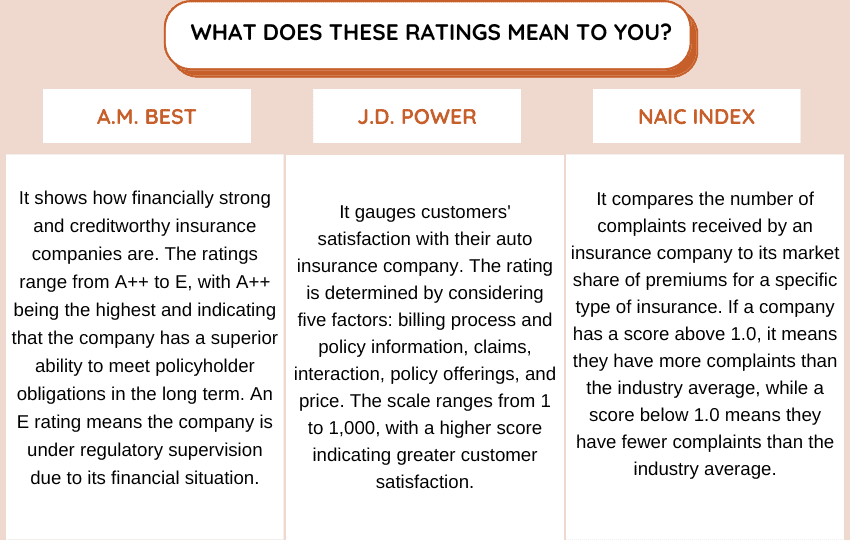 What Steps Do I Take to Register My Motorcycle in Idaho?
To register your motorcycle in ID, you'll need to follow these steps.
You'll need to have a valid title in your name. If you purchased the motorcycle from a dealer, they should provide you with the necessary paperwork. If you bought the bike from a private party, you'll need to have the previous owner sign the title over to you.
You'll need to provide proof of insurance when you register your motorcycle.
Fill out the application for registration and provide the necessary information, including your name, address, and the make and model of your bike.
The cost of registering your motorcycle in Idaho will depend on the age of your bike and the county where you live. The fee schedule is available through the state DOT.
Display your registration sticker on your license plate, the latter which is affixed to the back of the motorcycle.
How to Manage a Motorcycle Commute to Washington?
If you live in Idaho and work in Washington, you don't have special steps to take to use your motorcycle for the commute. You'll need to have the vehicle registered, have the plate on the back, and have your liability insurance premiums paid on time.
Since the weather can be highly variable around the state border, it helps to check the forecast before riding. That gives you an idea of what to expect so that you can pack the appropriate gear.
Space can be limited on a motorcycle, even with custom storage added to the frame, so try to pack light. Bring rain gear, warm clothing, and sunscreen. Consider packing a small toolkit, tire repair kit, and spare parts in case of a breakdown.
Then remember to practice safe riding habits.
Obey traffic laws and avoid distractions while riding.
Keep a safe distance from other vehicles on the road.
Idaho Motorcycle Insurance FAQs
If you're considering buying or insuring a motorcycle in Idaho, you might have questions about that process. Here is a look at the common issues you might encounter.
How Old Do I Need to Be to Drive a Motorcycle in Idaho?
In Idaho, you must be at least 14 years old to obtain a motorcycle endorsement and legally operate a motorcycle on public roads.
Several requirements must be met for those under 16 before a motorcycle endorsement is awarded. That starts by completing a driver training course and obtaining a permit. All riders must pass a knowledge and skills test.
Then a safety course approved by the state must be completed. All riders under 18 must have parental consent to drive a motorcycle.
Are There Motorcycle Equipment Requirements to Follow in ID?
Idaho requires all riders and passengers to wear helmets that meet Department of Transportation standards. Eye protection is necessary unless the bike has a windshield that offers adequate coverage.
Motorcycles need one rearview mirror that provides a clear view of the roadway behind the bike. There is also a rule about having a muffler that prevents unusual or excessive noise.
What Are the Ways to Reduce Motorcycle Insurance Costs in Idaho?
Please consider the following discount options.
– Taking a motorcycle safety course is worth considering, as it could make you -eligible for a discount.
– Opt for a higher deductible, which can lower your premium
– Choose a less expensive motorcycle to insure
– Maintain a good driving record
– Shop around and compare quotes from different insurance providers
We have a complete article for further information on savings here.
Get Multiple Quotes and Save on Insurance
Idaho requires motorcycle insurance, so you must have at least the minimum coverage. However, we recommend getting additional coverage for optimal protection. Let us assist you in finding the best rate by using our online tool to compare rates.
Use This Tool for Free and Save on Quotes!