When it comes to pure off-road enjoyment, learning how to ride a dirt bike is one of the most fun adventures you can experience. This article covers all the basic things about the dirt bike, and you will get ideas from riding a dirt bike to maintenance and coverage.
Dirt Bike Riding Tips:
Although dirt bike riding is considered far safer than riding a motorcycle on the streets because of the soft dirt track and more predictable traffic, it can still be dangerous if you are not careful. Here are some tips that will help you get started the right way.
Didn't You Try Our Quote Comparison Tool Yet? Save BIG by Doing it!
Go Slow at First: If you are an experienced motorcycle rider, you will still want to go slow and get the bike's feel on natural surfaces. You'll find less grip and more forgiveness in the turns. Once you get a good feel, you can open it up immediately and feel the excitement.
Rent, then Own: Dirt bikes are not for everyone, and you do not want to make a big commitment, at least at first, no matter how exciting it looks. Rent a bike and the gear so you can ride around long enough to know if this is for you.
Get Some Training: The good news is that you don't have to take a college course to get into dirt biking, but it does help if you have some formal training and knowledge of the technical issues. A course will improve your skills and open your eyes to areas you may not have considered before.

Coverage for Dirt Bikes:
Whether you have a standard or electric dirt bike or dirt bike for kids, you'll need to get coverage for the rider and financial protection in case another party is injured or experiences property damage. This means getting the right dirt bike insurance that fits your budget while protecting you in case of an accident. You can check out our free quotes to get the best rate available.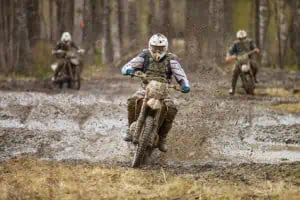 There are several types of insurance that you can get for your bike, including collision, liability, and medical payments to cover someone who gets injured in an accident. You can also get roadside assistance and towing if stuck on the way to the event. Plus, other types of insurance will work well for riding a dirt bike, including theft.
How Can Beginners Approach?
Starting your journey to become a dirt bike rider is fairly easy, at least when it comes to getting started. You can rent a dirt bike from different dealers or perhaps from a nearby track to get the feel of it right away. You will also need the appropriate equipment and dirt bike accessories, such as the helmet, gloves, and pads. If you like the excitement, you can start looking for your own dirt bike.
You can improve dirt bike performance by training or learning from a professional. Getting a good feel for riding on the dirt should not take long.
Dirt Bike Safety Course:
Different groups host training courses that last a few hours and are great fun. The emphasis is on safety, but the experience will be one that you will never forget. Organizations such as the American Motorcyclist Association, MSF Dirtbike School, and other professional endeavors offer recognized training that will teach you from the ground up how to ride, maintain and protect yourself and your bike when on the track.
They will teach you lessons in riding that can be applied to all types of conditions and surfaces to help keep you and your bike in one piece. Enrolling in a dirt bike safety course and finishing it will help you get discounts from auto insurance companies.
Dirt Bike Maintenance:
One factor that you will need to take into consideration is the dirt bike maintenance cost that, over time, will arguably be the largest expense in the sport. You must know how to care for and maintain your bike to get the most out of it.
Clean It Up: After every trip through the dirt and mud, clean up your bike so that rust cannot set in and any hidden damage is revealed. You may be surprised to see a dented, cracked, or worn part underneath a cake of mud, so clean off your bike after every trip.
Keep Up the Fluids: As with your car or truck, keeping the fluids up to their proper levels and changing them out when necessary will add considerable longevity to your investment. One of the best dirt bike maintenance tips is regularly checking, maintaining, and replacing the fluids when necessary.
Replace Parts that Wear: This means your tires, brakes, and other parts are under constant use when your bike is in motion. Replacing these items before they show signs of real wear can save you on potential repairs and may save you from possible injury if the worn parts should break.
Installing the Right Parts and Accessories:
Several parts and accessories can help improve the overall performance of your dirt bike, which include the following;
Exhaust
Intake
Brakes
Sprockets
Chains & More
You can go through the dealer or an aftermarket parts store that usually sells improved versions to purchase one or more of these parts. You can even buy lighter-weight fenders and other accessories that add to the bike's overall performance because they weigh less, providing more speed.
2 Stroke vs. 4 Stroke Dirt Bikes:
Both 2 and 4-stroke engines may look similar to the untrained eye, but they have a functional difference.
The stroke refers to the movement of the pistons inside the engine that mix the fuel with the air to create the combustion necessary to propel the motorcycle. A 2 stroke engine means that one stroke compresses the air while the explosion of compressed fuel creates the second.
A 4-stroke is more complicated as it starts with a compressed stroke, a return stroke, an exhaust stroke, and another return stroke. The added strokes compress the fuel and the air into a mixture primed for the explosion that drives the engine. The exhaust stroke rids the engine of the burned-out gasses. This means a 4-stroke engine is much more powerful than a 2-stroke under normal conditions.
Use This Tool for Free and Save on Quotes!