Temporary motorcycle insurance which is sometimes called pay as you go insurance covers your bike for a short time frame that may range from one day up to three months depending on how much you need. The most common reason for purchasing this type of insurance is for vacation or short assignments when the renter does not provide their own coverage.
How Does It Work?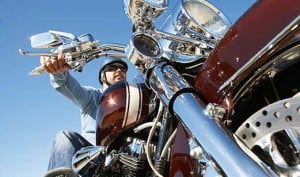 Temporary insurance works in practically the same way as permanent insurance. The only real difference is that there is a pre-designated time that applies to the temporary insurance. Plus, if you stop making payments, it stops immediately. There is a renewal notification sent out if you want to continue the policy, but you can ignore it if you want the insurance to stop.
You set up the temporary insurance by selecting the amount of time you want for coverage. For example, you can go with as little as one day if you so desire. However, most policies will last from a few days to a few weeks on average. Many insurance companies have temporary policies for motorcycles; you will want to research them to find the one that best fits your needs and pocketbook.
Types
There are at least four different kinds of coverage that you can choose from when selecting temporary insurance, much like permanent insurance.
Daily: If you are renting a motorcycle for a single day or perhaps a few days while on vacation, then this is the type of insurance that you will need. For the most part, the company that rents you the motorcycle will have this as part of their agreement, but in some cases, you may have to purchase the policy separately.
Did You Try Out Our Quote Comparison Tool? Save BIG!
Monthly: This is designed for those who are having a long vacation or perhaps are on temporary assignments. You can buy the insurance for a 30-day period which is usually less expensive than stretching out a daily insurance policy. Like the daily insurance, you have the option to renew the monthly insurance for as long as needed. If you are traveling extensively, this may be the right choice for you.
Seasonal: This form of insurance is designed for those who store their motorcycles during the cold winter months. This means that you can avoid paying the premiums for the months that your motorcycle is in storage. Quite often, such plans are for six months out of the year and may save you a considerable amount of money.
Storage: If you put your motorcycle in storage for weeks or months at a time, this type of temporary insurance will protect your bike from vandalism, fire, or theft. While you will need to pay a premium each month, it is considerably less than paying for standard riding insurance.
Be sure to search around for the right policy at the best price when purchasing temporary motorcycle insurance. Keep in mind that different providers have their unique packages for this type of insurance which means that you'll want to discuss with them the advantages of purchasing the policy for your needs.