Towing a motorcycle with a car is your only option if you need both vehicles to arrive at a destination if you're the only person around.
Can You Tow a Motorcycle with a Car?
Cars can tow motorcycles if the bike is secured to a trailer that the vehicle pulls. Each one is given a towing capacity from the automaker, which you'll need to meet to ensure no damage occurs.
Did You Try Out Our Quote Comparison Tool? Save BIG!
Most cars can tow 1,000 or 1,500 pounds. Trucks and SUVs are often given a higher rating, but you might not need a trailer in that circumstance if the motorcycle fits into the flatbed or in the back.
The tow rating includes the weight of the trailer and the motorcycle.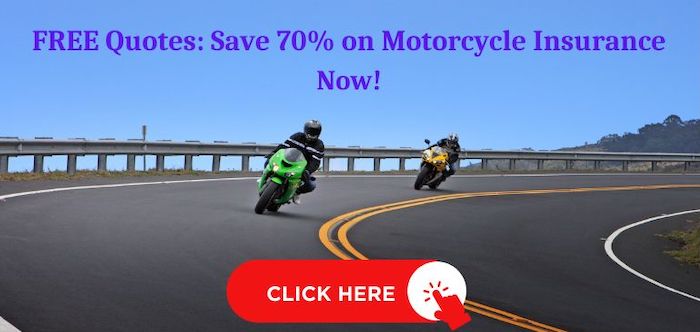 If your bike weighs 750 pounds, the trailer and your straps cannot weigh more than 250 pounds to remain within the recommended tolerance.
Although you could potentially exceed the max weight rating and be successful, any damage from that decision is unlikely to be covered by your warranty. It helps to have a 20% safety margin built into your towing activities, so the maximum weight you'd want to haul with a 1,000-pound capacity is 800 pounds.
Before you can tow a trailer, your car will need a hitch. It might need to be installed by a qualified mechanic or at the dealership to ensure your vehicle stays under warranty. This addition can cost $500 or more, depending on the product's quality, labor rates, and desired towing capacity.
You would need trailer insurance; read here more.
Flatbeds are only one trailer option. You can also use a "rail" design that locks the wheels in place for a lightweight option. You'll need to register the trailer and secure the bike, but this option is practical for smaller cars.
Read here about the potential costs if you want to take a towing service.
Can I Use a Motorcycle Carrier with a Car?
A motorcycle carrier places the bike on a platform behind the car. It works like a trailer but functions like an extension of the vehicle.
Most motorcycle carriers have a maximum load rating of 500 pounds. If your bike weighs less than that, this third option for towing might work in your situation.
When using a motorcycle carrier, some cars face issues involving how the vehicle communicates with other drivers. The motorcycle could obstruct your turn signals or brake lights, which is a traffic offense in some areas.
A motorcycle carrier also blocks or provides a partial view of the car's license plate, which could cause you to get pulled over while driving.
You can use a carrier as long as the hitch, bike, and equipment stay within the published weight tolerances from the automaker.
Is It Legal to Tow a Motorcycle with a Car?
Drivers can tow a motorcycle with a car if they follow all rules and regulations. That means the bike must be secured to the trailer.
States require trailers to be licensed to operate on public roads legally. You may need to register the equipment before you're allowed to use it while driving.
Trailers must have working lights that drivers can see if they are a certain length. Each state has different towing rules to consider, so it helps to be aware of the expectations for where you live – and where you plan to go.
Items Needed to Tow a Motorcycle Legally
Although each state has different rules, you'll typically need the following items to have a successful motorcycle towing experience with your car.
Driver's License. You cannot legally drive without it, so make sure your license is valid with updated information before towing.
Trailer Certification. Some trailers don't need to be certified because of their size. Any extension from the car might need working taillights and electrical components.
Registration. The motorcycle and car should be registered. You'll want the papers in your vehicle if you're pulled over for a potential violation.
Road Safety. Drivers behind you should see both ends of the trailer or motorcycle. If you're using a carrier or dolly, it helps to use fluorescent stickers to enhance road visibility. If the extension is more than three feet, other visual indicators could be required by law.
How Do You Transport a Motorcycle with a Small Car?
The best way to tow a motorcycle with a car is to use a lightweight trailer that fits within your vehicle's towing capacity ratings. You can push the bike onto the flatbed, secure it, and drive it on virtually any road.
If you don't want to use a trailer, some drivers can use a tow dolly to transport their motorcycle as an alternative option. This product connects to the vehicle's hitch and the bike's front tire. Once secured, the front of the motorcycle is lifted so that the rear tire is the only component in contact with the road.
Tow dollies often have speed limitations. You cannot reverse when towing a motorcycle with this method, and there is a greater risk of the bike falling when transporting it. The motorcycle must remain neutral to avoid any problems. A tow dolly might be your only option if you have a heavy bike.
A dolly also comes with some benefits. It is typically cheaper to purchase compared to a trailer and doesn't normally require registration or a license plate to operate legally.
What Is the Best Way to Tow a Motorcycle?
Each situation is different, so the best way to tow a motorcycle depends on your car, the bike's weight, and other variables.
It helps to have scratchless straps when securing a motorcycle to a trailer to prevent damage to the paint. Heavy-duty tie-downs should have a break strength of 2,500 pounds or more to ensure the bike doesn't move while being hauled on the road.
Towing a motorcycle correctly ensures it and you arrive at your destination safely. Laws are subject to change, so it always helps to review the current regulations before taking to the road.
This Tool is FREE to Use!