I've always loved something with modern features and design with a retro look. When I went shopping for a new moped, the one that immediately caught my eye was the Peugeot Django 50.
This retro moped combines a practical approach to performance while keeping running costs low. It uses a four-stroke engine with automatic gearing and an electric start to keep everything simple while limiting speeds to 30 mph.
Didn't You Try Our Quote Comparison Tool Yet? Save BIG by Doing it!
The Art-Deco vents on the side are what sold me, although the aerodynamic bodywork is an aesthetic benefit. I love the red, but you can get gray, black, or two-tone options.
You should love what you ride. It also helps to look for specific features when a new scooter or moped is needed.
What Should I Look for When Buying a New Scooter or Moped?
If you are ready to purchase a new scooter or moped, these factors are worth considering as you look at the different makes and models in the marketplace.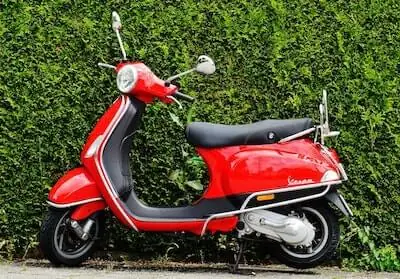 Scooter or Moped Type. Several types of scooters and mopeds are available in the market, such as gas-powered, electric, and hybrids. Think about which type best suits your needs based on your budget, riding style, and local laws.
Engine Displacement. A 50cc engine is suitable for short commutes, whereas a 150cc engine can handle longer distances and higher speeds.
Fuel Efficiency. Gas-powered scooters and mopeds should have good fuel efficiency ratings. Look for models that offer at least 70 to 80 miles per gallon for the best results.
Storage Space. If you plan to use your scooter or moped for commuting or running errands, look for models with storage compartments or luggage racks.
Reputation and Brand. Think about the brand's reputation before finalizing a transaction. Do the different scooters and mopeds stay on the road longer or require less maintenance? What after-sales support is available, including warranties and repair services?
As you shop for a new moped or scooter, it helps to review the ergonomics of your preferred model before taking a test drive. Check the seating, handlebar, and legroom to ensure they are comfortable for your height and riding style.
How Much Is a New Scooter?
Most people can find a high-quality scooter with the features and engine they want for $5,000 or less. If you wish to have a 300cc scooter, the price gets closer to that of a standard motorcycle.
When you pay more for a new scooter, you'll typically receive larger engines, better suspension, and advanced electronics.
The prices can be highly variable within the same brand. For the 2023 Vespa models, you can get the Primavera 50 for an MSRP of $4,199. You'll pay over $7,500 for a model with a 300cc engine.
How Much Does a New Moped Cost?
The cost of a new moped depends on several factors, including your preferred brand, engine size, and features.
On average, a new 50cc moped can cost between $1,000 and $3,000, whereas a 150cc moped can cost between $2,500 and $5,000. Some high-end models in this category can cost even more.
You'll need to consider dealer fees, taxes, and other costs that vary depending on the region. It helps to compare prices with different dealers before settling on a purchase.
Do You Know Your Local Scooter and Moped Laws?
Understanding how scooters and mopeds are classified where you live is crucial since the rules vary depending on the size and type of two-wheeled vehicle you purchase. Some states allow you to park mopeds on the sidewalk or secure them to a bike rack, while others require you to park them like motorcycles.
Some DMVs require a license plate for scooters and mopeds, especially above 50cc. That means you'll need tags each year.
Since scooters and mopeds are often low-speed vehicles, access to highways, arterial roads, and high-speed-limit areas could be restricted.
If you purchase a used scooter or moped, consider researching the VIN before finalizing any contract or offer to protect your best interests.
Renting different scooters and mopeds is an easy and affordable way to know what type suits your needs. Having it around for a few days lets you know what to expect, and most companies offer several models to help you get a feel for what you want.
After buying your scooter and moped, don't forget to gear up! You'll likely need a helmet and other safety apparel to ensure you're safer on the road. Always wear weather-appropriate items, pants, and over-the-ankle boots for the best results.
The insurance requirements would vary by state. How much you pay for insurance will vary depending on the make and model, driving history, location, age, etc. Be sure to check out our guide on that.
Use This Tool for Free and Save on Quotes!