Of all age groups who pay for motorcycle insurance, teenagers are the ones who must pay the most. That's why it is not surprising that so many teens remain on their parents' policy for as long as possible. However, for teenagers who do not have this type of support, getting good insurance for their motorcycles may be difficult to fit into their budgets.
How Much is Motorcycle Insurance for a Teenager?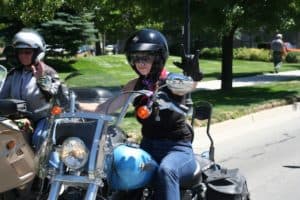 Because there are so many different factors that go into setting the premium level for motorcycle insurance, there is no one number that accurately reflects an average cost. Our research found out that the average motorcycle insurance cost for an 18-year-old is somewhere between $500-$600 per year. But there is a huge chance this number can go beyond $1,000. Some of the factors that influence the average cost for teenager motorcycle insurance includes, but is not limited to the following;
Gender
Type of Motorcycle
Engine Power
Driving Record
What can be stated is that the cost for teenagers is double that of an adult who has passed the age of 25. So, if motorcycle insurance for an adult is $700 per year, a teenager with the same factors in their background can expect to pay around $1,400. If you are 21 years old, read here to learn how much you are going to pay on average in the USA to cover your bike.
Why is Motorcycle Insurance for Teens So Expensive?
While there are multiple reasons, it all boils down to statistics. Teenagers are the group most likely to become involved in an accident and make claims against insurance companies. The main reason is a simple lack of experience driving a motorcycle as compared to someone who is older. It takes some time to build up that experience which is reflected in the insurance premiums which start to go down after a few years.
Another reason is a lack of credit record that generates a credit score which many insurance companies use as part of their risk factors. Like gaining experience on the road while driving your motorcycle, teenagers need to build up a good credit record over time as well.
Did You Try Out Our Quote Comparison Tool? Save BIG!
When does the Insurance Rate Go Down?
Although it will depend on many factors, assuming that a teenager maintains a good driving record and pays their insurance on time, That's why you find people who turn 26 years of age see their insurance premiums drop considerably because statistics demonstrate that they are in far fewer accidents.
The prime age for drivers starts at 30 and goes up to 65 which is the group least likely to be involved in an accident or make a claim on their insurance policy.
The good news is that there are bare-boned policies that charge less and taking advantage of discounts will also help reduce the amount that teenagers owe on their policies. Plus, there are substantial discounts that can be enjoyed when it comes to motorcycle insurance for the teenager such as going with a higher deductible, taking a pre-approved driving course, or bundling the insurance with other policies such as home and auto.
For teenagers who are looking at high insurance premiums to cover their motorcycles, there are ways to reduce the payments if you can take advantage of discounts and keep a good driving record.