Louisiana has a rich culture and diverse landscapes, making it an excellent destination for motorcycle enthusiasts. It has always been one of my top choices for a trip to the southern United States.
I've always had a fascination with the Mississippi River. The stories of riverboats, poker, and a Midwestern version of the Wild West are intriguing. Maybe that's why the 70-mile Great River Road from Baton Rouge to New Orleans is one of my favorite trips. You also see stunning antebellum homes while enjoying the famous cuisine you can only find here.
Didn't You Try Our Quote Comparison Tool Yet? Save BIG by Doing it!
Another trip I love is the 180-mile Creole Nature Trail loop. It takes you through the only wildlife refuge in the state while enjoying stunning views of the Gulf of Mexico. I have seen alligators every time I've gone.
You can even choose to take your bike through New Orleans to have a unique experience with the city as you see all its sites.
Whatever you prefer, it's essential to remember to carry motorcycle insurance on your adventure.

Is Motorcycle Insurance Mandatory in Louisiana?
According to LA's state law, all motorcyclists are required to carry liability insurance coverage to help cover damages and injuries to others in the event of an accident.
Louisiana also requires uninsured/underinsured motorist coverage, which protects if you are hit by a driver who doesn't have enough insurance coverage to pay for damages or injuries.
Other insurance options are not required, but some could be beneficial for motorcyclists.
MedPay is an optional coverage that helps pay for medical expenses for the policyholder and passengers, regardless of who is at fault in an accident.
You could also invest in PIP. It helps pay for medical expenses, lost wages, and other expenses related to an accident, regardless of who is at fault.
What Are the Minimum Liability Requirements for Motorcycles in Louisiana?
The minimum liability requirements for motorcyclists in Louisiana are 15/30/25. That means the policy must offer $15,000 for injuries or death per person, have a $30k limit for each incident, and $25,000 for property damage.
These minimums often apply to the uninsured/underinsured coverage required by the state.
One of the unique aspects of motorcycle insurance in this state is that no one can file a claim if they have injuries if no coverage is available. Who is at fault for the incident doesn't matter, so the uninsured must pay their medical bills.
How Much is Motorcycle Insurance in Louisiana?
Louisiana has one of the country's highest motorcycle insurance costs, averaging $1,135.98 annually. Most riders expect to see an annual rate of at least $1,000 annually.
Riders in their 30s with a clean driving record and at least three years of motorcycle experience can sometimes secure policies under that figure.
The actual cost depends on the insurer and your specific coverage needs.
Riders in Morgan see quotes at 50% less than the state average, making this community the most affordable in Louisiana for motorcycle insurance.
Those in Kenner pay about 22% above the median.
Rates are about 15% higher in New Orleans and 5% above average in Baton Rouge.
What Motorcycle Insurers Offer the Best Rates in Louisiana?
GEICO provided me with a fantastic quote for motorcycle insurance, offering a policy at $721 per year. Progressive was over $250 more for the same coverage at $973.
Allstate was the next best option from GEICO or Progressive, offering a quote of $1,290.32.
| | |
| --- | --- |
| Motorcycle Insurance Provider | Annual Premium |
| GEICO | $721 |
| Progressive | $973 |
| Allstate | $1290 |
Best Overall Provider: GEICO
GEICO is the obvious choice here for me. You could easily save $400 or more per year by switching to this provider if you already have insurance in Louisiana. You receive accessory coverage and roadside assistance with your policy.
Although GEICO doesn't offer many discounts, there are bundling options that could help you save more. You can also complete a safety course.
Best Option for Commuters: Allstate
Allstate is the option to pick if you ride daily. Although the rates are higher, towing coverage and rental reimbursement are included in the policy.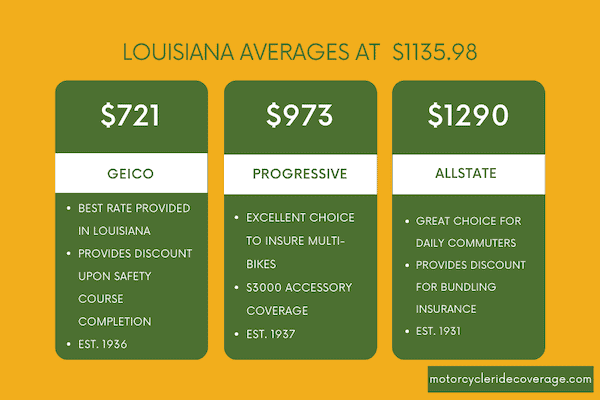 A.M. Best gives Allstate an A+ rating, and the NAIC complaint index stays around the industry average each year for the agency's customer service ratings.
You do have access to several potential discounts to help lower rates. If you have a home, vehicle, and motorcycle to ensure, it's often worth requesting a quote.
Best Choice for Families: Progressive
Progressive is an excellent choice if you have multiple riders or bikes to insure in Louisiana. Although the cost is higher than GEICO, it is still below the state average. You receive an automatic $3,000 replacement cost coverage and custom property protection with your policy.
Several upgrades are available, including total loss protection for motorcycles under 12 months old upon policy issue.
The following table displays the stability of insurance companies in Louisiana across various factors, including financial strength, customer satisfaction, and complaint index rating.
| | | | |
| --- | --- | --- | --- |
| Providers | AM Best Rating | J.D. Power Index Ranking | NAIC Complaint Index |
| GEICO | A++ | 843 | 1.97 |
| Allstate | A+ | 833 | 2.42 |
| Progressive | A+ | 842 | 1.41 |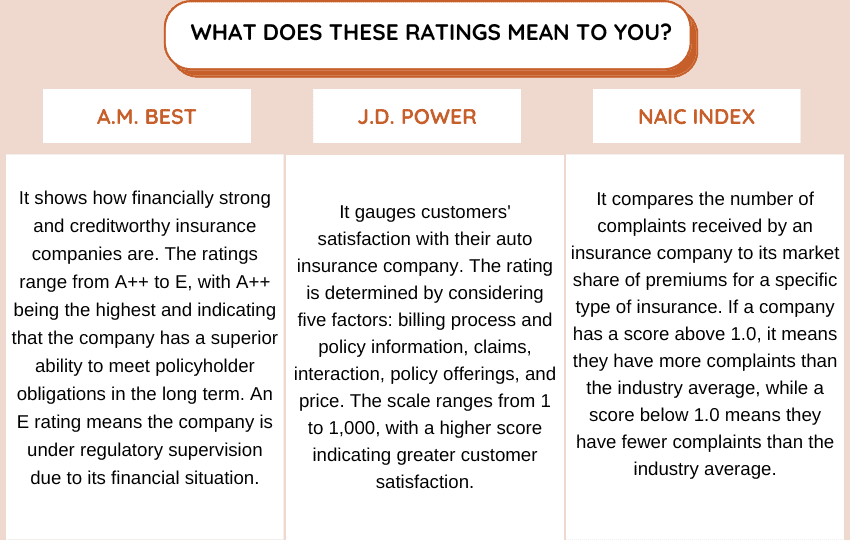 Is Seasonal Motorcycle Insurance Available in Louisiana?
Although it varies by insurer, seasonal coverage is typically available in Louisiana. This policy allows riders to insure their bike only during the riding season, typically from spring to fall.
This option is a cost-effective way to save on insurance premiums for those that only ride their motorcycles for part of the year.
When requesting a quote, ask about the policies, coverage options, and pricing that meet your specific needs.
FAQs Regarding Motorcycle Insurance in Louisiana
If you're interested in securing a motorcycle insurance policy in LA, you might encounter some questions along the way. Here are the answers that can help you decide on the appropriate coverage for your needs.
How Many Motorcycles Can I Insure in Louisiana?
There is no limit to the number of motorcycles you can insure in Louisiana. As long as you have a valid license for each one, you can take out policies on as many bikes as you want.
You might be eligible for a multi-vehicle discount from your insurance company, which can help you save money on your premiums.
You may receive discounts for safety features, multiple riders, and storage options if several motorcycles are insured under the same policy.
Is Year-Round Motorcycle Riding Possible in LA?
It is possible to keep riding your motorcycle throughout the year in Louisiana. The mild climate and coastal proximity make it so that winter temperatures rarely drop below freezing. Getting snow is an even rarer occurrence.
Many people find spring or fall the best time to take a ride in the state. It can get hot during the summer but is still manageable with hydration and proper safety precautions.
It is worth noting that Louisiana is susceptible to tropical storms and hurricanes. It might be worth investing in comprehensive insurance to protect your interests.
Do I Need an SR-22 or FR-44 Certificate in Louisiana?
If the court requires you to have an SR-22/FR-44 certificate, you must discuss the specific orders with your insurance company. Some carriers in Louisiana do not offer this service.
These certificates are typically required for riders with specific driving offenses, such as driving under the influence or not having the required insurance.
Are There Motorcycle Customization Limits to Follow in Louisiana?
Motorcycles in Louisiana must be considered road-legal to be insurable for use on public streets and highways. The state has a long list of required equipment that must be on the bike, including rearview mirrors, reflectors, and a license plate light.
The motorcycle exhaust systems must comply with Louisiana's noise emissions regulations. These rules limit the noise levels produced by the system. Handlebars cannot be more than 15 inches above the seat height.
How to Get Motorcycle Insurance Quotes in Louisiana?
It's important to note that Louisiana is one of the more expensive states for motorcycle insurance. However, you can find the most affordable option by shopping around and comparing quotes from different providers.
Use This Tool for Free and Save on Quotes!