North America has become a relatively easy place to explore. Simplified border crossings and recognition of driver's licenses and endorsements mean you can potentially explore the open road in three countries.
You even have the option to ship your motorcycle to Europe to drive it there.
Didn't You Try Our Quote Comparison Tool Yet? Save BIG by Doing it!
Although each country's entry requirements differ, one fact remains the same. When you're operating a motorcycle, you'll likely need some insurance.
Does US Motorcycle Insurance Cover Incidents in Canada?
Whether a US motorcycle insurance policy covers incidents in Canada depends on the specific terms included with the coverage.
Some policies may provide coverage for incidents that occur outside the United States, while others may only provide coverage within the domestic border.

Since Americans can travel from one border to another, such as from Washington to Alaska, special rules might apply to your specific situation. Additional exceptions apply to exclave travelers, such as those going from Blaine to Point Roberts, WA.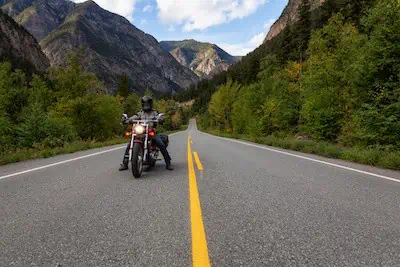 Suppose you plan to ride your motorcycle in Canada without an intended destination. In that case, reviewing your insurance policy and contacting your provider to confirm whether your coverage includes Canadian travel is essential. If your policy does not offer it, you may need to purchase additional insurance coverage specifically for your trip.
It is also essential to check if your motorcycle insurance policy meets the minimum requirements for the Canadian provinces you will travel through or visit. Each one has its own minimum requirements for vehicles, including motorcycles.
If your insurance policy does not meet these requirements, you may be required to purchase additional coverage to comply with Canadian laws.
Does US Motorcycle Insurance Cover Incidents in Mexico?
Most American motorcycle insurers do not cover incidents in Mexico. If you are planning to ride your motorcycle south of the border, you must purchase a separate policy that specifically covers you for incidents that occur.
This issue occurs because Mexican law requires that all drivers carry liability insurance from a Mexican insurance company. No US insurance companies are licensed to provide this protection at the time of writing.
Several options are available for purchasing motorcycle insurance coverage for travel to Mexico.
You could purchase a short-term policy through a Mexican insurance provider. These options can typically be purchased online or at the border. You might be required to pay for up to six months of services, although the option to cancel after your trip is likely available.
Some American insurance companies offer endorsements that can be added to a policy for traveling to Mexico.
You can work with a rental agency or a Mexican-based firm for a temporary motorcycle insurance policy that provides your desired coverage.
It is up to each rider to perform their due diligence when determining their insurance needs when traveling to Mexico. Before crossing the border or finalizing a rental agreement, check with your current provider to see if a more affordable endorsement could be available.
Does US Motorcycle Insurance Cover Incidents in Europe?
Most American motorcycle insurance policies do not cover incidents while operating a bike in Europe.
If you plan to ride a motorcycle in any European country, you'll likely need to purchase a separate insurance policy that covers you for accidents or collisions.
The European nations within the Schengen Area typically have similar insurance requirements, so purchasing one policy that lets you travel across borders may be possible. Some countries are not part of this agreement, so a different plan might be necessary for each one you intend to visit.
The most notable country outside of the Schengen Area is the United Kingdom.
Several options are available to ensure you have the motorcycle insurance needed to travel legally in Europe. Check with your current provider first to see if an endorsement is an option for your traveling needs.
If you still need to, you can buy policies from European providers for up to six months to ensure your trip has coverage.
If you plan to avoid bringing your own bike overseas for the trip, short-term and temporary motorcycle insurance is often available from rental agencies.
Local laws in Europe could require liability, medical, and theft coverage, so please remember to research what is expected for your planned destinations.
Additional Things to Consider When Traveling Internationally
When you travel from the United States to a foreign country as an expat with a motorcycle, you will want to review the following general points to ensure compliance with local regulations and restrictions.
Many countries require specific documentation or permits for vehicles brought in from other nations. You might need to obtain a temporary import permit or pay customs fees.
The motorcycle must meet the safety and emissions standards of the country you're traveling to. Some governments have specific rules about the vehicle types allowed on their roads.
Remember to bring your passport, driver's license, registration, and proof of ownership if you take your motorcycle instead of renting one when reaching your destination.
It might be necessary to arrange for transportation or shipping, depending on your route or the distance you intend to travel.
When you know what to expect with your motorcycle insurance while traveling outside the United States, it is much easier to respond if something unexpected happens. Research any specific restrictions or requirements in advance so that any or all arrangements can be made to avoid delays or complications.
However, if you are visiting the US for a shorter business or vacation trip, here are some essential things to know to cover your motorcycle.
Use This Tool for Free and Save on Quotes!