Motorcycles and cars share a few similarities. They both get you where you want to be, require fuel or electricity to generate power, and can hit fast speeds on the open road.
You'll notice a few differences between bikes and vehicles also exist. A motorcycle doesn't offer the same protective shell as a car, although dalniks and cabin-style designs are notable exceptions.
Didn't You Try Our Quote Comparison Tool Yet? Save BIG by Doing it!
Do those differences extend to your insurance needs?
What Are the Similarities Between Motorcycle and Car Insurance?
Motorcycle and car insurance policies share several similarities, offering a protective approach for driving and riding needs. Here is a closer look at why some people consider them the same product.
Liability Coverage. Motorcycle and car insurance policies typically include this option, which covers injury recovery costs or fixing property damage if the policyholder is at fault in an accident.
Risk Factors. Insurance companies consider similar risk factors when determining motorcycle and car insurance policy premiums. These factors may include the age and driving history of the policyholder, the type of vehicle insured, and the location where it is driven.
Regulatory Compliance. Both types of insurance are subject to state and federal regulations, which may affect the required coverage types, minimum coverage limits, and other factors.
Drivers and motorcyclists can add comprehensive and collision insurance to their policies. These options cover damages to the insured vehicle when theft, vandalism, or non-collision incidents occur.

You can also purchase optional insurance policies and riders for motorcycles and cars, including roadside assistance.
What Are the Differences Between Motorcycle and Car Insurance?
The obvious difference between motorcycle and car insurance is that one applies to two-wheeled vehicles and the other to four-wheeled vehicles.
Trikes and autocycles can fit into either category, depending on state laws and insurer policies, so it helps to know what to expect if you have more than two but less than four wheels.
Here are some of the other primary differences you'll see when evaluating motorcycle vs. car insurance policies.
Quoted Prices. Although exceptions exist, auto insurance is typically more expensive than motorcycle insurance. More medical costs are associated with an accident on a bike, but there are higher property damage concerns for vehicles. Individual factors play a significant role in your quote.
Liability Limits. Most states require riders to carry a minimum level of liability insurance, although Florida is an exception. The minimum coverage limits are often lower than those needed for auto policies. That means a motorcyclist could be more exposed to financial risk in case of an accident.
Coverage Options. Motorcycle insurance policies offer different coverage options than automotive options, including custom parts and equipment coverage. Safety gear is often included or provided at an affordable price as part of the policy.
When shopping for motorcycle insurance, carefully considering your coverage needs is essential. Please remember to compare quotes from multiple providers to find the best combination of coverage and pricing for your specific situation.
FAQ About Motorcycle vs. Car Insurance
When Should I Not Ride or Drive?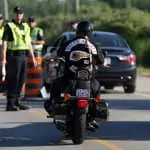 You should not drink and drive or ride because you could cause harm to others or yourself. If you do and get caught, you would be charged with DUI, often considered a severe traffic violation. It's also advisable to stay off the road when you feel tired, so try to be well-rested.
Do I Need a Specific License?
You need a driver's license to operate most motorcycles and automobiles. This documentation proves that you know how to use your preferred mode of transportation safely.
Most states require a separate license or endorsement for bikers.
Can I Cover Optional Equipment?
Most motorcycle insurers offer optional equipment coverage for custom paint, parts, and chrome. It could be an added cost, so ask about these details when requesting a quote. Most auto insurance policies don't provide this benefit unless special circumstances exist.
Use This Tool for Free and Save on Quotes!