Motorcycles are popular targets for thieves because of how accessible they are in public. They can be moved without a key, lifted into a trailer, and scrapped for parts quickly to make a decent profit.
Those factors mean a stolen motorcycle is less likely to be found than any other theft involving motor vehicles.
Didn't You Try Our Quote Comparison Tool Yet? Save BIG by Doing it!
Steps to Follow When Filing a Motorcycle Theft Claim
If someone has stolen your bike, follow these steps to file a claim.
1. Start by contacting the local authorities. You'll need to report the motorcycle as stolen. The report should contain all the relevant information you can provide, including the plate number, VIN, and distinguishing features.
2. Check your motorcycle insurance coverage. The claims process is like what you'd follow if another vehicle were stolen. You'll need an active comprehensive policy to qualify for a theft-related claim. Without it, you'll have to rely on the police or sheriff's department to make progress to recover some of your losses.

3. File your claim with your insurer. You will supply the same information to them as you did when filing the police report. You might be asked about the mileage on the motorcycle, where it was stolen, and the time you noticed it missing. They'll ask for the police report number during this step.
4. Provide additional information as requested. This step might include letting the insurance company know you still have the keys, if anyone had access to it, or if the personal property was with the motorcycle when it was stolen.
5. If you took out a loan to purchase your motorcycle, you'd want to contact the lender to inform them about the theft. Lessees should do the same.
6. Even if you file your motorcycle theft claim online, you will likely be paired with a representative who will help with this process. It helps to ask questions like the following to ensure you know what to expect.
How long does it take to process a motorcycle theft claim?
What is the expected payout for my bike and its custom equipment?
Is there any additional paperwork or documents that need to be filled out or submitted?
7. Review your deductible. Most comprehensive insurance policies include the amount you pay out of pocket as part of the claims process. If you receive a settlement of $10,000 and the deductible is $1,000, the payout will be $9,000. Some insurers offer a benefit that causes the deductible to disappear or diminish when you meet certain terms and conditions.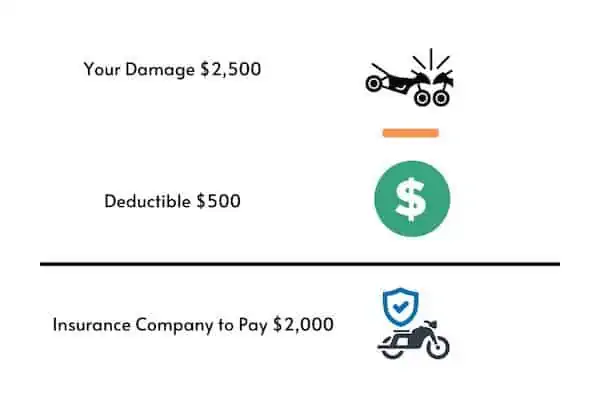 8. Ask about what to expect if the police recover your motorcycle. If a bike is found, it might still be classified as a total loss through this process. If that happens, the insurer becomes the new owner because the title transfers during the claim.
No one wants to have their motorcycle stolen. Although you might not prevent a determined thief, you can lock your ignition and immobilize your forks. There should not be any room remaining for cutting tools.
If the thief did get around your prevention methods, be sure to pass that info along to the claims adjuster.
Use This Tool for Free and Save on Quotes!