Whenever I cross the border into Montana with my motorcycle, it always feels like I'm getting hit with a huge breath of fresh air. We all know from different TV shows and movies how big the skies and landscapes are here, but you're never quite ready for what you'll see until you're there.
The Beartooth Highway is one of the most beautiful drives you can take on a motorcycle in the United States. You'll go through the mountains, enjoy the rugged terrain, and navigate plenty of switchbacks as you travel between Cooke City and Red Lodge.
Didn't You Try Our Quote Comparison Tool Yet? Save BIG by Doing it!
If you love open, straight roads on your motorcycle, the Montana Hi-Line is an incredible experience. You'll follow Highway 2 across the state, getting to see the Rockies while finding expansive views of the Plains.
A visit to Glacier National Park is always in order. The iconic 50-mile Going-to-the-Sun Road takes you across the Continental Divide, right up to alpine lakes, and close to glaciers.
As you embark on your next adventure, it's essential to review your motorcycle insurance needs to ensure you have the coverage required for that trip.

Is Motorcycle Insurance Mandatory in Montana?
Motorcycles are exempt from the motor vehicle insurance statutes in Montana, which could be clearer online when looking for these requirements. You don't need to have a valid policy to register your bike to ride it.
This exemption is similar to vehicles operated on a highly for the sole purpose of crossing it from one property to another.
This information is found under the Montana Code Annotated 2021 under Title 61, which covers motor vehicles.
Even though motorcycle insurance isn't required by law with this exemption, it is still a good idea to invest in a policy. Without coverage, you could be held personally responsible for any injuries or financial losses your riding causes.
How Much Is Motorcycle Insurance in Montana?
Montana is unique because it has some of the lowest motorcycle insurance rates in the United States – and some of the highest quotes.
The difference between the lowest and highest prices in Montana is almost $500 per year.
I found the average overall cost for motorcycle insurance in the state was $501.93.
Progressive offered me the best rate by far at $283 per year. Nationwide came in with a quote at $428. That's in comparison to GEICO, which offered $559.
Allstate was the highest, asking $778 for yearly coverage.
In most states, there can be significant pricing differences based on where you live. But he pricing is consistent for most Montanans.
The highest motorcycle insurance rates were found in Pablo, about 5% over the state average.
As for the communities where the most savings were found, Townsend, Miles City, Polson, Kalispell, Helena, Havre, Hamilton, Glasgow, Cut Bank, and Browning residents are saving an average of 2%.
Top Motorcycle Insurance Providers in Montana
If you opt for motorcycle insurance in MT, there are some agencies that stand above the rest in terms of quality, choices, and pricing. Here are my top picks to consider when looking for the best rates possible.
| | |
| --- | --- |
| Motorcycle Insurance Provider | Annual Premium |
| Progressive | $283 |
| Nationwide | $428 |
| GEICO | $559 |
Best Motorcycle Insurance for Most Riders: Progressive
I like Progressive here. Most riders will get an affordable rate for their coverage choices while receiving excellent customer service. You'll get more than most other agencies with a base policy, including $3,000 in custom parts protection.
Bundling options include home or auto, plus discounts are available for taking a safety course or paying in full. There's even a disappearing deductible option for those who choose full coverage.
Progressive has an A+ rating with A.M. Best.
Best Choice for On-Road Support: Allstate
Here I'd go with Allstate. Although the rates are higher, you get a lot for your investment. You can add towing coverage, a full replacement for up to two years, and include your trailer. It's all backed by an A+ rating from A.M. Best.
Riders can earn discounts by having multiple policies or installing safety equipment on their motorcycles.
Allstate offers an Accident Forgiveness program, which means your rates may not go up after your first at-fault accident, helping to keep your monthly costs more predictable.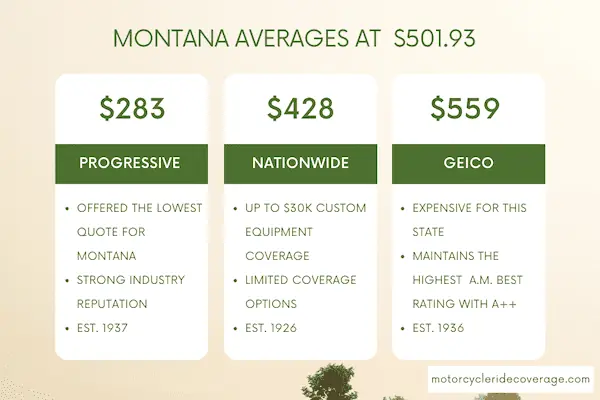 Best Pick for Daily Riders and Commuters: Dairyland
If I ride my motorcycle daily, I'd pick Dairyland in Montana as my insurance provider. Although the rates are a little higher than the state average, you receive several robust discount options that work to offset those costs.
You can purchase add-ons for roadside assistance, OEM parts, replacement cost coverage for bikes up to 36 months old, and rental reimbursement. These options are critical for those who have a motorcycle as their only vehicle.
Dairyland has an A+ rating with A.M. Best.
Below are important rankings and indexes that demonstrate the performance of the aforementioned companies in the United States.
| | | | |
| --- | --- | --- | --- |
| Providers | AM Best Rating | J.D. Power Index Ranking | NAIC Complaint Index |
| Progressive | A+ | 819 | 1.41 |
| Allstate | A+ | 811 | 2.42 |
| Dairyland | A+ | – | 3.44 |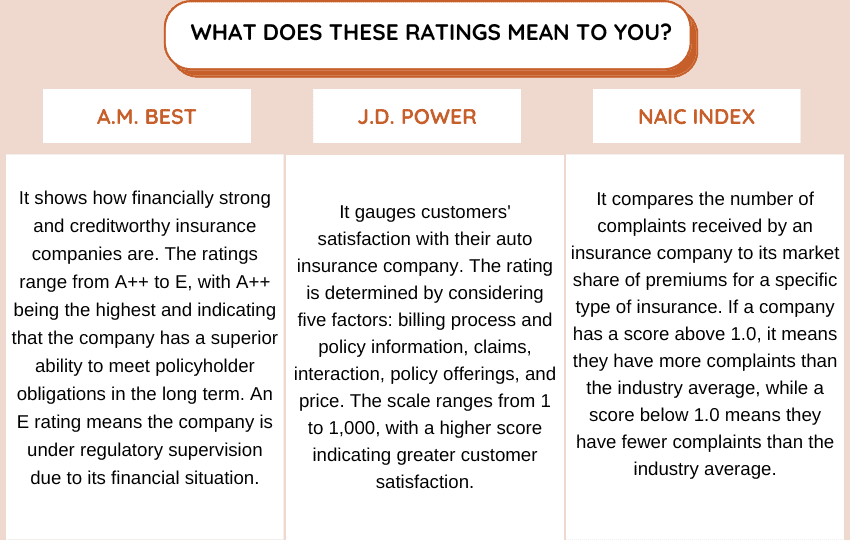 How to Save Money on Motorcycle Insurance in Montana
If you've decided that motorcycle insurance is an appropriate choice for your riding needs in MT, here are some ways to help you keep your monthly premiums at a manageable rate.
Shop Around and Compare
Don't settle for the first insurance company you come across! Different insurance providers offer varying rates and coverage options. Get quotes or estimates from multiple agencies so that you can find the best deal.
Bundle Policies
If you already have other insurance policies, such as auto or home insurance, consider bundling them with your motorcycle insurance. Many agencies offer significant discounts to keep all your needs under one roof.
Have a Good Driving Record
A clean driving record with no accidents or traffic violations usually qualifies you for lower insurance rates.
Motorcycle Safety Courses
Completing a motorcycle safety course can demonstrate to insurers that you are a responsible rider, potentially resulting in a discount on your insurance premium. If this option is offered, you must prove you passed the class.
Consider Your Ride
Some motorcycles are more expensive to insure due to higher theft rates or more powerful engines. Before purchasing a bike, check with at least three insurance companies to see how it might affect your monthly premiums.
Review Your Policy Each Year
As your circumstances change, your insurance needs need to evolve. Review your policy annually to ensure it still meets your riding requirements and to look for any new discounts for which you might qualify.
FAQ for Montana Motorcyclists
Some questions can arise when pursuing a motorcycle insurance policy in Montana. Here is a closer look at those common issues and how to manage them.
Is Motorcycle Liability Insurance Required in MT?
Motorcycle liability insurance is not required in Montana. If you decide to purchase a policy, your coverage must meet the same minimum levels as automobiles that don't receive an exemption.
At the time of writing, those minimums are 25/50/10. That means $25,000 for bodily injury or death to one person, $50,000 to cover two or more people, and $10,000 for property damage or destruction.
Liability coverage will not offer protection for custom parts, repairs, or damage caused by any reason. You'll need to purchase collision and comprehensive policies to safeguard your finances in those circumstances.
Do You Need Insurance for a Dirt Bike in Montana?
Street-legal dirt bikes fall into the same category as other motorcycles in Montana. That means they receive an exemption from the insurance requirements written into the state laws.
The state requires all off-highway vehicles (OHVs) to be licensed and registered with a certificate of ownership. You'll need to visit the county treasurer's office where you live to process this paperwork.
Since 2019, an OHV Trail Pass is also mandatory to ride on motorized trails and routes in the state, including US Forest Service and BLM areas.
What Are the Restrictions on a Motorcycle Permit in MT?
Learning permits are valid for one year in Montana. The state does not allow them to be renewed. Once issued, the holder must be in possession of it and under the immediate and proximate vision of a licensed rider.
Motorcycle permit holders are not allowed to carry passengers. A written and riding skills test must be passed before the permit can be turned into a license endorsement.
How to Get the Cheapest Motorcycle Insurance Quote in Montana?
Find multiple free quotes online and compare rates from providers in your area. There's no obligation, and you could save hundreds of dollars per year.
Use This Tool for Free and Save on Quotes!