When you think about the best states for year-round motorcycle riding, you likely think of places in the southern, southwest, or western United States. Once you get above the 45th parallel, the weather in winter tends to be cold, snowy, and icy.
Those winter driving conditions aren't conducive to having a good time riding a motorcycle.
Didn't You Try Our Quote Comparison Tool Yet? Save BIG by Doing it!
The best cities for motorcyclists typically have fewer accidents, which translates to lower insurance rates. Here are the best places to live if you want to have year-round fun on a bike while keeping costs in check.
What Are the Best US Cities for Motorcyclists?
These US cities are the perfect destinations to consider if you want to save on your motorcycle insurance rates, save some money, or write a new chapter in your life.
1. Atlanta, GA
With over 200,000 registered motorcycle owners in the state, you'll find affordable insurance rates, buyable homes, and day trips to numerous adventures in this city. Drive north into the mountains for small towns like Ellijay that deliver beautiful backroads to enjoy.

You can also head to the Great Smoky Mountains to ride roads like the Tail of the Dragon. It has 311 curves to navigate in just 11 miles.
2. Kahului, HI
You can find countless roads in Hawaii that lead you to beautiful, secluded places that are perfect for an afternoon on a motorcycle. The average temperature is above 70°F for the year, and about 300 sunshine days are available for exploring. Try the East Maui Loop to see the coastline, stop for coffee, and enjoy a quiet moment at dozens of beaches.
3. Shreveport, LA
The issue with summer riding in the southern US is the humidity. When you step outside, it feels like the air becomes a wet blanket that never lets you go. You'll experience less of that issue while enjoying affordable homes, fuel, and insurance prices.
A popular route here is to take Highway 71 south to the 154, following the final run of Bonnie and Clyde. Several museums explore this event, creating a fun tour that lets you interact with some beautiful landscapes.
4. Boise, ID
With over 30,000 miles of dirt trails and 5,000 miles of highway to explore, there is something for everyone to enjoy. As one of the best cities for motorcyclists, Boise is centrally located for numerous adventures. You can head south to explore the Nevada desert, come north to see the rustic beauty around Coeur d'Alene or follow the canyons of the Snake River.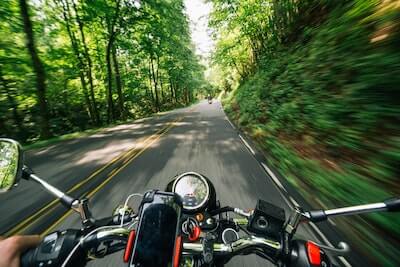 Motorcycle ownership rates in Idaho are in the top ten per capita for population, which means you know you'll be around some like-minded folks when visiting or living here.
Despite the high ownership rates, Boise is the safest city for motorcyclists in the United States each year.
5. Fort Collins, CO
Life on the Front Range can be expensive, but those costs are tempered when moving north to this city. You're at the gateway of Rocky Mountain National Park, which means you can ride your motorcycle more than 11,000 feet above sea level to get extraordinary views.
It can be a little tricky to get the bike outside in the winter, so be sure to consider seasonal insurance options that include driving options for beautiful days.
This city is also one of the safest for motorcyclists, only coming behind Boise in the rankings.
6. Sioux Falls, SD
Although employment and income issues can be challenges here, it's hard to ignore the open road. When you live in this state, you've got easy access to Sturgis, the beautiful landscapes only the plains can offer, and opportunities to explore the Badlands, Custer State Park, and other great sites on a day trip.
The cost-of-living index rates life in Sioux Falls at 88.6, which means it costs half as much to be here compared to cities like NYC, San Francisco, or San Diego.
7. Phoenix, AZ
As one of the best cities for motorcyclists in the United States, Phoenix is in a rare category where it can be too hot in the summer for a ride some days. If you don't mind the desert climate, you can ride year-round here while exploring the old sights of Route 66, the Grand Canyon, or even the mountains around Flagstaff.
You can also head south for a day of riding in Mexico for a different adventure. Although the annual fatality rate for motorcyclists is higher here than in other cities on this list, that's partially due to the climate.
The best cities for motorcyclists create unique opportunities to explore, enjoy the open road, and spend time with family and friends. Whether you visit for a few days or decide to move, you and your bike will find these destinations to be a rewarding experience.
Use This Tool for Free and Save on Quotes!