An engine's power and ability to produce speed are often primary factors when motorcyclists shop for a new bike.
Whether you're looking for something that can get you to work safely or a racer that lets you conquer the local circuit, the motorcycle's engine size determines how much you'll pay to insure the bike.
Did You Try Our Quote Comparison Tool? Save BIG by Doing it!
A higher cc rating equates to more power, which tells an insurance company that there is more risk associated with a policy connected to that motorcycle.
What Are the Standard Motorcycle Engine Sizes?
Although motorcycle engines can have unique displacement ratings, the engine size is typically rounded up or down to meet classification standards.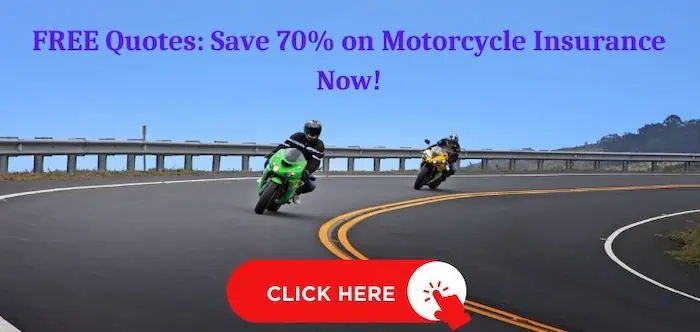 Here is a quick review of the common cc (cubic centimeters) ratings that you'll find across all makes and models.
| Standardized Engine Sizes | Motorcycle Types with This Engine |
| --- | --- |
| 50cc | Mopeds, Scooters, and Dirt Bikes |
| 200cc | Scooter |
| 250cc | Scooters, Dual Sport Motorcycles, Dirt Bikes |
| 300cc | Trial Bikes and Sport Motorcycles |
| 650cc | Cruisers, Street Bikes, and Sport Bikes |
| 1000cc | Sport Bikes, Cruisers, and Adventure Bikes |
| 1500cc | Cruisers, Sport Bikes, and Adventure Bikes |
The most powerful engines equipped for motorcycles can reach 2500cc (Triumph Rocket 3), and custom builds can be even higher.
Insurance companies will look at this information, either factory-installed or custom-built, as part of the quote evaluation process.
Some states have different definitions for mopeds, scooters, and dirt bikes (motocross). You'll need to check the specific wording for your preferred engine cc rating to know what to expect when insuring your equipment.
What Motorcycles Have the Cheapest Insurance?
The mopeds, scooters, and dirt bikes found in the 50cc or less category are typically the least expensive to insure. This outcome occurs because the small engine size limits the speed you can achieve while riding.
Most 50cc and under models have a top speed of 30 mph or less.
Motorcycles that come straight from the factory floor without any modifications are cheaper to insure than those with extensive changes. Since OEM parts are readily available for stock motorcycles, the replacement costs are lower.
Lower repair costs translate to a better price for your motorcycle insurance.
Other factors can play a role in your quote, including your experience on a motorcycle, how many accidents or tickets you've had, and your credit score. Once all that information is available with the engine size of your bike, you'll receive a comprehensive insurance quote.
Use This Tool for Free and Save on Quotes!